Investment research
HKEx disseminates HSI, HSCEI, VHSI, S&P/HKEx Large Cap, S&P/HKEx GEM, CSI 300, CES 120, CES A80 and CES HKMI. Except CSI 300 index, CES 120, CES A80 and CES HKMI which are rounded to 2 decimal places, the other indices are disseminated on an "as is" basis. HKEx does not accept liability for any loss or damage arising from any inaccuracy or omission. HSI, HSCEI and VHSI are compiled and maintained by Hang Seng Indexes Company Ltd. CSI 300 is provided by China Securities Index Company Ltd.
BMO Capital Markets Economics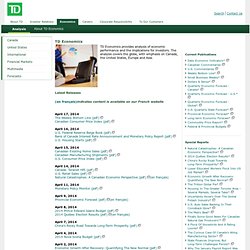 Economics | TD Bank Group
TD Economics provides analysis of economic performance and the implications for investos. The analysis covers the globe, with emphasis on Canada, the United States, Europe and Asia. Latest Releases (en français)indicates content is available on our French website January 13, 2014Economic Snapshot (pdf) (opens new window)(webcast)Bank of Canada Business Outlook & Senior Loan Officer Surveys (Winter 2013-14) (pdf) (opens new window)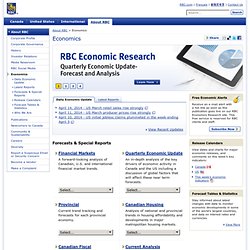 Economics - Economic Research and Analysis on Canada, United States and International Economies
©The material on this web site is the property of Royal Bank of Canada and may not be reproduced in any way, in whole or in part, without express authorization of the copyright holder in writing. The statements and statistics contained herein have been prepared by RBC Economics Research based on information from sources considered to be reliable. We make no representation or warranty, express or implied, as to its accuracy or completeness. This site is for the information of investors and business persons and does not constitute an offer to sell or a solicitation to buy securities. Readers should consult their own professional advisor when planning to implement a strategy to ensure that individual circumstances have been considered properly and it is based on the latest available information.