Blogs
Division of Labour. CARPE DIEM. Cafe Hayek — where orders emerge. Full List - 25 Best Blogs 2009. S 25 Best Blogs of 2011. Full List - The 25 Best Financial Blogs. The 10 *Really* Best Economics Blogs : Economics : Business. Free exchange. Street Sweep - Fortune Finance: Hedge Funds, Markets, Mergers & Acquisitions, Private Equity, Venture Capital, Wall Street, Washington.
Apparently Bernie Madoff wasn't the only bad apple at Nasdaq.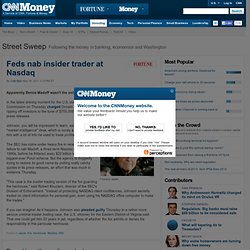 In the latest shining moment for the U.S. stock exchanges, the Securities and Exchange Commission on Thursday charged Donald Johnson, a former Nasdaq managing director, with ripping off investors to the tune of $755,000 by insider trading ahead of the release of corporate press releases. Johnson, you will be impressed to learn, was in charge through October 2009 of the Nasdaq's "market intelligence" desk, which is surely a misnomer but seems in any case to have afforded him with a lot of info he used to trade profitably on outfits like United Therapeutics (UTHR). Fearless leader The SEC has come under heavy fire in recent years for its failure to nab Madoff, a three-term Nasdaq chairman in the 1990s, before he frittered away $20 billion in the biggest-ever Ponzi scheme. But the agency is doggedly trying to restore its good name by putting really catchy quotes in its press releases, an effort that was much in evidence Thursday.
Megan McArdle - Authors. Personal Finance News & Latest Personal Finance Headlines - DailyFinance.com. Economics and Politics by Paul Krugman - The Conscience of a Liberal. Economix Blog - The Economy and the Economics of Everyday Life. DealBook. The Wealth Report. One of the most famous and funny Monty Python skits is the "Four Yorkshiremen."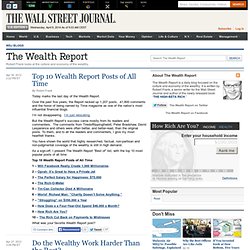 Four cigar-smoking, tux-wearing swells recount their childhood and try to top each other with stories of hardship. One says he used to live in a single room with 26 others. Real Time Economics. China's GDP growth fell in the first quarter to its slowest pace since September of 2012, slipping to 7.4% on-year growth from 7.7% the in the fourth quarter.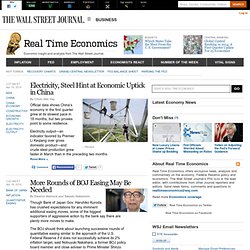 The increase was slightly higher than economists' expectations of a 7.3% gain. Authorities released other data that suggested continuing weakness, but not at a quickening pace. Project Syndicate - the highest quality op-ed articles, analysis and commentaries. Kantoos Economics. The challenge of isolating a pituitary hormone 'makes finding a needle in a haystack seem easy' thing for humans?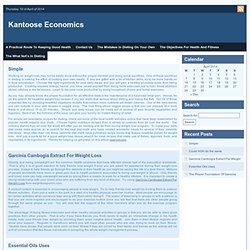 Dr. Li himself is reluctant to speculate along these lines, but other scientists are willing to voice high hopes about the potential human applications. At the moment, perhaps the most urgent goal is to end the shortage of available HGH. The only current source of supply is the human pituitary, removed after death. HBR.org - powered by FeedBurner. Dealbreaker: Wall Street Insider – Financial News, Headlines, Commentary and Analysis – Hedge Funds, Private Equity, Banks.
Marginal Revolution — Small steps toward a much better world. Calculated Risk. ZeroHedge | On a long enough timeline the survival rate for everyone drops to zero. Planet Money. Freakonomics. The Big Picture. Rortybomb. Business Insider. Econbrowser. Naked capitalism.
Wonkblog. Felix Salmon. Never mind Michael Lewis.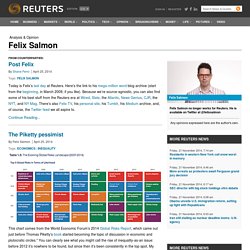 The most interesting and provocative thing to be written of late about financial innovation in general, and high-frequency trading in particular, comes from Joe Stiglitz. The Nobel prize-winning economist delivered a wonderful and fascinating speech at the Atlanta Fed's 2014 Financial Markets Conference today; here's a shorter version of what Stiglitz is saying. Markets can be — and usually are — too active, and too volatile. This is an idea which goes back to Keynes, if not earlier. Lawrence Summers. Some time ago speaking at the IMF, I joined others who have invoked the old idea of secular stagnation and raised the possibility that the American and global economies could not rely on normal market mechanisms to assure full employment and strong growth without sustained unconventional policy support.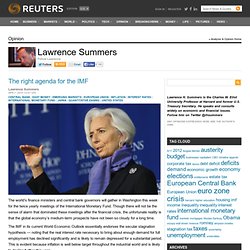 My concern rested on a number of considerations. First, even though financial repair had largely taken place four years ago, recovery since that time has only kept up with population growth and normal productivity growth in the United States, and has been worse elsewhere in the industrial world. Second, manifestly unsustainable bubbles and loosening of credit standards during the middle of the last decade, along with very easy money, were sufficient to drive only moderate economic growth. Greg Mankiw's Blog. The Grumpy Economist. Brad DeLong. EconLog | Library of Economics and Liberty. EclectEcon.
---