Druidism
Peregrine Druids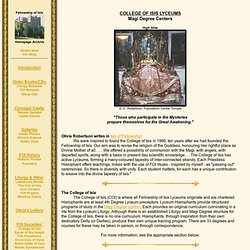 College of Isis Magi Degree Centers
Magi Degree Centers High Altar © O. Robertson, Foundation Center Temple "Those who participate in the Mysteries prepare themselves for the Great Awakening." Olivia Robertson writes in Isis of Fellowship: We were inspired to found the College of Isis in 1986, ten years after we had founded the Fellowship of Isis.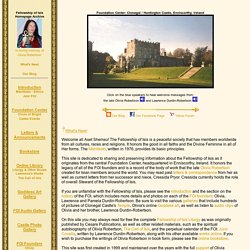 Fellowship of Isis ~ Homepage Archive
Clonegal / Huntington Castle, Enniscorthy, Ireland Click on the blue speakers to hear welcome messages from: the late Olivia Robertson and Lawrence Durdin-Robertson
Noble Order of Tara Fellowship of Isis Foundation-Center Society "pro Dea et Natura" "as an bhean O Tara" (For Goddess and Nature) (all glory to Tara) © Coat of Arms of the Barony of Strathloch Please do not reproduce. "What we think, feel and imagine now, if we act upon it, will make our future." Noble Order of Tara Overview:
Noble Order of Tara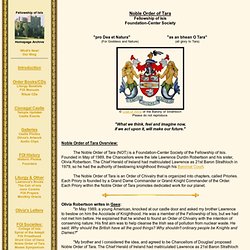 Welcome to the website of the Druid Grove, the Order of Bards, Ovates and Druids. Druidry Courses and Druidry Training We specialise in druidry courses & druidry training. Here you can learn about druids and druidism. The Order of Bards Ovates & Druids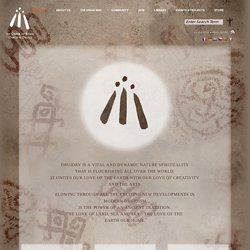 Untitled Document
The Reformed Druids (and Their Spin-Offs too!) A personal webpage of Druid resources prepared by one member On-line Conferences by Reformed Druids & Friends OUT OF DATE AS OF MARCH 2013 Oddly, enough, there are alot of Druid conferences on line. Many, you will find, don't last very long.
Reformed Druids of North America Homepage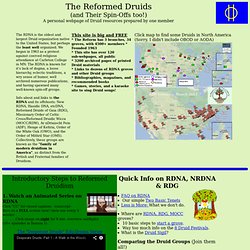 The Henge of Keltria - Druidism for the 21st Century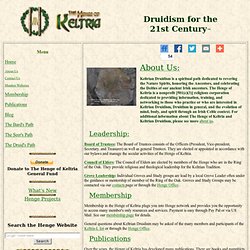 Board of Trustees: The Board of Trustees consists of the Officers (President, Vice-president, Secretary, and Treasurer) as well as general Trustees. They are elected or appointed in accordance with our bylaws and manage the secular activities of the Henge of Keltria. Council of Elders: The Council of Elders are elected by members of the Henge who are in the Ring of the Oak.