Druidism
Peregrine Druids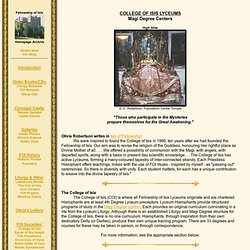 College of Isis Magi Degree Centers
Olivia Robertson writes in Isis of Fellowship : We were inspired to found the College of Isis in 1986, ten years after we had founded the Fellowship of Isis. Our aim was to revise the religion of the Goddess, honouring Her rightful place as Divine Mother of all. . . . We offered a possibility of communion with the Magi, with angels, with departed spirits, along with a basis in present day scientific knowledge. . . The College of Isis has active Lyceums, forming a many-coloured tapestry of inter-connected strands. Each Priest/ess Hierophant offers teachings, linked with the use of FOI rituals - inspired by myself - as "passing out" ceremonies. So there is diversity with unity.
Fellowship of Isis ~ Homepage Archive
Noble Order of Tara Fellowship of Isis Foundation-Center Society "pro Dea et Natura" "as an bhean O Tara" (For Goddess and Nature) (all glory to Tara) © Coat of Arms of the Barony of Strathloch Please do not reproduce. "What we think, feel and imagine now, if we act upon it, will make our future." Noble Order of Tara Overview:
Noble Order of Tara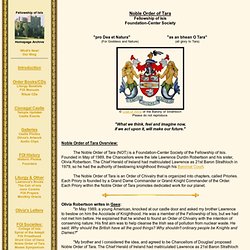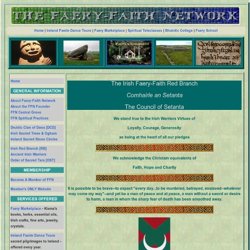 We stand true to the Irish Warriors Virtues of Loyalty, Courage, Generosity as being at the heart of all our pledges We acknowledge the Christain equivalents of Faith, Hope and Charity It is possible to be brave--to expect "every day...to be murdered, betrayed, enslaved--whatever may come my way"--and yet be a man of peace and at peace, a man without a sword or desire to harm, a man in whom the sharp fear of death has been smoothed away.
The Irish Ulster Red Branch of the American Faery-Faith Tradition & Network
Untitled Document
Reformed Druids of North America Homepage
The Henge of Keltria - Druidism for the 21st Century