Druidism
Peregrine Druids. College of Isis Magi Degree Centers. Magi Degree Centers High Altar © O.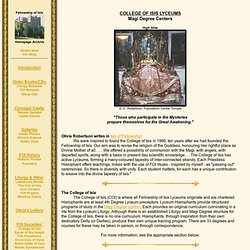 Robertson, Foundation Center Temple "Those who participate in the Mysteries prepare themselves for the Great Awakening. " Olivia Robertson writes in Isis of Fellowship: We were inspired to found the College of Isis in 1986, ten years after we had founded the Fellowship of Isis. Fellowship of Isis ~ Homepage Archive. Noble Order of Tara. Noble Order of Tara Fellowship of Isis Foundation-Center Society "pro Dea et Natura" "as an bhean O Tara" (For Goddess and Nature) (all glory to Tara) © Coat of Arms of the Barony of Strathloch Please do not reproduce.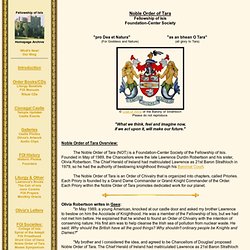 "What we think, feel and imagine now, if we act upon it, will make our future. " Noble Order of Tara Overview: Courses in druidry, druidry training, druidry courses, druids, druidism :: The Order of Bards Ovates & Druids. Untitled Document. Reformed Druids of North America Homepage. The Henge of Keltria - Druidism for the 21st Century.
---