Look
The Dark Side of Oz on Vimeo
National Geographic is currently holding its annual photo contest, with the deadline for submissions coming up on November 30. For the past nine weeks, the society has been gathering and presenting galleries of submissions, encouraging readers to vote for them as well. National Geographic was kind enough to let me choose among its entries from 2011 for display here on In Focus.
National Geographic Photo Contest 2011 - Alan Taylor - In Focus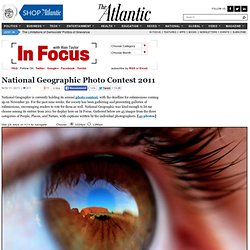 Multicolr Search Lab - Idée Inc.
Cousins: Justine, 29, & Ulric, 29 How much do you and your family members really look alike? Quebec, Canada-based graphic designer and photographer Ulric Collette has created a shockingly cool project where he's exploring the genetic similarities between different members of the same family. By splitting their faces in half and then splicing them together, he creates interesting new people that are sometimes quite normal looking and other times far from it.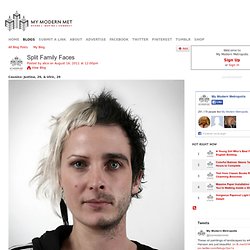 Split Family Faces
Sparkling Table January 16th, 2014 | Inspiration | Bullets Cut in Half January 15th, 2014 | Tech |
Design Ideas and Tech Concepts - Toxel.com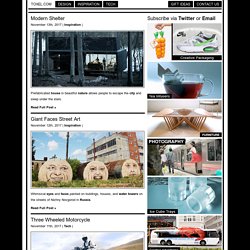 Putting A Camera On Hoola Hoop
awesome people hanging out together
Yves Montand watching Marilyn Monroe who's watching Arthur Miller who's watching Simone Signoret who's watching Yves Montand John Cale, Lou Reed, Patti Smith and David Byrne The button that John Lennon is wearing alongside Miles Davis. I remember that I won it in a claw machine at a county fair in probably 1969 or 1970. It's the right size, and I'm pretty sure that's it, but the question remains: why?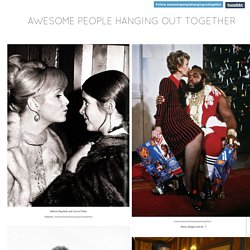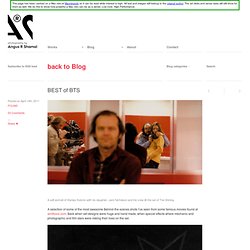 BEST of BTS | photography by Angus R Shamal
A self portrait of Stanley Kubrick with his daughter, Jack Nicholson and the crew @ the set of The Shining. A selection of some of the most awesome Behind-the-scenes shots I've seen from some famous movies found at aintitcool.com. Back when set designs were huge and hand made, when special effects where mechanic and photographic and film stars were risking their lives on the set.
Understanding 9/11: A Television News Archive
Blog: Netflix Envelope Doodles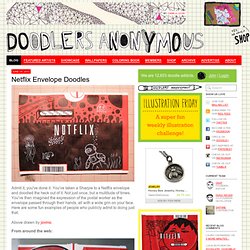 Admit it, you've done it. You've taken a Sharpie to a Netflix envelope and doodled the heck out of it. Not just once, but a multitude of times. You've then imagined the expression of the postal worker as the envelope passed through their hands, all with a wide grin on your face. Here are some fun examples of people who publicly admit to doing just that.
Picassa Webalbum Integrator (PWI)
HiddenColors.com
1984 comic
Brooks Shane Salzwedel : Prints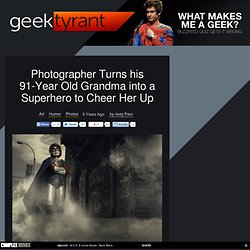 Photographer Turns his 91-Year Old Grandma into a Superhero to Cheer Her Up
A few years ago photographer Sacha Goldberger found his 91-year-old Hungarian grandmother Frederika feeling lonely and depressed. So to cheer her up, and put a spark back into her life, he turned her into a superhero! He took a series of awesome photographs of her wearing costumes in unusual superhero type posses. "Grandma reluctantly agreed, but once they got rolling, she couldn't stop smiling." Frederika isn't only a superhero in these photos, but she was a real hero during World War II.
The Art of Mark Brown
The models who were used in "American Gothic" standing by the painting
Little People – A tiny Street Art Collection | Street Art Utopia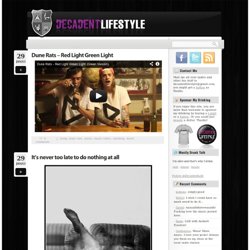 Anaïs Nin "I want to hear raucous music, to see faces, to brush against bodies, to drink fiery Benedictine. Beautiful women and handsome men arouse fierce desires in me. I want to dance. I want drugs. I want to know perverse people, to be intimate with them.
Decadent Lifestyle
Roberto Ferri - Galleria quadri e dipinti
FOUND Magazine | Find of the Day
(Image) - Zupa pomidorowa
Charterhouse of the Transfiguration
Information Is Beautiful | Ideas, issues, knowledge, data - visualized!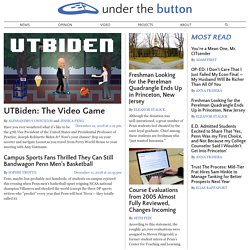 Under the Button
Some people missed friends, fewer people missed classes, and at least one student missed Shakespeare in a way that makes us uncomfortable. One college coed just couldn't resist the sultry stare of everyone's favorite bard and locked lips, and face in general, quite a few times with this picture in Fisher-Bennett's main entrance. Props to the mystery Shakespeare smoocher who put even Juliet to shame and solidified Bill's place as English Lit's sex-idol. It's second semester, which means stress, rush, food, stress-food, stress-sex and sex-food. We want to know about all of it.
What if Matrix was shot in the silent films' era on yay!everyday
the perfect high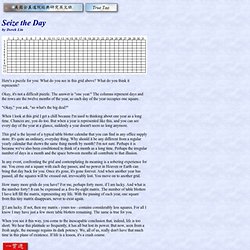 Seize the Day by Derek Lin Here's a puzzle for you: What do you see in this grid above? What do you think it represents? Okay, it's not a difficult puzzle.
Seize the Day
Ten Strange Places
At the summit of Mount Teide, one of the largest Island volcanoes in the World is the Las Cañadas caldera. The crater, which is an enourmous sixteen kilometres across, is a picture of what Hell might look like if it cooled a little. Sheer walls that formed when the caldera first collapsed encircle this dry and alien place.
Meat
BoredStop.com
Марионетки-гиганты (32 фото) » ZizA.Qip.rU
The Quest For Every Beard Type | Jon Dyer's Blog
20 Scary Old School Surgical Tools
These people exist -Part IV (29 photos
Interesting High-speed Video Clips
Subliminal Messages - Hidden Subliminal Image Samples - Do you get the hidden subliminal message?
everything
Tree Men
adamshooka.jpg (JPEG Image, 560x423 pixels)
Girl stuck in Pittsburgh airport overnight shoots epic horsing around video
Exploding Perseid Meteor 20100812-EarlyAM on Vimeo
DataLife Engine > Версия для печати > <a href=http://ziza.es/2009/08/26/natura_20_foto.html><strong>Furia de la naturaleza (20 fotos)</strong></a>
Maker Profile - Kinetic Wave Sculptures on MAKE: television on Vimeo
A Supremely Awesome Stuntman
Good Watertower, EVIL WATERTOWER
vai avanti .com by rafaël rozendaal, 2006
Todd Lamb Notes From Chris Gallery