DATA WEBS
Internet Archive: About IA
Ley Orgánica 3/1984, de 26 de marzo, reguladora de la iniciativa legislativa popular. Ficha: Órgano JEFATURA DEL ESTADO Publicado en BOE de 27 de Marzo de 1984 Vigencia desde 16 de Abril de 1984. Esta revisión vigente desde 28 de Mayo de 2006. Sumario Preámbulo La Constitución conforma al régimen político español como una monarquía parlamentaria y, por consiguiente, como una democracia representativa.
Ley Orgánica 3/1984, de 26 de marzo, Reguladora de la Iniciativa Legislativa Popular.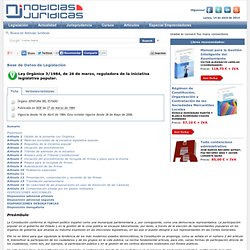 MiFirma
Este sitio web utiliza cookies para gestionar las sesiones de usuarios registrados y analizar las vistas y actividad de los usuarios anónimos o registrados. Cualquier acción que no sea el bloqueo de las mismas con esta herramienta implica el consentimiento para su instalación y uso. Puedes desactivar las cookies empleadas para el análisis de visitas por medio de esta aplicación, o bien eliminarlas posteriormente con tu navegador.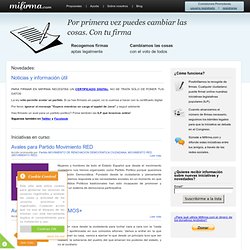 About the video Hans Rosling says there's nothing boring about stats, and then goes on to prove it. A one-hour long documentary produced by Wingspan Productions and broadcast by BBC, 2010. A DVD is available to order from Wingspan Productions. Director & Producer; Dan Hillman, Executive Producer: Archie Baron. ©Wingspan Productions for BBC, 2010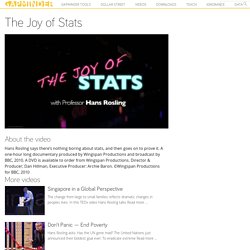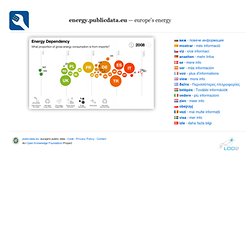 What is the Europe's Energy project? Countries around the world are taking measures to mitigate climate change. Member States of the European Union have agreed on targets aimed at reducing greenhouse gas emissions by cutting energy consumption by 20% and increasing the share of renewables in the energy mix to 20% by 2020.
Welcome - energy.publicdata.eu