Articles
Get flash to fully experience Pearltrees
Please email your feedback for publication , letters to the editor, errors, omissions, typos, formatting errors, ambiguities, unclear wording, broken/redirected link reports, suggestions to improve this page or comments to Roedy Green : .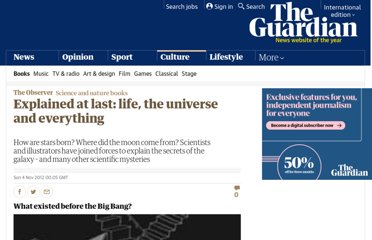 What existed before the Big Bang? The universe is, in fact, thought to have emerged from a sphere of gas smaller than a pea. To call the beginning of the universe the "Big Bang" (science shorthand for that most distant moment to which one can still trace the operation of our laws of physics ) is to use something of a misnomer.
­The only fool-proof way to avoid a hangover, of course, is not to drink alcohol . But from a scientific perspective, researchers have found the following general regimen minimizes the symptoms of a hangover. Before Drinking Eat a full meal - A full stomach slows down the absorption of alcohol, giving the body more time to process the toxins.
Scientists have found the biggest and oldest reservoir of water ever--so large and so old, it's almost impossible to describe.