Web2.0
Web 2.0 Expo Word Map
by Oliver Reichenstein We have done it before: the 200 most successful websites pinned down on the Tokyo Metro Map, ordered by category, proximity, success, popularity and perspective. Now we have done it again — and better. Back by popular demand: here is iA's next Web Trend Map: Download It!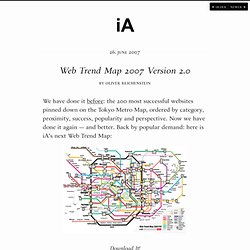 Web2.0 Logo Showcase
Membership Software | Wild Apricot - Easy Membership Management
Build, connect & grow your association, non-profit, or club Say goodbye to Excel and paper records No software to install, runs "in the cloud" Volunteers can use it from any browser Manage member sign-up, renewals and payments Promote and manage event registrations online Build your public and members-only website Number 1 in Membership Management With more than 6,500 paid customers, Wild Apricot is the #1 membership management system on the market according to Capterra, who recently conducted research to find out "which membership management software options are the most popular." We're proud to report that Wild Apricot ranked #1!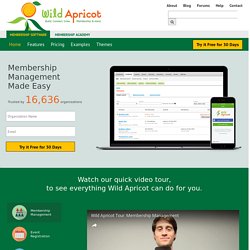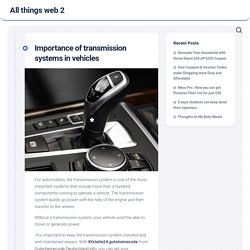 All Things Web 2.0 has been created in response to the heavy blog traffic generated by my original post " All Things Web 2.0 - The List " on my blog Sacred Cow Dung . All Things Web 2.0 - The Directory "portalizes" the original post content -- so now the Web 2.0 Community itself can keep the directory content current -- as well as enhance its usefulness for everyone -- through incremental community knowledge aggregation. Why an Open Directory for Web 2.0? Not only was the traffic " The List " generated surprizing, I was also surprized at how people were using The List. Apparently, people would bookmark my post and then frequently return, to use it as a Launching Off Point to check out various Web 2.0 apps when they had a spare moment or two. Both the amount of traffic and the fact that people were actually evaluating the listed applications, made portalizing "The List" into an Open Directory, a no-brainer.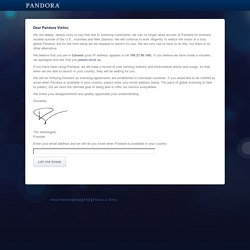 Dear Pandora Visitor, We are deeply, deeply sorry to say that due to licensing constraints, we can no longer allow access to Pandora for listeners located outside of the U.S., Australia and New Zealand. We will continue to work diligently to realize the vision of a truly global Pandora, but for the time being we are required to restrict its use.
Web 2.0 list. Rate Web2.0. Forum, Tag and AJAX.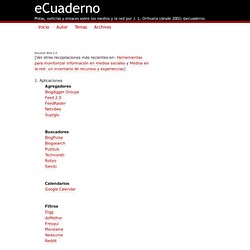 eCuaderno Pistas, noticias y enlaces sobre los medios y la red por J. L. Orihuela (desde 2002) @ecuaderno
Aplicaciones 2.0
Thumbstacks.com - Live presentations on the web!
The web professional's online magazine of choice. In: Columns > Web 2.0 Design: Bootstrapping the Social Web By Richard MacManus By Joshua Porter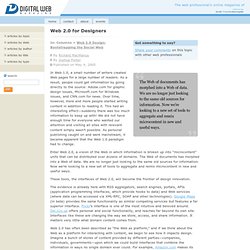 Web 2.0 for Designers
The Best Sites about web2.0 from Diigo
Tech titan and TechCrunch founder Michael Arrington is known for his virtual outbursts and high temper when it comes to Silicon Valley drama, and his yacht . But an ex-girlfriend now claims that Arrington was violent toward her in real life, and threatened to "murder" her if she told anyone. On Thursday, Jenn Allen, the CEO and founder of start-up RTist.com posted the following public status update to her 4,500 Facebook subscribers: Last post on someone i'm completely over. I've never been lonelier in my entire life.
Andrew Keen's Manifesto - Eleven Unfashionable Thoughts on
theweb20dev.com
Des de les seves estructures i funcionalitats, els espais d'art contemporani neccessiten generar plataformes de proximitat específiques per tal d'assumir dinàmiques de treball efectives des del compromís i el rigor amb el seu temps. Més enllà del model institucional habitual -basat en el fet expositiu com a eix vertebrador de la seva identitat- el centre d'art assaja actualment múltiples estratègies de producció de coneixement i de distribució de continguts; aspectes que porten a una constant revisió i qüestionament els seus rols i pràctiques, tot entenent que la hibridació de formats ofereix noves possibilitats de contace amb usuaris actius. Després d'anys de crítica institucional, trobem institucions que, d'una manera constructiva han decidit experimentar amb els formats per tal d'aconseguir dinàmiques de producció, distribució i proximitat eficients. In-stitution presenta algunes d'aquestes institucions en el context europeu.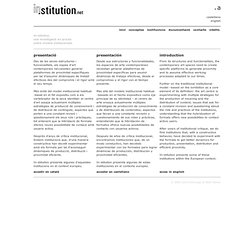 Centre d'Art Santa Mònica
web2logo.com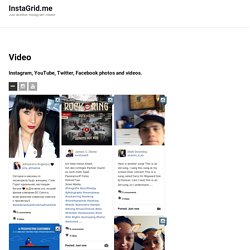 Its no surprise to us but it was to a NYC night club. They purchased an iPod id scanner after looking at the price and believing that anything related to Apple was cutting edge. The web site claimed it had leading edge technology and that they had the best ID Scanner technology. This same company, new to the id scanner market and really just one person working out of an apartment, continues to claim their technology stops fake ids and is far superior to the existing offerings of other id scanner companies. Well this pretty famous or infamous club in New York City, who had the "old" id scanning machines tried a couple of the new iPod ID Scanners for a week and gave up.
Watch the videos to find out more. What's this all about? TakingITGlobal's mission is to empower youth to understand and act on the world's greatest challenges. We can't wait for you to get involved! Learn More Become a TakingITGlobal Blogger!