Web2.0
Social. Internet. Software_social 1. Webdesign. Software_social 3. Software_social 4. Web 2.0 Expo Word Map. Information Architects Japan » iA Notebook » Web Trend Map 2007. By Oliver Reichenstein We have done it before: the 200 most successful websites pinned down on the Tokyo Metro Map, ordered by category, proximity, success, popularity and perspective.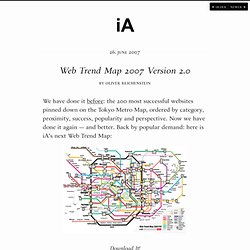 Now we have done it again — and better. Back by popular demand: here is iA's next Web Trend Map: Download It! Web2.0 Logo Showcase. Membership Software | Wild Apricot - Easy Membership Management. Allthingsweb2.com. (Paused) Love Spreads by The Stone Roses - Pandora - Find New Mu. Web 2.0 list. Rate Web2.0. Forum, Tag and AJAX. Aplicaciones 2.0. eCuaderno Pistas, noticias y enlaces sobre los medios y la red por J.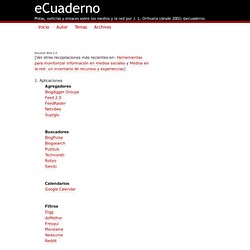 L. Orihuela (desde 2002) @ecuaderno. Otro procesador de texto. Thumbstacks.com - Live presentations on the web! Web 2.0 for Designers. The web professional's online magazine of choice.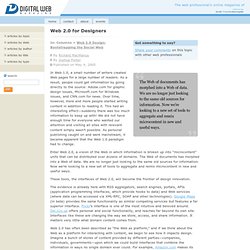 In: Columns > Web 2.0 Design: Bootstrapping the Social Web By Richard MacManus By Joshua Porter.
The Best Sites about web2.0 from Diigo. JAKOB NIELSEN: The State of Web 2.0 Design - Valleywag. Andrew Keen's Manifesto - Eleven Unfashionable Thoughts on. MOSSO :: The Hosting Cloud - Home. Theweb20dev.com. Centre d'Art Santa Mònica. Web2logo.com. Dion Hinchcliffe's Web 2.0 Blog. TakingITGlobal - Inspire. Inform. Involve. Web 2.0 Workgroup - A network of Web 2.0 resources. Go2Web20.net - The complete Web 2.0 directory.
---