Software_social 3
Qué es el software social. Siguiendo con la serie de rankings dedicados a periodistas, esta vez nos hemos ido a Galicia.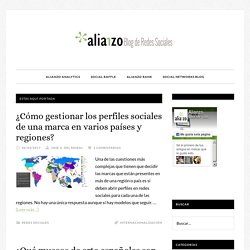 De la mano de Nacho de la Fuente, hemos seleccionado a los más influyentes en los medios sociales y los hemos puesto en una clasificación. Evidentemente, pueden faltar algunos, así que no dudes en añadirlos en los comentarios para que vayamos metiéndolos. El primer clasificado hoy es Xosé Manuel Pereiro, codirector de la revista Luzes. Ayer en un curso de social media para periodistas les conté que hemos llegado al fin de la moda del community manager y que este tipo de trabajo va a ir desapareciendo. Evidentemente, en este tipo de afirmaciones siempre hay algo de provocación, pero en el fondo estoy convencido de que las cosas han cambiado y mucho y que muchas marcas van a dejar de invertir dinero para animar páginas de Facebook y demás gaitas. Justcartography - Free Cartography Systems.
Cartography is the science of map-making.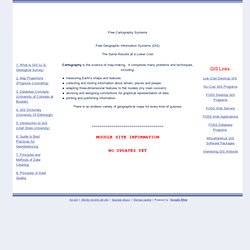 It comprises many problems and techniques, including: measuring Earth's shape and featurescollecting and storing information about terrain, places and peopleadapting three-dimensional features to flat models (my main concern)devising and designing conventions for graphical representation of dataprinting and publishing information. Rethinking Community Documentation. By Andy Oram 07/06/2006 A new era is halfway here, and nobody has recognized its impact--even though we've all participated eagerly in its arrival.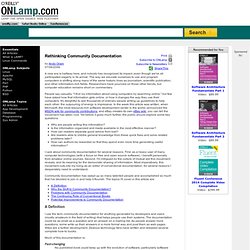 The way we educate ourselves to use and program computers is shifting along many of the same historic lines as journalism, scientific publication, and other information-rich fields. MyQuire.com - The place for projects. SuprGlu - Gluing your life together. E-barcelona.org Fòrum de Cultura, democratitzem la democràcia. Crusher Website. Plaxo. Sigue lo que se dice de WikiST. Compete. Second Brain™ - All Your Content. LiFE2Front : you, you, and YOU. And your friends too. Wiki Mailxmail: Crea tu propio wiki. Blog.myspace.com/irata. Picasa Web Albums. Blist | Create, Organize, Share, Connect. Shyftr. Riya - Visual Search.
FuseCal - The Web's Events in Your Calendar. Lifestreams - your life live. Pixish: We bring visual artists and publishers together. Fray is the web's original storytelling magazine, telling true stories online and off since 1996.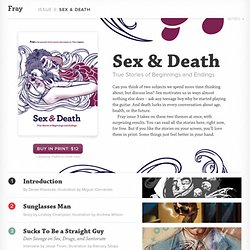 Fray began as a website. We presented individually designed, true first-person stories. The Telegarden. A free online service to organise your academic paper. ILIAS. Peanut Labs. What We Use: The Lifehacker Editors' Favorite Software and. Feed Sifter: Get only the good stuff. ITerating: Wiki-Based Software Guide. Ginger: the new Netvibes. Posts from the Social Software Category at The Social Software W. Where is me? - whereisme.com. PerfSpot. Web2share wiki. Leafletter. Blip.tv (beta) 30 Boxes | Online Calendar. Reddit.com: what's new online. Joost™ MoSexIndex. Jumpcut - Be good to your video. Drupal.org | Community plumbing.
Social Source Commons. ProfileFly - Share Your Profiles Contacts Bookmarks. A Whole Features: Social Software ideas. Participatory Media Literacy / Participatory Media Literacy. Guide To This Site's Contents Welcome to Participatory Media Literacy (Home)BloggingWikiRSSSocial Bookmarking, Tagging, Music/Photo/Video SharingPodcastingVideo BloggingDigital Video ResourcesDigital StorytellingMashupsChat: Channeling the BackchannelTransliteracyForecasting: Thinking long term, developing foresight Participatory Media Education Resources.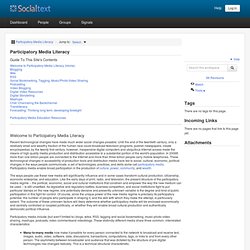 ---