Software_social 3
Las bases de datos conocidas hasta ahora (bases de datos relaciones) están dejando poco a poco su protagonismo absoluto para dar paso a una nueva clase de gestión de base de datos conocida como NoSQL. Bien es cierto que este nuevo modelo está aún muy lejos de cazar a las tres grandes: Oracle, MySQL y SQLServer.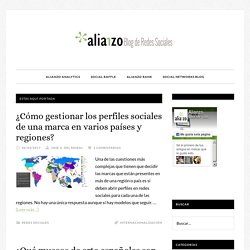 Qué es el software social
justcartography - Free Cartography Systems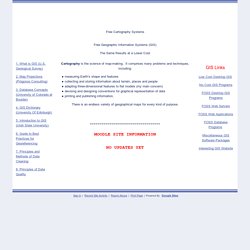 Cartography is the science of map-making. It comprises many problems and techniques, including: measuring Earth's shape and featurescollecting and storing information about terrain, places and peopleadapting three-dimensional features to flat models (my main concern)devising and designing conventions for graphical representation of dataprinting and publishing information. There is an endless variety of geographical maps for every kind of purpose.
by Andy Oram 07/06/2006 A new era is halfway here, and nobody has recognized its impact--even though we've all participated eagerly in its arrival. The way we educate ourselves to use and program computers is shifting along many of the same historic lines as journalism, scientific publication, and other information-rich fields.
Rethinking Community Documentation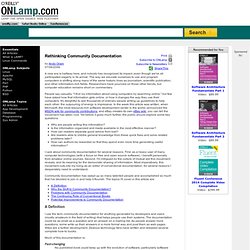 MyQuire.com - The place for projects
SuprGlu - Gluing your life together.
e-barcelona.org Fòrum de Cultura, democratitzem la democràcia
Crusher Website
Sigue lo que se dice de WikiST
LiFE2Front : you, you, and YOU. And your friends too
Wiki Mailxmail: Crea tu propio wiki
blog.myspace.com/irata
blist | Create, Organize, Share, Connect
Shyftr
FuseCal - The Web's Events in Your Calendar
lifestreams - your life live
Fray is the web's original storytelling magazine, telling true stories online and off since 1996. Fray began as a website. We presented individually designed, true first-person stories.
Pixish: We bring visual artists and publishers together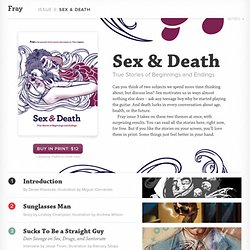 The Telegarden
ILIAS
Peanut Labs
What We Use: The Lifehacker Editors' Favorite Software and
SExpand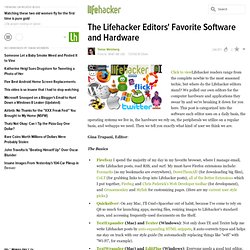 Feed Sifter: Get only the good stuff
ITerating: Wiki-Based Software Guide
Ginger: the new Netvibes
where is me? - whereisme.com
PerfSpot
web2share wiki
Leafletter
MoSexIndex
Social Source Commons
ProfileFly - Share Your Profiles Contacts Bookmarks
A Whole Features: Social Software ideas
Guide To This Site's Contents Welcome to Participatory Media Literacy (Home)BloggingWikiRSSSocial Bookmarking, Tagging, Music/Photo/Video SharingPodcastingVideo BloggingDigital Video ResourcesDigital StorytellingMashupsChat: Channeling the BackchannelTransliteracyForecasting: Thinking long term, developing foresight Participatory Media Education Resources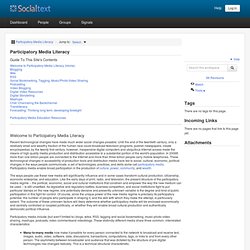 Participatory Media Literacy / Participatory Media Literacy