Redes_culturales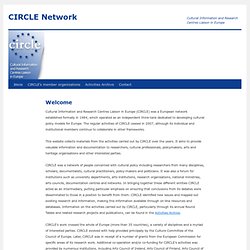 Cultural Information and Research Centres Liaison in Europe (CIRCLE) was a European network established formally in 1984, which operated as an independent think-tank dedicated to developing cultural policy models for Europe. The regular activities of CIRCLE ceased in 2007, although its individual and institutional members continue to collaborate in other frameworks. This website collects materials from the activities carried out by CIRCLE over the years. It aims to provide valuable information and documentation to researchers, cultural professionals, policymakers, arts and heritage organisations and other interested parties.
CIRCLE website
centre de ressources internationales des lieux de culture
Euro-Festival Info Centre, the web service of the European Festi
Stoa
Ping-o-Matic!
ACCR Association des Centres Culturels de Rencontre
Culture and creation: strategic position and inter... The cultural and creative sectors are in a strategic postion to promote smart, sustainable and inclusive growth in the European Union and thus contribute to the Europe 2020 strategy. Find out the executive summary on the cultural and creative sector's export and internationalisation support strategies here Find out the...
L'association PETZI souhaite contribuer à renforcer la valorisation du bénévolat et la participation des jeunes au sein des clubs et des festivals de musiques actuelles en mettant sur pied un modèle de certificat de reconnaissance du travail bénévole. Particulièrement adapté à ce secteur, PETZI encourage donc les associations au sein des salles de concert et des festivals à délivrer systématiquement un certificat de travail bénévole aux personnes qui en font la demande en cours de fonction et celles qui quittent leur poste en ayant donné de leur temps et de leur savoir-faire à l'intérieur de la structure. Nombre d'entre elles ont non seulement offert mais acquis des compétences professionnelles essentielles qui serviront à la recherche d'un emploi et seront reconnues et mises à profit dans leur futur travail. Le certificat sert à visibiliser et valoriser les acquis liés à un travail bénévole auprès des milieux professionnels.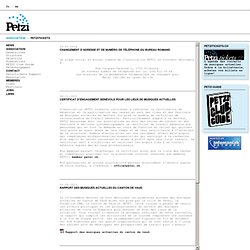 Trans Europe Halles Index
Le peuple des connecteurs - Thierry Crouzet
Mobility opportunities with travel costs paid. Find out more in our NEWS section! In January-May 2014, we're working on... Find out what we're working on in January-May 2014, which meetings we're organising, what researches we're carrying out... regular updates about what On the Move does - apart from publishing mobility opportunities, of course!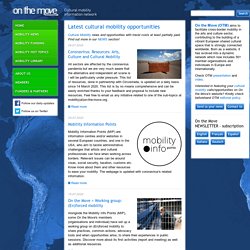 Boletín
You may not be able to visit this page because of: an out-of-date bookmark/favourite a search engine that has an out-of-date listing for this site a mistyped address you have no access to this page The requested resource was not found. An error has occurred while processing your request. Please try one of the following pages:
INTA - The International Urban Development Association - Communi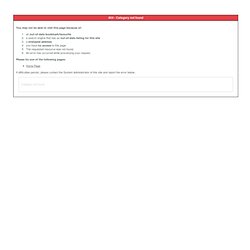 Wireless Networking in the Developing World - Download
15 Years: The Compendium of Cultural Policies & Trends in Europe Anniversary to be celebrated in Vienna, December 2013 When it all started in May and June 1998, the perspectives of what was to gradually develop into the "Compendium" www.culturalpolicies.net, as we know it today, were quite blurred: The ERICarts Institute had responded to a call for tenders issued by the Council of Europe, indicating that the planned new information tool should, at its best, take the form of a "database designed to act as an interactive, multilingual electronic space on the Internet", given that "the burden of bureaucratic procedures or high costs" should be avoided and up to date content secured. However, these and some other ideas could not be realised at once: Following an internal "0-number", later in that year, the first regular Compendium edition of 1999 came out as a loose-leaf-collection with 14 country profiles, published by ARCult Media.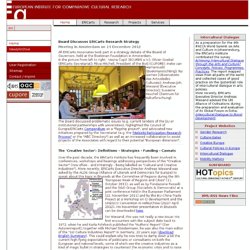 European Institute for Comparative Cultural Research
European Forum for the Arts and Heritage
Brown Signs California Bill for Free Textbooks California Governor Jerry Brown has signedSB 1052 and 1053, authored by state senator Darrell Steinberg, to create free textbooks for 50 core lower-division college courses. SB 1052 creates a California Open Education Resources Council, made up of faculty from the UC, Cal State, and community college systems. The council is supposed to pick 50 core courses. They are then to establish a "competitive request-for-proposal process in which faculty members, publishers, and other interested parties would apply for funds to produce, in 2013, 50 high-quality, affordable, digital open source textbooks and related materials, meeting specified requirements." The bill doesn't become operative unless the legislature funds it -- a questionable prospect in California's current political situation.
The Assayer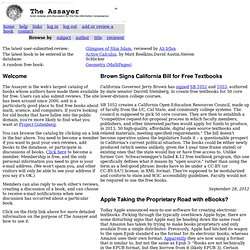 Sant Adrià de Besòs
Servicio Orientación Lectura
Библиотека изображений «РИА Новости»
DBM
Culturelink, the Network of Networks for Research and Cooperatio