Othello
El juego llamado Othello
World Othello Championships 2003
Roy Arnold's Othello Page
Australian Othello Federation
The perfect play line in 6x6 Othello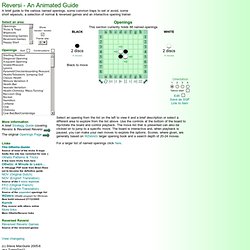 Select an opening from the list on the left to view it and a brief description or select a different area to explore from the list above.
Reversi - An Animated Guide
Federation Belge d'Othello
Vince's Othello Page
Othello Bulletin #334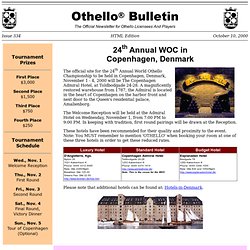 The official site for the 24 th Annual World Othello Championship to be held in Copenhagen, Denmark, November 1 - 4, 2000 will be The Copenhagen Admiral Hotel, at Toldbodgade 24-28. A magnificently restored warehouse from 1787, the Admiral is located in the heart of Copenhagen on the harbor front and next door to the Queen's residential palace, Amalienborg. The Welcome Reception will be held at the Admiral Hotel on Wednesday, November 1, from 7:00 PM to 9:00 PM.
otras paginas
Main Page (sarok)
LINKS8
OTHELLO
woc2000
Othello
Resultados
LINKS
Gunnar's Othello page
Dansk Othello Forbund
Page officielle de la F.F.O.
Las Damas - u Othello -
Torneo amistoso en internet de reversi
Othello mattel
INTERNATIONAL REVERSI
reversi
Welcome To PlaySite
Official web site of the Othello game in France.
VOG2 - FREE Online Backgammon, Checkers & Draughts, Chess an
LOGISTELLO's Homepage
Federazione Nazionale Gioco Othello
BLUEZ OTHELLO LINKS
Campeonato de reversi
Welcome to the Othello-Reversi Website!
WOC2000
Clubs reversi