libros
Get flash to fully experience Pearltrees
Insistimos en un tema que nos interesa notoriamente : ¿cómo responder a la interrogante sobre el devenir del último eslabón de la cadena del libro que el tandem digitalización-crisis económica está volviendo incierto para agentes independientes y pequeños puntos de venta?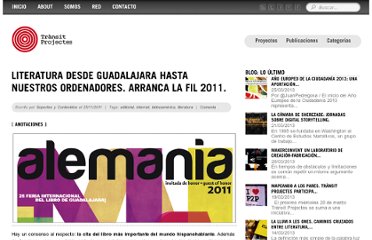 Hay un consenso al respecto: la cita del libro más importante del mundo hispanohablante . Además de funcionar como un doble embudo que aglutina propuestas y después las lanza y dispersa por diferentes mercados, es una cita que, sin duda, está dirigida a los lectores.
The Paris Review blog, which just gets better and better each week, posted Andrew David Watson's lovely video yesterday about Michael Seidenberg , who moved his shop, Brazenhead Books, into his New York City apartment after his bookshop rent skyrocketed.
New iPad, in Origami stand, with Apple wireless keyboard: best writing system in the world! IT'S GREAT WHEN A REAL LANDMARK EVENT HAPPENS.
La edición tradicional se basa en una cadena que une de manera sucesiva y escalonada a los creadores, los intermediarios —sean estos editores, distribuidores, libreros o bibliotecarios— y los lectores o usuarios.