Jocs
Games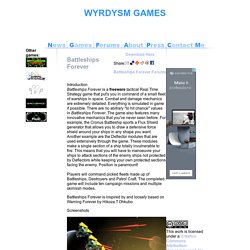 Introduction Battleships Forever is a freeware tactical Real Time Strategy game that put's you in command of a small fleet of warships in space. Combat and damage mechanics are extremely detailed. Everything is simulated in game if possible. There are no abitrary "to hit chance" values in Battleships Forever. The game also features many innovative mechanics that you've never seen before. For example, the Cronus Battleship sports a Flux Shield generator that allows you to draw a defensive force shield around your ships in any shape you want.
Water Cooler Games - videogames with an agenda
Estrategia Milenaria Oriental Las Paginas de Go de Alfredo Valen
Investigations into the Master Mind Board Game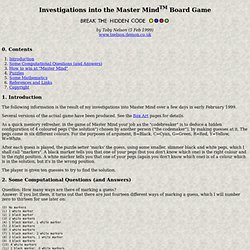 by Toby Nelson (5 Feb 1999)www.tnelson.demon.co.uk 0. Contents 1. Introduction 2.
Wazap! The Game Search Engine
Sifteo Cubes Competition Round 1 Finalists! Congratulations to everyone who submitted an entry for Round 1 of the Sifteo Cubes Competition! We've all enjoyed reading about and experimenting with each of the prototypes and designs this month.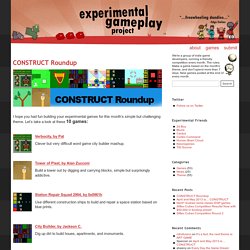 GAMER THEORY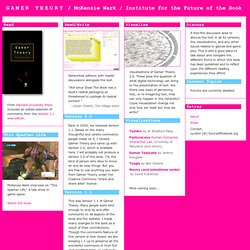 Networked editions with reader discussions alongside the text. "Not since Steal This Book has a book's radical packaging so threatened to upstage its radical content." —Julian Dibbell, The Village Voice Version 2.0
SOWPODS Home Page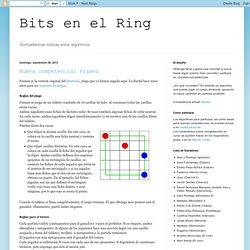 Para esta competencia he elegido una variante del Datum que surgió conversando con algunos participantes. Las reglas del Ignotum son básicamente las mismas que las del Datum, excepto por algunas diferencias cruciales. Veamos: Reglas del juego Juegan dos jugadores, usando un dado de N caras. Los jugadores no saben cuánto vale N.
Bits en el Ring
Teaching Educational Games Resources - OpenContent Wiki
Readings - A list of the reading you use in teaching about educational games including books, journal articles, non-journal articles, and news stories Multimedia Materials - A list of the games and other multimedia materials you use in teaching about educational games Technical Resources - A list of technical resources (software, games, game engines, etc.) that have been used in teaching about educational games Classroom Help - Online classes, and the syllabi, schedules, and other materials you use in teaching about educational games