Internet
On the Brink: Un documental sobre el pasado, presente y futuro de internet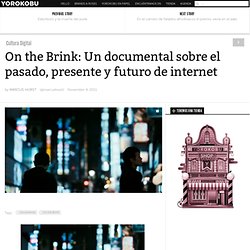 Tags: DocumentalOn the Brink Mensajes utópicos pero también realistas sobre internet y el impacto que está teniendo en nuestras vidas. Todo esto contado a través de personas como la fundadora de Flickr, el creador de Soundcloud o el director de Wired UK. On the Brink es un documental de 20 minutos patrocinado por Ericsson (pero sin vender la moto) que toca estos temas y deja claro que estamos solo ante el comienzo de algo muy grande. ¿Qué os ha parecido?
"Es hora de cambiar la forma de pensar" · ELPAÍS.com
"Es un momento crítico. Hay que reconocer que la historia de Internet todavía es breve, pero ha hecho posibles movimientos revolucionarios, como los que han surgido últimamente, sin líderes ni ideología. Esto nunca habría sido posible sin Internet. Las grandes corporaciones quieren reducir el debate al tema de la propiedad intelectual, pero lo que está en juego es la libertad de expresión". Lo afirma John Perry Barlow, personaje clarividente y discreto, cofundador de la Electronic Frontier Foundation (EFF) y autor de la Declaración de independencia del ciberespacio, que cumple 15 años con la misma vigencia de entonces. Barlow ha estado en Barcelona para participar en el tercer Foro Internacional de Cultura Libre.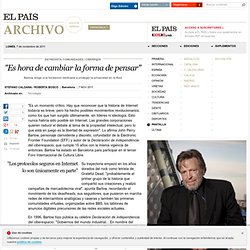 BBC Mundo - Noticias - Los robots tendrán su internet
Post Carbon Institute promotes the strategy of relocalization — building strong local communities to increase Resilience. (Visit our resilience.org site.) Looking for information on how to join or set up a group? Click here.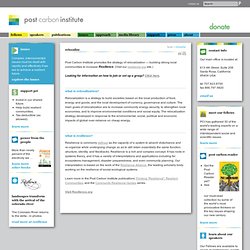 Home | relocalize.net
Pagina principal de EuroCAUCE
PROJECT GUTENBERG OFFICIAL HOME SITE - INDEX -- Free Books On-Li
Project Gutenberg is the Internet's oldest producer of FREE electronic books (eBooks or eTexts). Project Gutenberg is the brainchild of Michael Hart, who in 1971 decided that it would be a really good idea if lots of famous and important texts were freely available to everyone in the world. Since then, he has been joined by hundreds of volunteers who share his vision.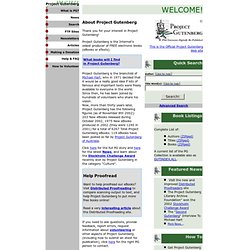 ad pepper media spain
Vannevar Bush first wrote of the device he called the memex early in the 1930s. However, it was not until 1945 that his essay "As We May Think" was published in Atlantic Monthly. The frequency with which this article has been cited in hypertext research attests to its importance. In particular, both Douglas Engelbart and Ted Nelson have acknowledged its pivotal influence. (From Memex to Hypertext contains both a letter from Engelbart to Bush (235) and an homage to Bush by Nelson (245).) The memex is "a device in which an individual stores all his books, records, and communications, and which is mechanized so that it may be consulted with exceeding speed and flexibility" (102).
Memex
Next update: In progress! By Keith Instone. Usable Web is a stale collection of links about information architecture, human factors, user interface issues, and usable design specific to the World Wide Web. Topics Methods (16 links): Techniques on how to improve the usability of the web.
Usable Web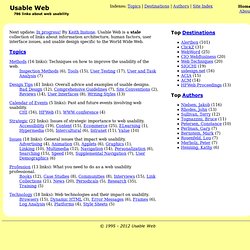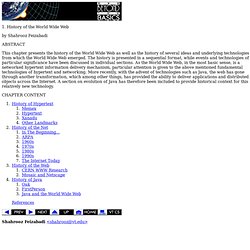 1. History of the World Wide Web by Shahrooz Feizabadi
WWWBTB -- History (Overview)
The World Wide Web History Project
The World Wide Web was designed to bolster the sharing and availability of information. Ironically, the actual records of this technical and cultural transformation are in danger of being lost. "The good thing about digital media is that you can save everything. The bad thing about digital media is that you can lose everything." - Brewster Kahle, Web pioneer, founder of The Internet Archive The Web History Center is a non-profit educational organization to make public the history of the World Wide Web and preserve it for posterity. The Web History Center helps researchers and collection holders to preserve and promote the history of the web era by: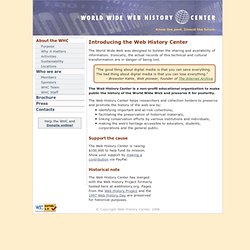 http://www.cluetrain.com Los mercados son conversaciones. Los mercados consisten de seres humanos, no de sectores demográficos. Las conversaciones entre seres humanos suenan humanas. Se conducen en una voz humana. Ya sea transmitiendo información, opiniones, perspectivas, argumentos en contra o notas humorosas, la voz humana es abierta, natural, sincera.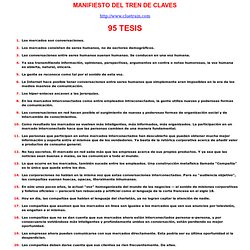 Manifiesto Cluetrain en Español
EDICIÓN ELECTRÓNICA
The Cyberspace and Critical Theory Overview
HTML con Clase - Breve historia de la World Wide Web