Historia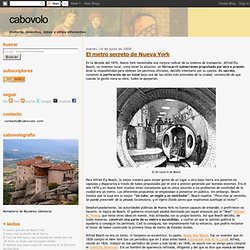 El metro secreto de Nueva York
En la década del 1870, Nueva York necesitaba una mejora radical de su sistema de transporte. Alfred Ely Beach, un inventor local, creía tener la solución: un ferrocarril subterráneo propulsado por aire a presión. Ante la imposibilidad para obtener los permisos oficiales, decidió intentarlo por su cuenta. En secreto, comenzó la perforación de un túnel bajo una de las calles más animadas de la ciudad, convencido de que cuando la gente viera su obra, todos le apoyarían.
Robot Messenger Displays Person-to-Person Notes In Public Source: Modern Mechanix (August 1935) TO AID persons who wish to make or cancel appointments or inform friends of their whereabouts, a robot message carrier has been introduced in London, England. Known as the "notificator," the new machine is installed in streets, stores, railroad stations or other public places where individuals may leave messages for friends.The user walks up on a small platform in front of the machine, writes a brief message on a continuous strip of paper and drops a coin in the slot. The inscription moves up behind a glass panel where it remains in public view for at least two hours so that the person for whom it is intended may have sufficient time to observe the note at the appointed place. The machine is similar in appearance to a candy-vending device.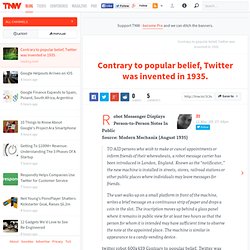 Contrary to popular belief, Twitter was invented in 1935. - The
In Issue 71 you will find the following feature articles: The Performance-based Funding Model: Creating New Research Databases in Sweden and Norway - Leif Eriksson describes how the introduction of Performance-based Research Funding Systems (PRFS) has created new forms of research databases in Sweden and Norway.eMargin: A Collaborative Textual Annotation Tool - Andrew Kehoe and Matt Gee describe their Jisc-funded eMargin collaborative textual annotation tool, showing how it has widened its focus through integration with Virtual Learning Environments. The Wellcome Library, Digital - Christy Henshaw and Robert Kiley describe how the Wellcome Library has transformed its information systems to support mass digitisation of historic collections. Developing a Prototype Library WebApp for Mobile Devices - Jason Cooper and Gary Brewerton describe the development of a prototype WebApp to improve access to Library systems at Loughborough University for mobile devices.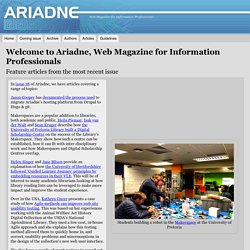 Creating and Managing Digital Content
MUSEOdebate.com
http://www.historiadigital.com
Powys Heritage recuperación de memoria
Pew Internet: Blogosphere
Bethlehem - Recuperación de memoria
AHD
Historia digital del Arte
Museu d'Història de Tarragona - Ajuntament de Tarragona
HISTORIA-DIGITAL
They Still Draw Pictures
Continuing Studies - Best Practices For Museum Website Design -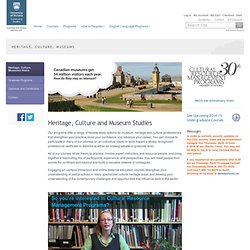 Our programs offer a range of flexible study options for museum, heritage and cultural professionals that strengthen your practice, build your confidence and advance your career. You can choose to participate in many of our courses on an individual basis, or work toward a widely recognized professional certificate or diploma at either an undergraduate or graduate level. All of our courses relate theory to practice, involve expert instructors and resource people, and bring together a fascinating mix of participants, experience, and perspectives. You will meet people from across the continent and beyond and build a valuable network of colleagues.
Otro proyecto sumativo