Gestió_cultural 1
Twitter Oscar M. Ciuró ‏ @ sarok 2h Acaba el día de trabajo, buen decorado, sin incidentes. # GestiónCultural pic.twitter.com/h9Qm7sPL9h 5:49 PM - 11 May 13 Flagged (learn more)
sarok : Acaba el día de trabajo, buen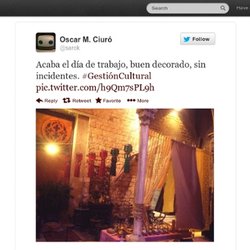 sarok : 45 sillas, 6 tarimas rosco
_CRS_Gesti%C3%B3nCultural2
Cercles. La revista digital de CERC
IST KA3 Digicult Newsletter
de Die gesuchte Seite ist auf CORDIS nicht zu finden. Sie könnte entfernt oder umbenannt worden sein oder zeitweilig nicht zur Verfügung stehen.
TEATRO EN AUDIOVISUALES.NET
AGORA
Multimèdia CCCB
D - L I B M A G A Z I N E doi:10.1045/dlib.magazine | ISSN:1082-9873 Table of Contents [ Editorial ] Acquisition and Preservation By Laurence Lannom, Corporation for National Research Initiatives [ Abstract ] [ Article ] Participatory Cultural Heritage: A Tale of Two Institutions' Use of Social Media By Chern Li Liew, Victoria University of Wellington, New Zealand [ Abstract ] [ Article ] Digital Preservation File Format Policies of ARL Member Libraries: An Analysis By Kyle Rimkus, Thomas Padilla, Tracy Popp and Greer Martin, University of Illinois at Urbana-Champaign [ Abstract ] [ Article ] Managing a National Health Repository By Aoife Lawton and Padraig Manning, Health Service Executive, Ireland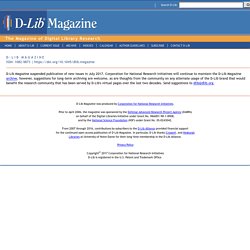 Col.lectius independents CCCB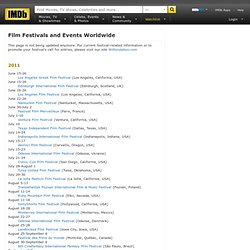 The Internet Movie Database (IMDb)
This page is not being updated anymore. For current festival-related information or to promote your festival's call for entries, please visit our site Withoutabox.com June 15-26 Los Angeles Greek Film Festival (Los Angeles, California, USA) Edinburgh International Film Festival (Edinburgh, Scotland, UK) June 16-26
Gestión Cultural y Comunicación
Gestión Cultural
Comarcàlia - Una finestra de Catalunya oberta al món-
ebooks2001 - electronic books conference sponsored by LITC,JISC,
global events guide
Filmreviews - Filmlinks
Artnodes, espacio de arte, ciencia y tecnología
Artnodes is an e-journal promoted by the Universitat Oberta de Catalunya which analyses the intersections between Art, Science and Technology. DOI: http://doi.dx.org/10.7238/issn.1695-5951 No 13 (2013): Media art history/stories Full Issue Table of Contents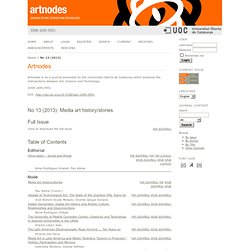 f e s t i v a l e s . c o m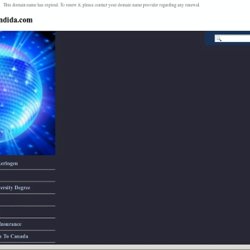 Множество отелей, кафе, рестораны, бары, дискотеки. Некоторые опытные туристы идут еще дальше и умудряются ездить на обед в Варну, где много маленьких ресторанчиков с национальной болгарской кухней.. С учетом дороги это все равно получается дешевле. Пляжи вполне оправдывают название курорта, это его главная визитная карточка.
La Casa Encendida
International Symposium 2008 | CREATIVE CONSTRUCT | Building for
We gratefully acknowledge and thank Infrastructure Canada, Canadian Heritage, the City of Ottawa, and Simon Fraser University's Centre for Policy Research on Science and Technology (CPROST) for their support of this initiative. v
Pues bien, así como las corporaciones son entera y únicamente máquinas de incrementar la opulencia de sus accionistas (a menudo en detrimento de la cultura y la vida), ®TMark es una máquina de mejorar la cultura y la vida de sus accionistas (a menudo en detrimento de las opulencias) ®TMark apoya la alteración informativa de productos corporativos, desde muñecas a instrumentos didácticos infantiles o videojuegos. Si le echas una ojeada a nuestra lista de proyectos verás la diversidad de campos en que andamos implicados. Y nuestras páginas de historia (de las cuales ya hay una) describerén algunos de nuestros éxitos más recientes... Empieza tu propia ®TMark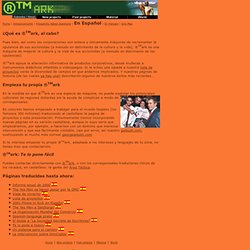 En Español
Revistes on-line CCCB
Espais independents CCCB
Links teatre
Foros de arquitectura, diseño, CAD e ingeniería
Arquitectura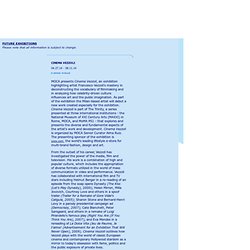 MOCA presents Cinema Vezzoli, an exhibition highlighting artist Francesco Vezzoli's mastery in deconstructing the vocabulary of filmmaking and in analyzing how celebrity-driven culture influences art and the public imagination. As part of the exhibition the Milan-based artist will debut a new work created especially for the exhibition. Cinema Vezzoli is part of The Trinity, a series presented at three international institutions - the National Museum of XXI Century Arts (MAXXI) in Rome, MOCA, and MoMA PS1 - that explores and presents the diverse and fundamental aspects of the artist's work and development. Cinema Vezzoli is organized by MOCA Senior Curator Alma Ruiz.
STOCKARTIST - The New Art Market
Ariadne Issue 26 Contents
Making the Net Work Toolbox
Making the Net Work have developed workshop techniques for planning online projects and neighbourhood renewal, based on Drew Mackie's experience designing games and simulations. David Wilcox and Terry Grunwald contributed content. Scottish digital champions have used the game to plan community development IT professionals played the game at their conference Technology centres can use the game for 'fun' learning activities Champions for a Wired up Community used the game - pdf newsletter download The game is part of a major guide for residents and landlords using new technology, supported by the Joseph Rowntree Foundation. Full guide text here >
FEMP
Lo sentimos, la página a la que intenta acceder no existe o no se ha podido localizar en nuestro servidor. Puede ser que haya sido suprimida, se le haya cambiado el nombre o que por el momento no se encuentre disponible Si ha escrito la dirección de la página, revísela cuidadosamente comprobando que la ortografía es la correcta.
Años Naciones Unidas
Presentació
Festivals i aconteixements CCCB
Xabide, Gestión Cultural y Comunicación
Educational Events
Diputació de Barcelona - CERC
INSTITUT D'EDICIONS Logotips
LA CASA ENCENDIDA