Educació 3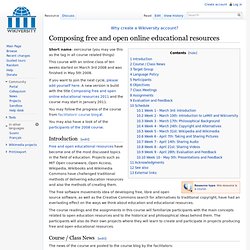 Short name: oercourse (you may use this as the tag in all course related things) This course with an online class of ten weeks started on March 3rd 2008 and was finished in May 5th 2008. If you want to join the next cycle, please add yourself here.
Composing free and open online educational resources - Wikiversi
Boletín de Educación-GazteNet
Sobre web 2.0 en educación
Pagina nueva 1
KnowNet - Open Source for Collaborative Knowledge Development an
The Edublogger — Tips, tricks, ideas and help with using web 2.0
Fundació Jaume I
sme-learning: ICT & SMEs Project Website
Lesson Writer
Australian Flexible Learning Framework - Home
Curriwiki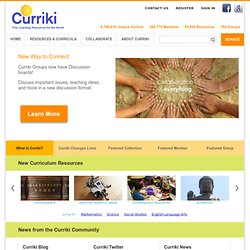 Donate There are a lots of ways to get involved with Curriki from contributing resources to sponsoring content. Curriki's non-profit Tax ID # is 203478467. You can also help us with tax deductible donations: Volunteer If you are looking for meaningful volunteer opportunities, we would love to hear from you.
El Web Educatiu de les Illes Balears
VETNET - Home
B-Learning4All » Welcome to the b-learning4all Project Website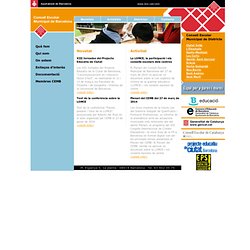 Consell Municipal Escolar
Activitat Plenari del CEMB del 19 de novembre de 2013 L'Informe sobre els ajuts de menjador escolar i el Pla de treball del Consorci d'Educació del curs 2013-2014, punts rellevants del Plenari del Consell Escolar Municipal de Barcelona. <veure més>
E-Aprendizaje - knowledge, collaboration, information, partnersh
SCoPE
E-Aprendizaje - knowledge, collaboration, information, partnersh
CETIS
EduSpaces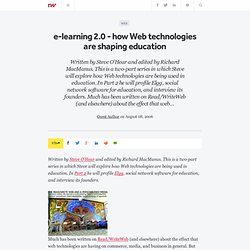 e-learning 2.0 - how Web technologies are shaping education
Written by Steve O'Hear and edited by Richard MacManus. This is a two-part series in which Steve will explore how Web technologies are being used in education. In Part 2 he will profile Elgg, social network software for education, and interview its founders. Much has been written on Read/WriteWeb (and elsewhere) about the effect that web technologies are having on commerce, media, and business in general.
WEB http://dialogo.ugr.es - Correo e. dial@elvira.ugr.es Boletín Informativo Núm. 42- segunda quincena de agosto de 2002 En este Boletín: A. - Noticias de las universidades en la web.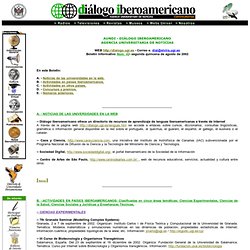 Bienvenid@s a Diálogo Iberoamericano, Agencia Universitaria de N Post número 1: (autor:alvaro gregori blog: mandarina-learning ) (p.d.ultimamente estoy mu pillao por los cítricos) Tecnocentrismo e Infocentrismo Archivado en: artículos — Alvaro Gregori @ 1:27 pm Esas son las dos mayores lacras que sufre el e-learning. Primero pasamos el sarpullido del tecnocentrismo.
marzo 2006
CinEscola. El cinema a l'aula. [AulaMèdia]
Peoples-Uni.org