Creació_col.lectiva
Taller i activitats a l'estiu per grans i petits : vine al Convent!
Voice Thread, un nuevo concepto de álbum multimedia - El Blog de. Interfaz de Voice Thread Voice Thread es una herramienta para generar audiolibros y una nueva alternativa para las presentaciones.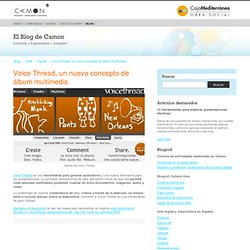 La principal característica de esta aplicación online es que nos permite crear álbumes multimedia pudiendo insertar en ellos documentos, imágenes, audio y vídeo. De juan freire, Free Culture Forum. Organization and action. SubEthaEdit. SubEthaEdit is a powerful and lean text editor.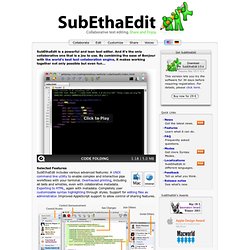 And it's the only collaborative one that is a joy to use. By combining the ease of Bonjour with the world's best text collaboration engine, it makes working together not only possible but even fun… Click to Play Selected Features. Prototyping modules. Magazine: Create a customized magazine from your digital photogr. Downloads. La Petite Claudine: Inteligencia Colectiva My Ass. Inteligencia Colectiva My Ass LPC en Reflexiones | Agosto 02, 2006 Write a paper promising salvation, make it a 'structured' something or a 'virtual' something, or 'abstract', 'distributed' or 'higher-order' or 'applicative' and you can almost be certain of having started a new cult.E.W.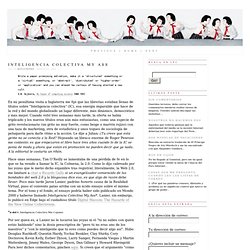 Dijkstra, My hopes of computing science [EWD 709] Web-based mind mapping software. Instructables: step-by-step collaboration. Www.proyectoweb.org - CUBA - Diseño, Usabilidad y Arquitectura W. Creative Think. Florencia Morado: Interfaces. ¿Qué quieren leer en sus celulares?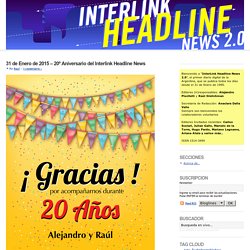 Aunque internet cumplió en marzo clic 25 años, la historia del periodismo digital aún está, si no en pañales, en la niñez temprana, comparado con los medios que lo precedieron. La discusión es álgida. Hay quienes creen que en móviles la gente sólo lee noticias breves, que las frases tienen que ser muy cortas, que el lenguaje debe ser simple. Abogan por que el contenido de nuestra versión de escritorio se tiene que adaptar a la de los teléfonos, que tenemos que tener a esos lectores como prioridad cuando pensamos en cómo presentar nuestras notas. Yo, en cambio, aunque soy una ferviente defensora de los elementos gráficos que facilitan la lectura, pienso que la plataforma es algo secundario y que los lectores buscan en sus celulares lo que siempre han buscado: buenas historias, originales, bien escritas, con buenas fotografías, buenos videos. Grupos de Trabajo - II Congreso ONLINE OCS / www.cibersociedad.n.
KNotes.
---