Cibercultura
Manifiesto por la liberación de la Cultura. TICs y Ciudad Punto de Partida. Ver Introducción Final / 2001.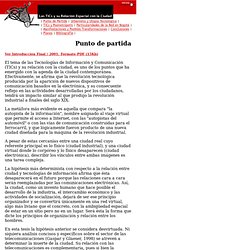 Formato PDF (15Kb) El tema de las Tecnologías de Información y Comunicación (TICs) y su relación con la ciudad, es uno de los puntos que ha emergido con la agenda de la ciudad contemporánea. Efectivamente, se afirma que la revolución tecnológica producida por la aparición de nuevos dispositivos de comunicación basados en la electrónica, y su consecuente reflejo en las actividades desarrolladas por los ciudadanos, tendrá un impacto similar al que produjo la revolución industrial a finales del siglo XIX. Ciberespacio y Sociedad - Página de entrada. Internet profundo. Recuperar información de la Internet profunda Salir en Google, Posicionamiento en google Jose Angel Ruiz Felipe.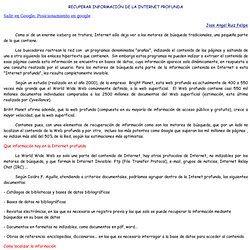 Drawn! The Illustration and Cartooning Blog. Interviewstream » Blog Archive » Warren Neidich. Interview with by Summer 2004 : Though the idea of Neuroaesthetics first appears in your work discussions about 1995 but you were a practicing artist sometime before that.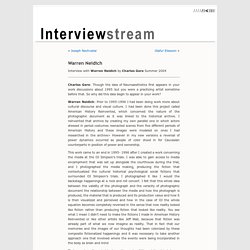 So why did this idea begin to appear in your work? : Prior to 1995-1996 I had been doing work more about cultural discourse and visual culture. Entre el gran hermano y el perfecto idiota [Voltaire] Es decir, para él, había un árbol y otro y otro, pero no podía aferrar el concepto universal de árbol.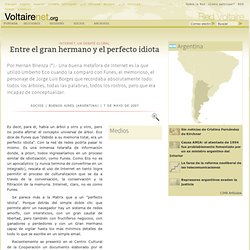 Eco dice de Funes que "debido a su memoria total, era un perfecto idiota". Con la red de redes podría pasar lo mismo. Es una inmensa telaraña de información donde, a priori, todos ingresaríamos en un proceso similar de idiotización, como Funes. Como Eco no es un apocalíptico (y nunca termina de convertirse en un integrado), rescata el uso de Internet en tanto logre permitir el proceso de culturalización que se da a través de la conversación, la conservación y la filtración de la memoria. Aveiro Digital. Official Seal Generator. CITDIG. El Futuro del Ciberespacio - Juan Chamero. Introducción Su Usted busca por "noosfera" [ Nota 1 ] al día Martes 12 de Abril, a las 2:22 PM Tiempo del Este para Estados Unidos y el Canadá del presente año en el buscador Altavista, encontrará 30.136 páginas que tratan sobre ese concepto.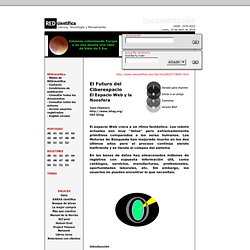 Es ésta una extraña palabra que aún no merece una entrada en la versión en línea del Diccionario Merriam Webster. Sin embargo, conocemos y usamos el Ciberespacio, neologismo que tiene 777.290 entradas en el mismo Altavista, pero que por el contrario, tiene una entrada en el mencionado diccionario desde el año 1986, con el siguiente significado: el mundo en línea de las redes computacionales.
Espacio Web es otro neologismo aún no incluido en ese diccionario pero que merece 485.805 entradas en Altavista. LeitoMonk, volando cachirlas. Pierre Lévy Ciberespai i cibercultura. The Technology and Culture Forum at MIT - Home Page. The Technology and Culture Forum at MIT sponsors lectures and symposia that address critical issues of our time.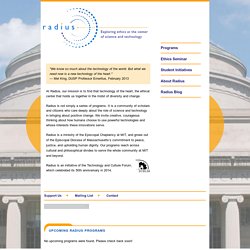 The programs explore the role of science and technology in promoting positive social, ecological, and economic change. In addition, they stimulate discussion about the ethical implications of scientific discovery and technological innovation. Behatokia. Links to Canadian Community Projects. British Columbia: (BCCNA) British Columbia Community Networks Association B.C.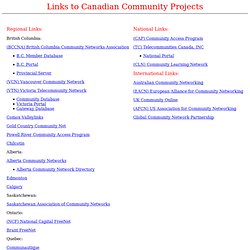 Member Database B.C. Portal Provincial Server. Barlow's Declaration of Independence. CYBERCORNER The Onion's Guide to Human Interaction. First Monday June 2007. Plastic Recycling The Web In Real Time. Llama Links! El ciberespacio el no lugar como lugar educativo. Julio Cabero Almenara Universidad de Sevilla 1.- Introducción.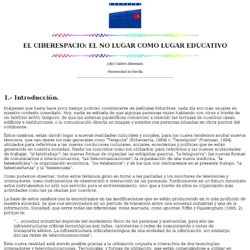 Imágenes que hasta hace poco tiempo podrían considerarse de películas futuribles, cada día son más usuales en nuestro contexto inmediato. Designing Cyberinfrastructure. Exclusão Digital [textos] Darwin - Distribuited Agents for Retrieval the Web Network. Dear UserYou are invited to post your Profile of Interest concerning all possible Internet resources: information, knowledge and entertainment, in order to improve our services.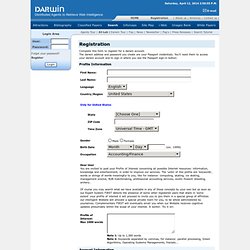 The 'units' of this profile are 'keywords', words or strings of words meaningful to you, like for instance: computing, skating, ice skating, management science, B2B matchmaking, professional accounting services, exotic flowers' breeding, archery… Of course you may search what we have available in any of those concepts by your own but as soon as our Expert System FIRST detects the presence of some other registered users that share in 'some extent' your profile of interest it will proceed to invite you to join them in a special group of affinities our intelligent Website will allocate a special private room for you, to be whole administered by yourselves.
Complementary FIRST will eventually email you when our Website receives cognitive updates presumably within the scope of your interest. It works!. Sociedadelainformacion. XC. Hackerethic.org. Educalibre | Tecnología y Conocimiento Libre para una Educación. Communities of Practice. Welcome to the Web's first site dedicated to communities of practice, since 1995!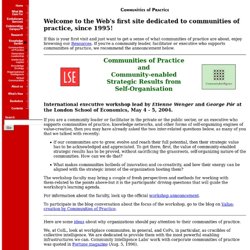 If this is your first visit and just want to get a sense of what communities of practice are about, enjoy browsing our Resources . If you're a community leader, facilitator or executive who supports communities of practice, we recommend the announcement below. Fundación Vía Libre » MABI: El nuevo libro de Fundación Vía Libr. Welcome to the Home of the 3D Internet, Virtual Reality and Comm. TRANSFRONTERIZO. Thinkcycle file mirror. CyS - Internet y la pobreza. Informe Panos No. 28. A space for asylum seekers. Textos de cibercultura. MATARÓ - línies de treball. Nuevos canales de la información y comunicación y sus posibilida. Julio Cabero Almenara Universidad de Sevilla 1.- Algunas ideas previas.
En los últimos años la sociedad occidental está sufriendo una de las mayores revoluciones económicas y sociales que ha ocurrido en nuestra cultura. Si la anteriores grandes revoluciones, giraron en torno a la energía como elemento de potenciación y desarrollo, la actual se centra en un elemento inmaterial como es la información, y en sus posibilidades de creación, tratamiento, manipulación, traslado y recuperación. Aspecto que no se limita a unos códigos y medios específicos, sino que se extiende a una diversidad de ellos, que van desde los verbales hasta los visuales, y desde los analógicos hasta los digitales y sintéticos. - I3C - Internet Créatif, Coopératif, Citoyen.
---