Capsulaorwell
How McDonaldized surveillance creates a monopoly on sight that chills AR and smartphone development — CapsulaOrwell
laperimetral
2013 Federal Budget Limits Body Scanners, But Expands Domestic Surveillance
2013 Federal Budget Limits Body Scanners, But Expands Domestic Surveillance According to White House budget documents and the Congressional Testimony of Secretary Napolitano, DHS will not purchase any new airport body scanners in 2013. However, the agency will expand a wide range of programs for monitoring and tracking individuals within the United States.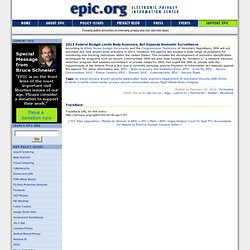 Stallman: Facebook IS Mass Surveillance
The father of free software philosophy spoke to RT on evil developers, spying social networks, the almost-legitimacy of Anonymous hacks and the condition under which he would take a proprietary program and a million dollars. Stallman is the man behind the concept that every computer program must be free for users to study and modify as they want. This is the only way to ensure that by using the software users do not compromise their human rights, he says. " " he told RT. There are many ways how people can be stripped of their freedom through the software they use.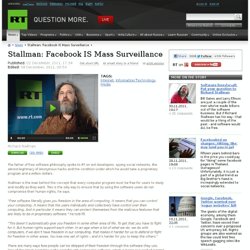 laperimetral
radarqnet: Big Brother is watching you in the Plaza de George Orwell, Barcelona+ some excerpt, images and links from culture actions against this contradiction:At 7:30 pm on Monday 7 October 2002, the Surveillance Camera Players (SCP) performed in front of a police surveillance camera installed in the Plaza de George Orwell in Barcelona, Spain. For this unusual performance, the SCP consisted of Bill Brown of the SCP-New York, who was in Barcelona to participate in a conference on culture jamming and hacktivism at the Centre de Cultura Contemporania de Barcelona (CCCB), two members of the Italian art group 0100101110101101.org, Juan from Retro You, Nuria, and several "locals" who happened by the performance and liked what they saw. Also in attendance as spectators/photographers were Hans from Uebermorgen and Stefano from El Pais. - notbored.orgIf you want to see images you can visit d-i-n-a.net (d*** flash)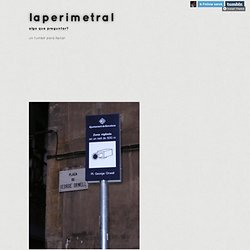 laperimetral
Une journée sous surveillance
Les documents révélés par WikiLeaks laissent entrevoir le paysage de la surveillance. Un téléphone portable devient un parfait mouchard, des connexions (sécurisées ou non) des mines d'informations, et les réseaux peuvent être espionnés à l'échelle d'un pays. Vivre une journée au milieu des nouvelles technologies de surveillance, un marché mondial de cinq milliards de dollars. Les fabricants redoublent d'inventivité. A partir des plaquettes et documents internes rendus publics jeudi par WikiLeaks, OWNI plonge dans une journée sous surveillance.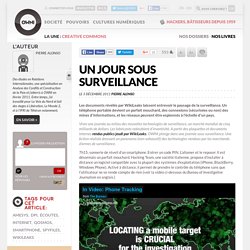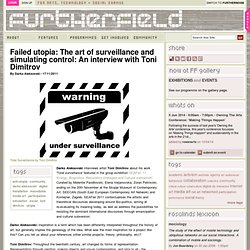 Total Surveillance by Toni Dimitrov Darko Aleksovski interviews artist Toni Dimitrov about his work 'Total surveillance' featured in the group exhibition SEAFair '11 'Energy, Biopolitics, Resistance strategies and Cultural subversion'. Curated by Melentie Pandilovski, Elena Veljanovska, Zoran Petrovski, ending on the 20th November at the Skopje Museum of Contemporary Art, SEECAN (South East European Contemporary Art Network) and Kontejner, Zagreb. SEAFair 2011 contextualises the artistic and theoretical discourses developing around Bio-politics, aiming at re-evaluating its meaning today, as well as address the possibilities for resisting the dominant international discourses through emancipation and cultural subversion.
Failed utopia: The art of surveillance and simulating control: An interview with Toni Dimitrov
The cameras that record the moment of their own destruction
Embedded Video and Your Privacy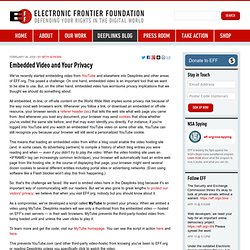 We've recently started embedding video from YouTube and elsewhere into Deeplinks and other areas of EFF.org. This posed a challenge: On one hand, embedded video is an important tool that we want to be able to use. But, on the other hand, embedded video has worrisome privacy implications that we thought we should do something about.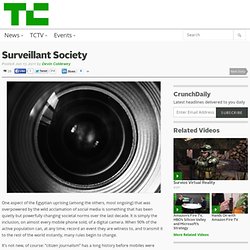 One aspect of the Egyptian uprising (among the others, most ongoing) that was overpowered by the wild acclamation of social media is something that has been quietly but powerfully changing societal norms over the last decade. It is simply the inclusion, on almost every mobile phone sold, of a digital camera. When 90% of the active population can, at any time, record an event they are witness to, and transmit it to the rest of the world instantly, many rules begin to change. It's not new, of course: "citizen journalism" has a long history before mobiles were prevalent, and the growing trend of "you report"-style news and things like Twitter streams in live reporting are as plain as the lens on your phone.
Surveillant Society
laperimetral
Violence and social networking in Mexico: Actors and surveillance technologies by Nelson Arteaga Botello, Universidad Autónoma del Estado de México Download Arteaga Botello Vernacular Resistance To Data Collection And Analysis: A Political Philosophy Of Obfuscation by Finn Brunton & Helen Nissenbaum, Dept. of Media, Culture & Communication, New York University
Research Papers | Digitally Mediated Surveillance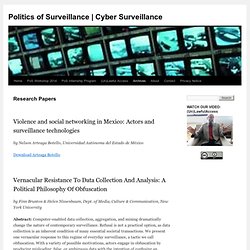 ./mediateletipos))) / Copyright + Internet = Surveillance
Un proyecto sobre el control y la vigilancia
Un proyecto sobre el control y la vigilancia
laperimetral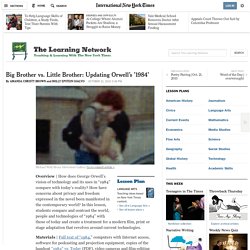 Overview | How does George Orwell's vision of technology and its uses in "1984" compare with today's reality? How have concerns about privacy and freedom expressed in the novel been manifested in the contemporary world? In this lesson, students compare and contrast the world, people and technologies of "1984" with those of today and create a treatment for a modern film, print or stage adaptation that revolves around current technologies. Materials | Full text of "1984," computers with Internet access, software for podcasting and projection equipment, copies of the handout "1984" vs. Today (PDF), video cameras and film-editing software (optional) Warm-Up | Give students the following list of words from "1984":
Lesson Plan: Updating Orwell's '1984'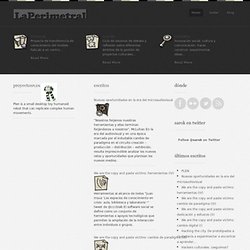 Laperimetral FormaLab Proyecto de transferencia de conocimiento del modelo FabLab a un centro... Read More Guerrilla
Xpanded – vblog » Surveillance
Essentially, officials want Congress to require all services that enable communications — including encrypted e-mail transmitters like BlackBerry, social networking Web sites like and software that allows direct "peer to peer" messaging like — to be technically capable of complying if served with a wiretap order. The mandate would include being able to intercept and unscramble encrypted messages. The bill, which the Obama administration plans to submit to lawmakers next year, raises fresh questions about how to balance security needs with protecting privacy and fostering innovation. And because security services around the world face the same problem, it could set an example that is copied globally. James X. Dempsey, vice president of the Center for Democracy and Technology, an Internet policy group, said the proposal had "huge implications" and challenged "fundamental elements of the Internet revolution" — including its decentralized design.
U.S. Tries to Make It Easier to Wiretap the Internet
Apple solicita una patente para impedir los usos no autorizados de sus teléfonos · ELPAÍS.com
Apple busca más herramientas para combatir los métodos que permiten la ruptura de los sistemas de protección de sus teléfonos para emplear aplicaciones no autorizadas o liberar el mismo para disfrutar de conexión con otra operadora. También el robo. La compañía ha solicitado una patente titulada "Sistemas y Métodos para la identificación de usuarios no autorizados de un dispositivo electrónico," que describe una serie de medidas de seguridad para proteger automáticamente los dispositivos. Uno de los objetivos es perseguir el llamado jailbreaking, que permite ejecutar aplicaciones no aprobadas por la empresa que produce el sistema operativo. La solicitud de patente se conoce después de que Estados Unidos haya declarado no punible esta actividad.
Il Grande Fardello/The big bother disponibile sotto licenza cc
Big [B]Other: Thoughts while reading the Rhizome piece
Thoughts while reading the Rhizome piece Reaction to Osfavelados and his Rhizome for dummies Maybe Hypertexts do indeed not exist, because we cannot perceive them, we can only follow its branches but it is very hard for a human to perceive all the branches at once, it is hard for humans to comprehend the totality of all possibilities. We think in lines, follow paths, go back on our tracks. If that is hypertext, then maybe it does exist, but chances are that we are only confronted with chaos. I am a phenomenologist: I believe that I can only perceive the world with the aid of myself.
Le nuove tecnologie della sorveglianza di Robin Ballantyne * tratto da Covert Action Quarterly 64 (primavera 1998) tradotto da Tactical Media Crew - http://www.tmcrew.org In un particolareggiato e spaventoso rapporto, lo STOA (Scelta e Valutazione delle Opzioni Scientifiche e Tecnologiche), si descrive un sistema di sorveglianza di telecomunicazione globale che può mettere sotto controllo tutti i telefoni, e-mail, e trasmissione fax, di privati cittadini, politici, sindacalisti, attivisti, sospetti terroristi e aggregazioni simili, insomma tutti.
Le tecnologie del controllo politico - Armi non letali
blamb
CapsulaOrwell | Un proyecto sobre el control y la vigilancia
la #capsulaorwell se expande por la red… ...
laperimetral algo que preguntar? un tumblr para llenar Instalar este tema
Terror-veillance posters at LA airport use CNN's "iReport" neolo