Blogs 2
Innovación hoy para la educación del mañana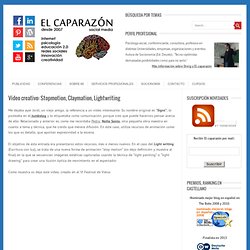 Vídeo creativo: Stopmotion, Claymation, Lightwriting | El capara
Me dejaba ayer Jordi, un viejo amigo, la referencia a un vídeo interesante. Su nombre original es "Signs", lo posteaba en el tumbelog y lo etiquetaba como comunicación, porque creo que puede hacernos pensar acerca de ello. Relacionado y anterior es, como me recordaba Pedro, Notte Sento, otra pequeña obra maestra en cuanto a tema y técnica, que he creído que merece difusión. En este caso, utiliza recursos de animación como los que os detallo, que aportan expresividad a la escena. El objetivo de esta entrada era presentaros estos recursos, más o menos nuevos.
Atravesad*s por la cultura
PedroCarrillo.com
B L O G S & D O C S » revista on line dedicada a la no ficci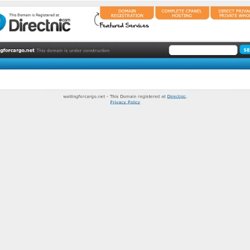 Thank you for visiting waitingforcargo.net (the "Web Site") and reviewing our Privacy Policy. Your privacy is important to us, and our policy is simple: we will collect no personally identifiable information about you when you visit the Web Site unless you choose to provide that information. This Privacy Policy does not describe information collection practices on other sites, including those linked to or from the Web Site. The server on which the Web Site is located collects and saves only the default information customarily logged by web server software. Such information may include the date and time of your visit, the originating IP address, and the pages and images requested.
Waiting for Cargo
to2blogs - Directorio de Blogs de Venezuela - Últimos Actualizad
Movement
La_Edad_Media_de_la_Era_digital
No suma cero » Onanismo, medios o redes: Conversación en la red
Staff - Charles Kreitzberg
WEB-BASED TRAINING INFORMATION CENTER WBT, Online Learning, Dist
Update 9/26/2008: Paul Newman has died at his home in Connecticut. (original article, posted 8/13/2008) I'm certainly not alone in being troubled by news that Paul Newman is gravely ill.
Ghost Sites [November 1, 2001]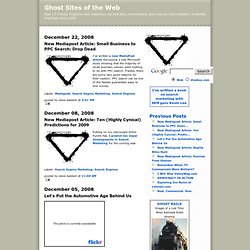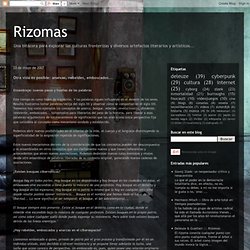 Ensamblaje: nuevas pasos y huellas de las palabras Este tiempo es como todos de transición. Y las palabras siguen influyendo en el devenir de los seres. Resulta ilustrativo tomar palabras/valija del siglo XX y observar cómo se comportan en el siglo XXI. Tomemos hoy como ejemplos los conceptos de anarca, bosque, rebelde, revolucionario, disidente, resistente, emboscados... tomemoslos para liberarlos del peso de la historia, para liberar a esas palabras/arquitectura de los mecanismos de significación que las atan a una única perspectiva fija que considera al concepto como mecanismo oxidado y establecido.
Otra vida es posible: anarcas, rebeldes, emboscados...
PERIODISTA DIGITAL la información a un clic
http--www.infousabilidad.com-
sarok
co.mments - Recently added conversations
Blogger Templates
Welcome to the Sociocyberforum's NetSite
phi design ™
REVISTAS ELECTRONICAS PARA CIENCIAS DE LA INFORMACION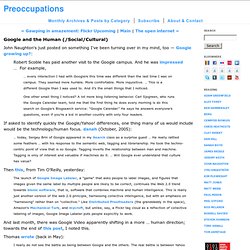 Google and the Human (/Social/Cultural)
John Naughton's just posted on something I've been turning over in my mind, too — Google growing up?: Robert Scoble has paid another visit to the Google campus. And he was impressed … For example,
José Salmerón Design Strategist
SABER
Articles
Una persona tiene capacidades para pensar, para comprender, para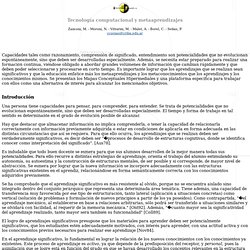 Tecnología computacional y metaaprendizajes Zanconi, M. - Moroni, N. - Vitturini, M. - Malet, A. - Borel, C. - Señas, P.ccsenas@criba.edu.ar Capacidades tales como razonamiento, comprensión de significado, entendimiento son potencialidades que no evolucionan espontáneamente, sino que deben ser desarrolladas especialmente.
Nathan Shedroff's World
ESPAI ALLIBERAT PER LA CULTURA
cibersomosaguas: cibercultura y movimientos sociales
Main at InfoVis.net
May 1st Reboot
Online Journalism Review