DIY
6 secrets I learned at makeup artist school. Total-beauty TODAY Style TODAY Jan. 12, 2012 at 9:50 AM ET Totalbeauty.com / By Sharon Yi, TotalBeauty.com.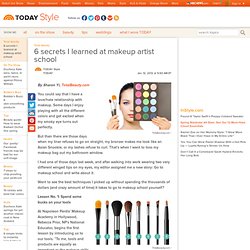 25 Beauty Tips Reusing Household Items – Homemade Beauty Tips on ELLE. 1.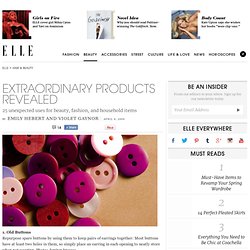 Old Buttons Repurpose spare buttons by using them to keep pairs of earrings together: Most buttons have at least two holes in them, so simply place an earring in each opening to neatly store when not wearing. Photo: Jupiter Images 2. Eyebrow Brush Stuck without a lint-remover? Use this handy makeup tool to remove unwanted fuzz from your shirt. How to make your own pore strips. You know those Biore pore strips you buy at the drugstore for about $12 a pop? Yeah, those. Today I'm going to teach you how to make your own homemade pore strips. Make-up / ...get a bowl of water, pour little bits of all the different shades you want, it should float on the top, swirl with a toothpick or something like it and when it looks like you want on top of the water, then dip your nails through the water. Craft for Kids: Melted Crayon Canvas Art. We're always looking for new and fun ways to keep the kids entertained, which is why we fell head-over-heels in love with this unique craft project.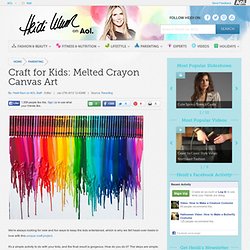 It's a simple activity to do with your kids, and the final result is gorgeous. How do you do it? The steps are simple. 1. Watermark Tee by Sweet Verbana. Hello U-Create readers!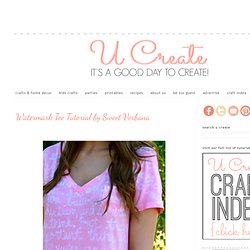 I am so excited to be guest posting here today. It just so happens to be my first guest post and I'm still a little shocked that it's here at Ucreate, one of my favorite blogs! A little bit about me.. Wine Bottle Design | Recycled Wine Bottle Torch | Package Design Firm | Sustainable Packaging. 08.09.09 | by Erik Anderson Whether it's product branding, package design or projects for ourselves, we're pleased when we find a solution that's very effective and creative, while keeping resources to a minimum.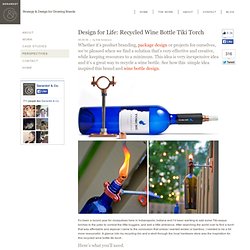 This idea is very inexpensive idea and it's a great way to recycle a wine bottle.
---