Places to Visit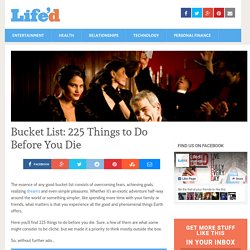 The essence of any good bucket list consists of overcoming fears, achieving goals, realizing dreams and even simple pleasures. Whether it's an exotic adventure half-way around the world or something simpler, like spending more time with your family or friends, what matters is that you experience all the good and phenomenal things Earth offers. Here you'll find 225 things to do before you die. Sure, a few of them are what some might consider to be cliché, but we made it a priority to think mostly outside the box.
Watkins Glen State Park on Seneca Lake - Camping, Pictures, Maps, Information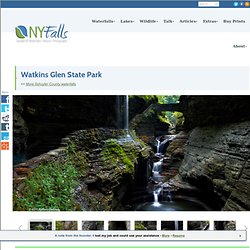 Watkins Glen Area Prints and Gifts for Sale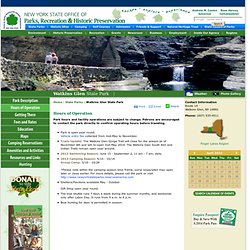 Watkins Glen State Park Hours of Operation - NYS Parks, Recreation & Historic Preservation
Hours of Operation Park hours and facility operations are subject to change. Patrons are encouraged to contact the park directly to confirm operating hours before traveling. Park is open year round.Trails Update: The Watkins Glen Gorge Trail will close for the season as of November 4th and will re-open mid-May 2014. The Watkins Glen South Rim and Indian Trails remain open year around. 2013 Swimming Season: June 15 - September 2, 11 am - 7 pm, daily.2013 Camping Season: 5/10 - 10/14Group Camp: 5/10 - 10/28*Please note within the camping season time frame, some loops/sites may open later or close earlier. For more details, please call the park or visit http://www.newyorkstateparks.reserveamerica.com Shelters/Pavilions available May - October Gift Shop open year round.The trail shuttle runs 7 days a week during the summer months, and weekends only after Labor Day.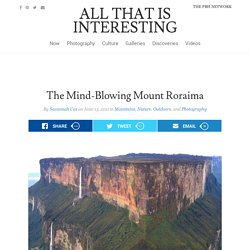 Mount Roraima is the highest of the Pakaraima mountain chain in South America and one of the world's most extraordinary natural geological formations. The 31 square kilometer summit area of Mount Roraima is defined by 400 meter tall cliffs on all sides and includes the borders of Brazil, Venezuela, and Guyana. The tabletop mountains of the Pakaraima's are considered some of the oldest geological formations on Earth, dating back to over two billion years ago. The result is the staggering landscape of Mount Rariama which we tour below in photographs and video:
Things to do in New York City
Preachers Rock, Preikestolen, Norway Blue Caves - Zakynthos Island, Greece Skaftafeli - Iceland