DIY
Amazing Uses For Old Pallets - 30 Pics
If you're like me, you probably have a lot of old stuff just lying around your house. It's not doing anything but taking up space, but you're either too busy (or lazy), sentimental or just have more important things to deal with. Well if you're looking for a little inspiration or a new DIY project, here are 50 creative ways to repurpose, reues and upcycle old things. There's a pretty broad range in this list but hopefully a handful jump out and spark an idea for you and your home! 1.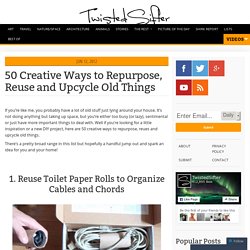 Hot Chocolate Cup Cake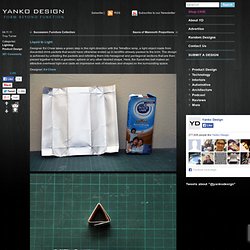 Liquid to Light Designer Ed Chew takes a green step in the right direction with the TetraBox lamp, a light object made from discarded drink packets that would have otherwise ended up in landfills already packed to the brim. The design is achieved by unfolding the packets and refolding them into hexagonal and pentagonal sections that are then pieced together to form a geodesic sphere or any other desired shape. Here, the Epcot-like ball makes an attractive overhead light and casts an impressive web of shadows and shapes on the surrounding space. Designer: Ed Chew
Technical Art and Steampunk Contraptions
DIY: The SunCat Solar Rechargeable Battery | greenUPGRADER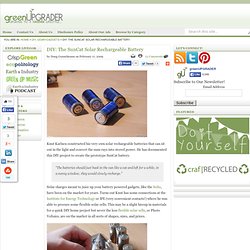 Knut Karlsen constructed his very own solar rechargeable batteries that can sit out in the light and convert the suns rays into stored power. He has documented this DIY project to create the prototype SunCat battery. "The batteries should just bask in the sun like a cat and left for a while, in a sunny window, they would slowly recharge." Solar charges meant to juice up your battery powered gadgets, like the Solio , have been on the market for years. Turns out Knut has some connections at the Institute for Energy Technology or IFE (very convenient contacts!)
DIY - how to make a cereal box wallet
D-I-Y > Food box wallet description: The cool graphics on cereal boxes are much too valuable to throw away. Turn it into something that you can store your valuables inside. With a little bit of elastic, you'll have a crafty new wallet in no time. It also works great as a business card holder. ingredients: - empty food box - like a cereal box - elastic cord - paper template you can download here - you need Adobe Reader to view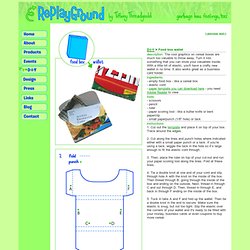 I was walking through Target a few weeks ago and noticed this little knit fabric headband that was not just braided together…….but woven. I decided they were charging way too much for something that could be made with t-shirt scraps. And that means free. So there you have it. A nice and easy project to give my bad-hair-day head some love.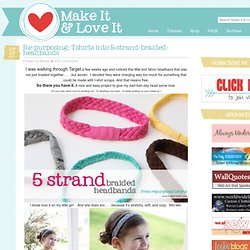 Since the new year has started I've been trying to think of ways to be more kind to my self. Especially when that nasty gremlins try to creep in and stump me. I remembered this origami star video on You Tube and had to get them involved in my plan. I thought it would be fun to make a whole bunch with kind words and "you are…." phrases inside. I made 60 of them, enough to last me the whole year if I open one a week, plus a few extra just in case.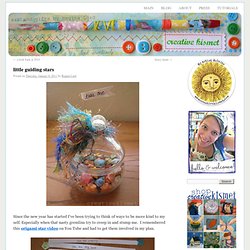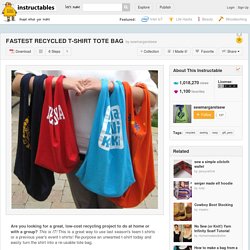 Are you looking for a great, low-cost recycling project to do at home or with a group? This is IT! This is a great way to use last season's team t-shirts or a previous year's event t-shirts! Re-purpose an unwanted t-shirt today and easily turn the shirt into a re-usable tote bag. With just two quick seams and some fast cutting---you are finished! These t-shirt totes are strong and washable!
This is really easy to make and, if you have the right scavenging abilities (and luck), then you can find many of the ingredients at little to no cost. Recycling is always good! You can likely get the fabric, suitcase, plywood, and possibly the plumbing stuff all used/found in an alleyway or thrift store. Tools:
Make an Ottomon Out of an Old Suitcase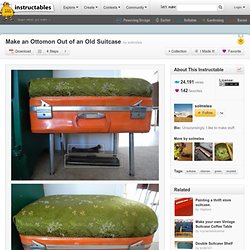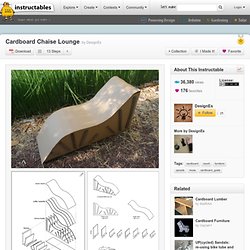 Acquire lots of cardboard.You should ideally find several large flat boxes to use for the outside frame sheets of the couch. The boxes we used came from two bookcases, two desks, a small kitchen table, a bed, a coffee table, and some miscellaneous boxes we borrowed from friends. However, you can make due with lots of small boxes as well, though a few large pieces is recommend. Hold on to any large pieces of styrofoam that come with the boxes. A packing tube can also be useful too. They can be used for internal supports.
Cardboard Chaise Lounge
Bike chain bracelet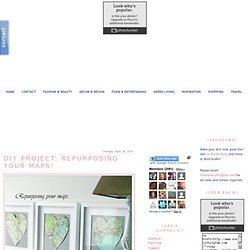 Good Morning darlings...Hope you have a fabulous day today!! With the use of GPS there is really not much use to all those maps we collected through out time...but somehow I have a hard time throwing them away. How about this lovely way of repurposing them?? I think they are super cute for a corridor to the kids room, or a small side wall!!