Gardening
Orchid Care | 1-800-FLOWERS.COM. Follow these simple and easy instructions to repot your orchid, and you'll enjoy their beautiful blooms for years to come.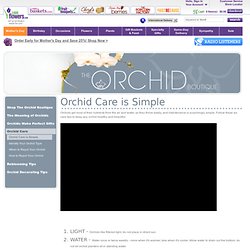 Tools you will need: Newspaper New or used larger pot 10% Chlorine bleach water solution, for sterilizing Kitchen knife, sterilized Heavy scissors or small shears, sterilized Pruning seal Clay shards, lava rock, or Styrofoam peanuts Potting mix, composed of medium-size chunks of fir bark Stakes Stake-ties or orchid clips Plant label. Echinacea Orange Meadowbrite - Coneflower. Grow Guide - Windowbox.com.
Gardenia Daisy Hardy Shrubs Fragrant Blooms by wildcherrywoodshop. This offer is for a set of 3 Daisy Gardenia in 4.5" size plastic containers.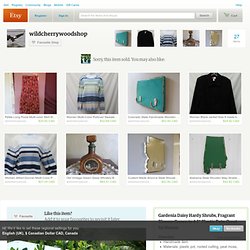 Daisy Hardy Gardenia, an excellent fragrant flowers plant! It produces masses of fragrant, single, daisy-shaped white flowers in late Spring and early Summer and sporadically throughout the season. The Daisy Gardenia Blooms heavier than other Gardenias bushes. Growing an Edible Strawberry Pot. Strawberry pots have a bad reputation in the gardening world.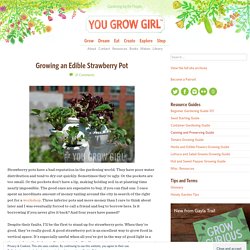 They have poor water distribution and tend to dry out quickly. Sometimes they're ugly. Or the pockets are too small. Glass globes for the garden. Echo Valley Glow in the Dark Gazing Globe and Wrought Iron Stand  Echo Valley Glow in the Dark Gazing Globe and Wrought Iron Stand This gazing globe and stand set takes center stage when it graces your yard, garden, patio, deck or even indoors.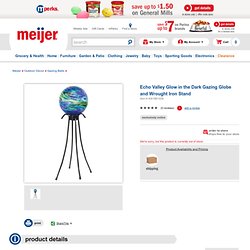 A glow-in-the dark illuminated globe lets your imagination take a step into reality and reflects the night sky so that it feels like you can almost touch it! This beautiful 10"Dia gazing globe is real glass, handmade with traditional blown glass. DIY Garden Planter & Birds Bath - Home Stories A to Z. I shared yesterday that I was working on a diy garden project that was for the birds!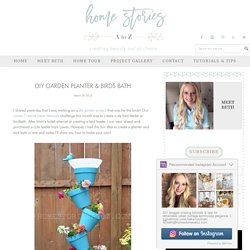 Our Lowes Creative Ideas Network challenge this month was to create a diy bird feeder or birdbath. After Matt's failed attempt at creating a bird feeder, I just went ahead and purchased a cute feeder from Lowes. However, I had this fun idea to create a planter and bird bath in one and today I'll show you how to make your own! Supplies needed: NOTE: Please use your own measurements and judgement when recreating this project. 17 Apart: Growing Celery Indoors: Never Buy Celery Again. Remember when we tested and shared how to grow onions indefinitely last week?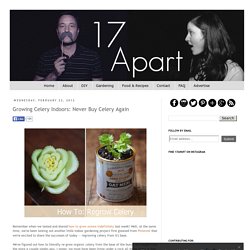 Well, at the same time, we've been testing out another little indoor gardening project first gleaned from Pinterest that we're excited to share the successes of today — regrowing celery from it's base. We've figured out how to literally re-grow organic celery from the base of the bunch we bought from the store a couple weeks ago. Sproutrobot. Easy vegetables to grow.
Planting a garden doesn't have to be a huge undertaking.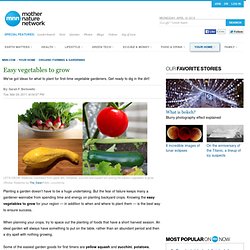 But the fear of failure keeps many a gardener-wannabe from spending time and energy on planting backyard crops. Knowing the easy vegetables to grow for your region — in addition to when and where to plant them — is the best way to ensure success. When planning your crops, try to space out the planting of foods that have a short harvest season. An ideal garden will always have something to put on the table, rather than an abundant period and then a dry spell with nothing growing. Some of the easiest garden goods for first timers are yellow squash and zucchini, potatoes, radishes and tomatoes. RHS Plant Selector. EarthBox. 5 Secrets to a 'No-work' Garden | Eartheasy Blog - StumbleUpon.
It took over 20 years of gardening to realize that I didn't have to work so hard to achieve a fruitful harvest.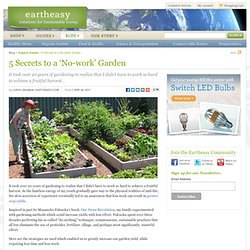 As the limitless energy of my youth gradually gave way to the physical realities of mid-life, the slow accretion of experience eventually led to an awareness that less work can result in greater crop yields. Inspired in part by Masanobu Fukuoka's book, One Straw Revolution, my family experimented with gardening methods which could increase yields with less effort. Fukuoka spent over three decades perfecting his so-called "do-nothing" technique: commonsense, sustainable practices that all but eliminate the use of pesticides, fertilizer, tillage, and perhaps most significantly, wasteful effort.
Here are the strategies we used which enabled us to greatly increase our garden yield, while requiring less time and less work. 1. House Plant Care Guide. No dig gardens - how to do no dig gardening by gardening the no dig way! - StumbleUpon. No dig gardens - how to do no dig gardening by gardening the no dig way! - StumbleUpon. Planting A Pineapple.
Did y'all know that you can take this and turn it into… This?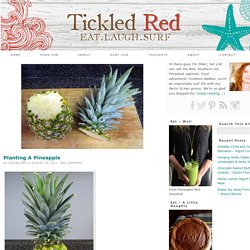 And that this will eventually produce… Green Home Guide. Pinecones and dried herbs such as rosemary, sage leaves, and cinnamon sticks make fragrant kindling for a winter fire -- and, unlike composite firelogs and lighter fluid, don't rely on chemicals to ignite the flame. 1.
Bundle dried herbs and small pinecones in a sheet of newspaper and secure the ends with raffia or cotton twine. 2. As you pile up logs for your fire, nestle the herb bundle underneath, with paper ends sticking out. 3. To start the fire, light the newspaper ends. As the paper burns up, the herbs inside will ignite and incinerate, giving the logs a chance to catch fire.
---