Impact
Bristol Festival of Ideas. Not quite 100 ways for Scientists to Engage in Social Media | Sci SoundOff. Last night at a post lecture drinks reception I got into talking about using twitter as a scientist, and an academic, and thinking about what is in science communication for the communicator.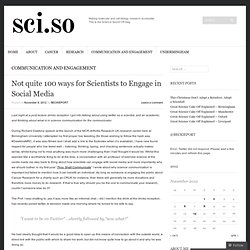 During Richard Dawkins speech at the launch of the MCR-Arthritis Research UK research centre here at Birmingham University I attempted my first proper live tweeting (for those wishing to follow the hash was #DawkinsMRC, it was also filmed and I shall add a link to the footnotes when it's available). I have new found respect for people who live tweet well – listening, thinking, typing, and checking sentences actually makes sense, whilst trying not to miss anything was much more challenging than I had thought it would be. Whilst this seemed like a worthwhile thing to do at the time, a conversation with an professor of exercise science at the centre made me step back to thing about how scientists can engage with social media and more importantly why we should bother.
Making an impact: when science and politics collide | Adam Smith | Talking science to power | Science. Under new plans, university departments will have to submit impact statements for researchers.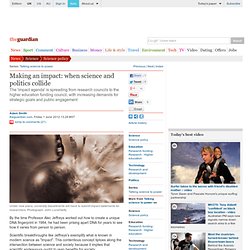 Photograph: John Lund/Getty By the time Professor Alec Jeffreys worked out how to create a unique DNA fingerprint in 1984, he had been prising apart DNA for years to see how it varies from person to person. Scientific breakthroughs like Jeffreys's exemplify what is known in modern science as "impact". Indigestible Committee Paperwork. Each summer it is standard for publications to produce lists of exam howlers to remind us just how woefully ignorant some of our students are at all levels.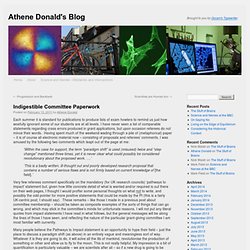 I have never seen a list of comparable statements regarding crass errors produced in grant applications, but upon occasion referees do not mince their words. Having spent much of the weekend wading through a pile of (metaphorical) paper – it is of course all electronic material now – consisting of proposals and referees' comments, I was amused by the following two comments which leapt out of the page at me: Ripping yarns. "Egad!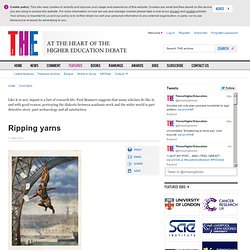 " cried Professor Lackwind. "This wasn't the impact I had in mind! " Guest Editorial: It's Time To e-Volve: Taking Responsibility for Science Communication in a Digital Age. Now, more than ever, science is fundamentally intertwined with national and international political issues, yet less than one-third of Americans can pass a science literacy test with questions like "Does the Earth revolve around the sun?"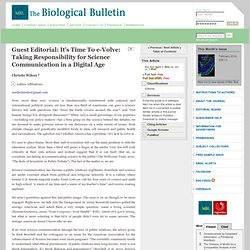 And "Did human beings live alongside dinosaurs?" When only a small percentage of our populace—including our policy-makers—has a firm grasp on the science behind the debates, we are doomed to make grievous errors in our decisions on a wide variety of issues, from climate change and genetically modified foods to stem cell research and public health and vaccinations. A small treasure box of essays on social media and health from NEJM « Public Health Science Communication 2.0. Once again, Twitter uncovered for me a s mall treasure box on the web.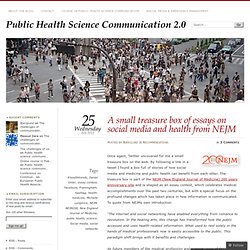 By following a link in a tweet I found a box full of stories of how social media and medicine and public health can benefit from each other. The treasure box is part of the NEJM (New England Journal of Medicine) 200 years anniversary site and is shaped as an essay contest, which celebrates medical accomplishments over the past two centuries, but with a special focus on the profound changes which has taken place in how information is communicated.
To quote from NEJMs own introduction: "The internet and social networking have enabled everything from romance to revolution. Engaging with Parliament; A How to Guide. Dr Matthew Flinders is Professor of Politics at the University of Sheffield.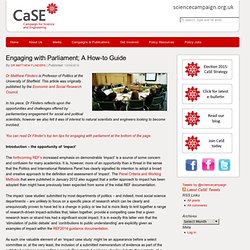 This article was originally published by the Economic and Social Research Council. In his piece, Dr Flinders reflects upon the opportunities and challenges offered by parliamentary engagement for social and political scientists, however we also felt it was of interest to natural scientists and engineers looking to become involved. You can read Dr Flinder's top ten tips for engaging with parliament at the bottom of the page. My plan to create a really strong impact story - Adventures in Career Development. Making a difference: How can we demonstrate the impact of learning technology research? Research Fundermentals: REF: a Few Thoughts on Drafting Impact Case Studies. I took part in an interesting workshop on REF impact case studies yesterday.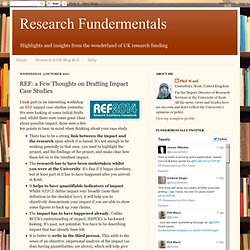 We were looking at some initial drafts and, whilst there were some great ideas about possible impact, there were a few key points to bear in mind when thinking about your case study. There has to be a strong link between the impact and the research upon which it is based. It's not enough to be working generally in that area; you need to highlight the project, and the findings of the project, and make clear how these led on to the resultant impact. The research has to have been undertaken whilst you were at the University. It's fine if it began elsewhere, but at least part of it has to have happened after you arrived at Kent;It helps to have quantifiable indicators of impact. Museums, libraries and archives - learning - Generic Learning Outcomes. Mix and match to demonstrate impact The Generic Learning Outcomes are underpinned by a broad definition of learning which identifies benefits that people gain from interacting with museums, libraries and archives.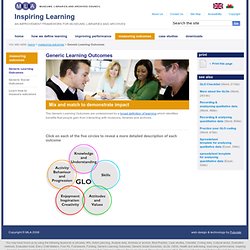 Click on each of the five circles to reveal a more detailed description of each outcome Knowledge & Understanding Knowing what or about something Learning facts or information Making sense of something Deepening understanding How museums, libraries and archives operate Making links and relationships between things Activity, Behaviour & Progression. Guide: PE and Pathways to Impact | National Co-ordinating Centre for Public Engagement.
Section: Skills & knowledge When the Government invest in research, it is with the understanding that excellent research contributes to the economy, culture and social wellbeing of society; that it makes a difference.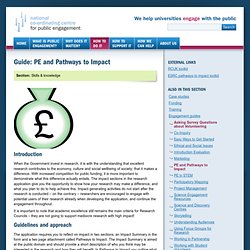 With increased competition for public funding, it is more important to demonstrate what this difference actually entails. The impact sections in the research application give you the opportunity to show how your research may make a difference, and what you plan to do to help achieve this. Economy boosted by University creativity | News | News and events. A new study shows that Scotland's economy benefits significantly from the University's commercialisation work. According to the study by independent consultancy BiGGAR Economics, the University's commercialisation activities contribute more than £140 million to the Scottish economy per year. The work - which includes forming new companies and licensing university technology - also supports over 2,400 Scottish jobs, the study says. New companies created by Edinburgh Research and Innovation (ERI) - the university's commercialisation arm - in the past year include Speech Graphics, which develops software that realistically creates realistic speech synchronisation for video games.
The report is available at: ISSUES Work - Outputs and Materials. Aimed primarily at early to mid stage researchers, the ISSUES Guide to KT is a series of documents, categorised by subject matter, designed to help researchers understand the methods behind creating impact beyond academia and the reasons why knowledge exchange should be an important consideration at all stages of a research project. The Guide uses real life examples of successful KT from SUE and ISSUES and is grouped into 7 topic areas: Conferences and Events Personal Connections Project Partners Impacting on Policy Making Websites and Blogs Working with the Media Knowledge Brokers SUE Impact Success Stories Dissemination in the Research Cycle –Diagram and Event Outputs Understanding the KT Landscape –Diagram and Event Outputs ISSUES Workshop for KT Scotland Conference - 'Otherwise Engaged: Know Your KE Landscape' Social Media and Knowledge Exchange - Report: How can Social Media aid Knowledge Exchange and Impact?
ISSUES Work - Outputs and Materials. Posters, Diagrams and ISSUES ebulletin Understanding KT through Best Practice Maps and Reports SUE Consortia related outputs Read all about the ISSUES 2011 conference dedicated to Interdisciplinary research View the 'Interdisciplinarity Success Story' presentation by SUE researchers at IMPACT 360, February 2011 what make interdisciplinarity work? Welcome to the SUE Gateway. The series of case studies below highlights instances where the SUE consortia have successfully impacted upon the world beyond academia. These case studies show that SUE's dissemination and engagement efforts are yielding significant benefits, both for the researchers and for sustainability practitioners, as well as promoting environmental sustainability throughout the UK and beyond.
The IMPACT Stories also provide useful knowledge transfer recommendations based on the lessons learnt from the SUE consortia. Click on the thumbnails below to read the bite-sized success stories Click on the thumbnails below to read the success stories in full. Published-Twitter_Guide_Sept_2011.pdf. Web2. Blogs, Twitter, wikis and other web-based tools. This module is about the legal and ethical issues to keep in mind when using social media and thus is ensure your research profile is raised for all the right reasons, not the wrong ones. The key is to remember that all the laws, policies and social rules that apply in real life also apply on the internet.
Reusing other people's work. Best Science Visualization Videos of 2009. Scots universities on global Leiden Ranking list. University of Glasgow climbs in QS world rankings. Live Q&A: Careers in thinktanks. Research in practice. Canadian Health Services Research Foundation (CHSRF) Pathways Through Participation. RESEARCH - Socio-economic Sciences and Humanities. SCOOP EU Project - Socio-economic and Humanities Research for Policy - News Alert Service - Masterclass for Researchers.
---