Open Content/Creative Commons
Search All Collections | britishart.yale.edu. Search across the Yale Center for British Art's online catalogue, currently representing over 100,000 records from the Center's collections.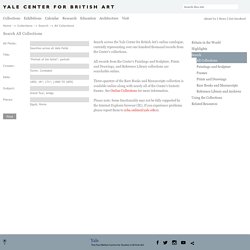 All records from the Center's collection of Paintings and Sculpture, Prints and Drawings, and Reference Library are searchable online. Half of the Rare Books and Manuscripts collection is available online along with two thirds of the Center's historic frames. See Online Collections for more information. Please note: the online collection is no longer compatible with Internet Explorer. Commons. Creative Commons. Projects « Open Knowledge and the Public Interest. Media Vault ProgramDeveloping services for archiving and sharing scholarly digital media Blum Social Networking Platform We are working the the Blum Center for Developing Economies to develop a web-based platform for student learning, project collaboration, and social networking.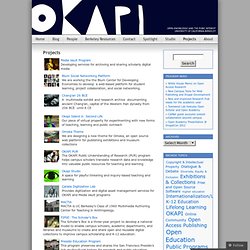 Chang'an 26 BCE A multimedia exhibit and research archive documenting ancient Chang'an, capital of the Western Han dynasty from 206 BCE until 8 CE. Browse Collections. The Museum's collections were initially developed, in the early decades of the twentieth century, by such outstanding curators as Stewart Culin, Herbert Spinden, and William Henry Goodyear, with the generous support of collectors and donors from Brooklyn and around the country.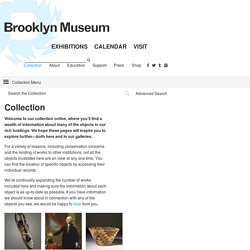 Continuing to build upon their pioneering work, the Brooklyn Museum has amassed one of the largest and most diverse collections in the United States. Its vast holdings range from the ancient to the contemporary and encompass virtually all the world's principal cultures, reflecting the institution's long history of acquiring Western and non-Western art. The material presented here represents only a fraction of that rich collection. The Museum is committed to making its collections accessible to the widest possible audience, and this site is an important part of that process. HathiTrust Home | www.hathitrust.org. Photos or video with a Creative Commons Attribution License.
---