Librarianship
Electronic Publications. Using Dublin Core. NOTE: This text was last revised in 2005.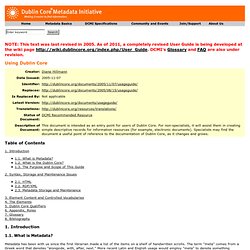 As of 2011, a completely revised User Guide is being developed at the wiki page DCMI's Glossary and FAQ are also under revision. Table of Contents. ALA | Home - American Library Association. EAD: Encoded Archival Description Version 2002 Official Site (EAD ... General information version 2002 - current version 1.0 (1998) - superseded documentation Encoded Archival Context Encoded Archival Context - Corporate Bodies, Persons, and Families tools and helper files.
MARC STANDARDS (Network Development and MARC Standards Office, Library of Congress) VRA Bulletin. Editorial Staff Content Editor (Electronic Edition): Anne Blecksmith, Getty Research Institute Production Editor (Electronic Edition): Jason Miller, UC Berkeley - College of Environmental Design Visual Resources Center.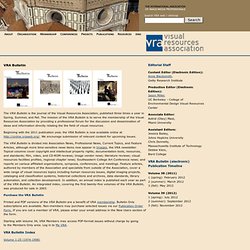 ---