150. Psychology
10 Psychological States You've Never Heard Of. Me, Myself and My Stranger: Understanding the Neuroscience of Selfhood. Where are you right now?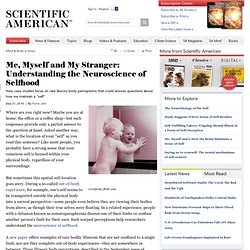 Maybe you are at home, the office or a coffee shop—but such responses provide only a partial answer to the question at hand. Asked another way, what is the location of your "self" as you read this sentence? Like most people, you probably have a strong sense that your conscious self is housed within your physical body, regardless of your surroundings. Top 10 Strange Phenomena of the Mind. Humans The mind is a wonderful thing – there is so much about it which remains a mystery to this day.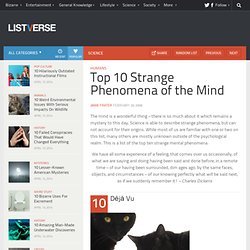 Science is able to describe strange phenomena, but can not account for their origins. While most of us are familiar with one or two on this list, many others are mostly unknown outside of the psychological realm. This is a list of the top ten strange mental phenomena. Psych Central.com. Your Evolved Intuitions. Part of the sequence: Rationality and Philosophy We have already examined one source of our intuitions: attribute substitution heuristics.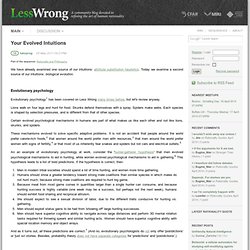 Today we examine a second source of our intuitions: biological evolution.
6 Things That Are Secretly Turning You Into A Bad Person. Of our five senses, the one we pay the least attention to, and science studies the least, is touch.
Yet recent experiments indicate that we may be vastly underrating the first sense we develop. Everything from the feel of the chair you sit on to what you're holding can influence your behavior and the decisions you make. Imagine yourself touching this. You'll be kinder in the comments. How Gambling Can Kill You Faster Than Drug Abuse or Alcoholism. September 13, 2012 | Like this article?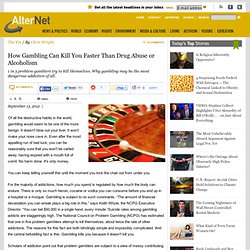 Join our email list: Stay up to date with the latest headlines via email.
153.6 Psychology of Communication. 155- Differential & Developmental Psych. The Top 10 Psychology Studies of 2010. The end of 2010 fast approaches, and I'm thrilled to have been asked by the editors of Psychology Today to write about the Top 10 psychology studies of the year.
I've focused on studies that I personally feel stand out, not only as examples of great science, but even more importantly, as examples of how the science of psychology can improve our lives. Each study has a clear "take home" message, offering the reader an insight or a simple strategy they can use to reach their goals , strengthen their relationships, make better decisions, or become happier.
---