Love/Relationships
50 Best Cheap Date Ideas - Handmade Wedding. Posted July 20, 2012 | 110 Comments The weekend is right around the corner and we thought it was a great opportunity to share this fun weekend-ready post.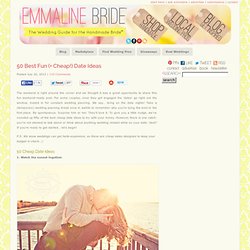 For some couples, once they get engaged the 'dates' go right out the window, traded in for constant wedding planning. We say… bring on the date nights! 30 Ways to Improve Your Relationship. Men & Women Notice on Dates. 75 Ways to Show Love. Marriage From a Kid's Perspective. The next month or two of work on Xanga 2.0 is going to be busy, so I wanted to share with everyone a roadmap of how we're thinking about things!
We're dividing the work on this project into four basic phases. Phase 1.
---