Sewing
Retro Blonde in Sailor Suit - 10x10 Quilt Square: Arts, Crafts & Sewing
Click to open expanded view chiffon Content: 100% nylon Width: 58'' Weight: lightweight Unit of Sale: Yard Frequently Bought Together Customers Who Bought This Item Also Bought
58'' Wide Scalloped Lace Fabric Black By The Yard: Arts, Crafts & Sewing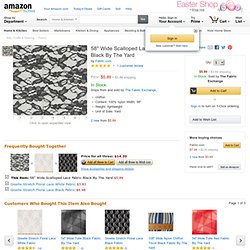 45'' Wide Michael Miller Dress Forms Black & White Fabric By The Yard: Arts, Crafts & Sewing
Diary of a Quilter - a quilt blog: Beginning Quilting Series
How to Make a Quilt - Martha's 7 stepsLearn How To Make Quilts | Martha's Quilt Making Videos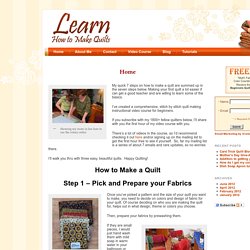 Showing my mom in law how to use the rotary cutter My quick 7 steps on how to make a quilt are summed up in the seven steps below. Making your first quilt a lot easier if can get a good teacher and are willing to learn some of the basics.
Tomorrow is not only the start of a new year but also my four year blogiversary. It seems like a looooong time ago now that I was dared into starting a blog. I had no clue how to write a blog, and no idea how much it would change my life – I simply wanted to share my passion for dressmaking with people who didn't look at me like I was completely crazy ("MAKE your own clothes?!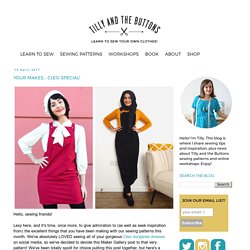 Fehr Trade: tag
One of the favourite features of my PB Jam Leggings pattern is that there's a secure, inner pocket at the upper back to keep things like your phone, keys, or gels handy while you're working out. While I was developing the pattern, I decided to make this pocket one layer, and use the exterior of the leggings as the other side of the pocket, sealing off the bottom with topstitching. But sometimes you may not want any topstitching visible from the right side, so to do this, you only need one extra piece of fabric and a few short steps. Making the pocket invisible from the outside will only add about 5 minutes max onto your construction time, but if your fabric is thick, definitely consider cutting your pocket from a thinner lycra! Here's the finished invisible pocket on my latest "rainbow sherbert" pair I've just finished!
There were some interesting comments in the post last week about the difference between the envelope illustration and the actual finished garment. This difference is especially pronounced in 50s vintage patterns, where the illustrations are so much more fantasy than reality. So how does one visualize the end product? For me, it's a result of analyzing the garment construction, fabric choices, and my own body type. Here's what I mean: 1.
There are some vintage sellers/bloggers whose enthusiasm is always catching and inspires me to no end. Sammy of Sammy Davis Vintage is one of those gals. I've collaborated with her in the past, and when she asked me to take a look at a new eBook she published–100 Best Vintage Shops Online–I knew I couldn't say no!
ginger sewalong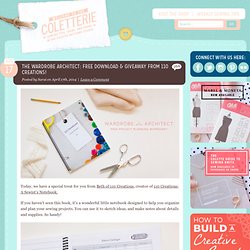 It's almost that time! Are you ready to work on an Albion together? Because this contest and sewalong are going to be different than any we've done before. The grand prize for our contest this time is pretty exciting.