Sewing
Retro Blonde in Sailor Suit - 10x10 Quilt Square: Arts, Crafts & Sewing
Click to open expanded view chiffon Content: 100% nylon Width: 58'' Weight: lightweight Unit of Sale: Yard Frequently Bought Together Customers Who Bought This Item Also Bought
58'' Wide Scalloped Lace Fabric Black By The Yard: Arts, Crafts & Sewing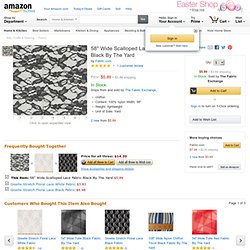 45'' Wide Michael Miller Dress Forms Black & White Fabric By The Yard: Arts, Crafts & Sewing
Diary of a Quilter - a quilt blog: Beginning Quilting Series
How to Make a Quilt - Martha's 7 stepsLearn How To Make Quilts | Martha's Quilt Making Videos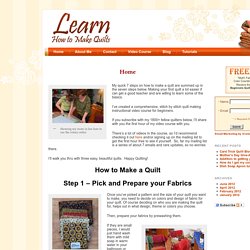 Showing my mom in law how to use the rotary cutter My quick 7 steps on how to make a quilt are summed up in the seven steps below. Making your first quilt a lot easier if can get a good teacher and are willing to learn some of the basics.
Exciting stuff today! With less than a month to go until my book is released (eek!), you, my dear readers, get a sneaky peek at the content with a project extract - theBrigitte scarf.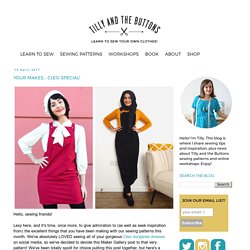 Fehr Trade: tag
One of the favourite features of my PB Jam Leggings pattern is that there's a secure, inner pocket at the upper back to keep things like your phone, keys, or gels handy while you're working out. While I was developing the pattern, I decided to make this pocket one layer, and use the exterior of the leggings as the other side of the pocket, sealing off the bottom with topstitching. But sometimes you may not want any topstitching visible from the right side, so to do this, you only need one extra piece of fabric and a few short steps. Making the pocket invisible from the outside will only add about 5 minutes max onto your construction time, but if your fabric is thick, definitely consider cutting your pocket from a thinner lycra! Here's the finished invisible pocket on my latest "rainbow sherbert" pair I've just finished!
What a weekend! After months of planning, my first sewing retreat was a complete success. 11 ladies came together in my town of Beacon, New York for a few days of sewing fun. It took place at a boutique hotel called the Roundhouse, in a private event room overlooking a waterfall. Scenic! My trusty friend and righthand woman Fleur helped me out. I brought a bunch of garments to show and tell with.
There are some vintage sellers/bloggers whose enthusiasm is always catching and inspires me to no end. Sammy of Sammy Davis Vintage is one of those gals. I've collaborated with her in the past, and when she asked me to take a look at a new eBook she published–100 Best Vintage Shops Online–I knew I couldn't say no!
ginger sewalong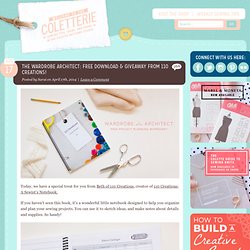 The Wonder of Knits As I've gone through my Wardrobe Architect journey over the last few months, I've realized how important comfort is to me. Sure, it seems obvious that our clothes should be comfortable. But when I really looked at what pieces of clothing I wore again and again, at least half of them turned out to be made from knits.