Individuals/small groups
Fiona Wright
works
Gomez Pena
Joshua Sofaer
Street Hunt
Barbara Kruger - Feminist Artist - The Art History Archive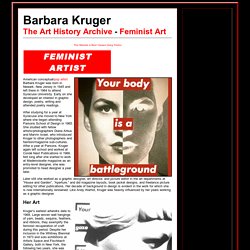 Her Style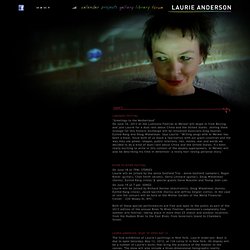 "Greetings to the Motherland" On June 16, 2013 at the Luminato Festival Ai Weiwei will skype in from Beijing and join Laurie for a dual rant about China and the United States.
Laurie Anderson Official Website
Home // Uninvited Guests
Tim Etchells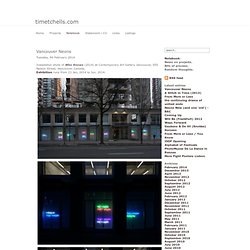 We are travelling on the underground together.
There are questions here about how the strong emphasis on digital dissemination meets our students. I would imagine few of them know about RSS feeds or following artists on twitter. Again, using assignments that bring in these ideas is a vital way of connecting students with contemporary practice. by sarahinthepark Aug 30
Anne Bean - homepage
bobby bakers daily life limited
Getting students to explore this kind of work can be difficult, but the considerable material available for practitioners like Baker is extremely important for their understand of the field. I have used the unit wiki as a tool for getting students to investigate/research individual practitioners. by sarahinthepark Aug 30
Jill Magid - jillmagid.net
Welcome - Sheila Ghelani
Kimsooja's (Soo-ja Kim) offical website. International artist. 김수자의 공식웹사이트
Gillian Wearing OBE
Ellie Harrison
Melissa Doherty
TEHCHING HSIEH
The Yellow series - Amanda Coogan - Performance artist
the range of material is striking because it allows students to explore a range of this work, it extends the lecture into their own research by sarahinthepark Aug 30
(be)longing PERFORMANCE Camouflaged in cowboy shirts with fancy stitches made to hide broken hearts and cowboy boots custom made for the walking wounded, deflecting vulnerability with sequins and high heels, this is curious at their most personal and poignant. Beneath the neon glow of a highway road sign, their yearnings take them across vast desert landscapes in frustrated searches for fulfillment and fitting in. Leslie Hill carries the exquisite burden of newly purchased guitars she can't really play while Helen Paris exiles herself to yoga retreats and detox diets before finally giving up and retraining as a butcher.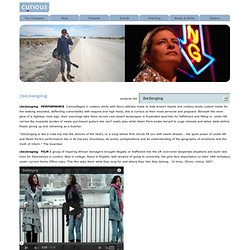 ::: curious ::: project ::: (be)longing :::