Individuals/small groups
Fiona Wright. Works. Gomez Pena. Joshua Sofaer. Street Hunt. Barbara Kruger - Feminist Artist. Her Style Barbara Kruger's graphic work usually consists of black-and-white photographs with overlaid captions set in white-on-red Futura Bold Oblique.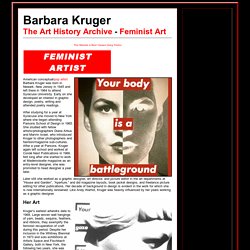 The phrases usually make a bold statement and commonly use pronouns such as you, I, your, we and they. She juxtaposes imagery with text containing criticism of sexism/misogyny and cultural power structures. Much of her text questions the viewer about feminism, classicism, consumerism, and individual autonomy and desire, although her black-and-white images are culled from the mainstream magazines that sell the very ideas she is disputing. Laurie Anderson Official Website. "Greetings to the Motherland" On June 16, 2013 at the Luminato Festival Ai Weiwei will skype in from Beijing and join Laurie for a dual rant about China and the United States.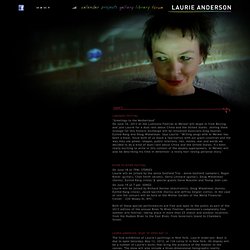 Joining them onstage for this historic exchange will be renowned musicians Greg Saunier, Eyvind Kang and Doug Wieselman. Says Laurie: "Writing songs with Ai Weiwei has been a blast. Since both of us share a fascination with our giant countries and the way they use power, images, public relations, lies, money, war and words we decided to do a kind of duet/rant about China and the United States. It's been really exciting to write in this context of the double superpowers. Home // Uninvited Guests. Tim Etchells. We are travelling on the underground together.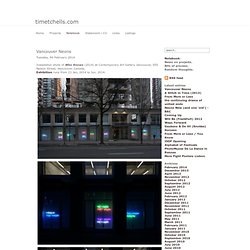 Chatting away, exchanging stories. At a certain point we reach the station where X has to depart. He's half way through something; a recollection of childhood, something about an old woman who lived in the house across the street. Doesn't matter he says, I'll tell you another time, and then he exits the carriage, laughing, and I know he won't tell me, and that I won't remember to ask. Anne Bean - homepage. Bobby bakers daily life limited. Jill Magid - jillmagid.net.
Welcome - Sheila Ghelani. Kimsooja's (Soo-ja Kim) offical website. International artist. 김수자의 공식웹사이트. Ed Ruscha. Gillian Wearing OBE. Home - Cindy Sherman - Photographer, Model, Director, Actor, Avant-Garde Images, Doll Parts and Prosthetics, Movies.
Bas Jan Ader. Ellie Harrison. Melissa Doherty. TEHCHING HSIEH. The Yellow series - Amanda Coogan - Performance artist. ::: curious ::: project ::: (be)longing ::: (be)longing PERFORMANCE Camouflaged in cowboy shirts with fancy stitches made to hide broken hearts and cowboy boots custom made for the walking wounded, deflecting vulnerability with sequins and high heels, this is curious at their most personal and poignant.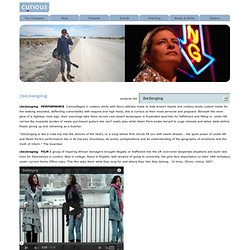 Beneath the neon glow of a highway road sign, their yearnings take them across vast desert landscapes in frustrated searches for fulfillment and fitting in. Leslie Hill carries the exquisite burden of newly purchased guitars she can't really play while Helen Paris exiles herself to yoga retreats and detox diets before finally giving up and retraining as a butcher.
---