Companies
Bob and Lee welcome you
Shunt
Welcome Welcome to the curious home page. We call our company "curious" because what drives us as artists is an intense curiosity about the world in which we live. As curious we have produced over 40 projects in a range of disciplines including performance, installation, publication and film. Each of the projects starts with a question such as; "what smell reminds you of home?" (On the Scent); "what is lost and what is found in places undergoing rapid regeneration and change?"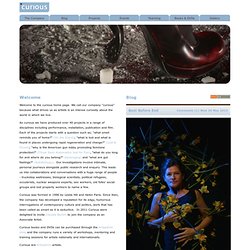 ::: curious :::
WILDWORKS is an international theatre company, based in Cornwall - The Beautiful Journey
Goat Island Performance Group
Blind Ditch |
Wrights & Sites
Forced Entertainment | Information Pack | forced entertainment
Because of our focus on interaction, technology has been a key driver, enabler and determinant of the work we make. Despite starting with no technical skills we have developed a practice that engages deeply with developers and researchers. Through these partnerships we generally develop bespoke software for our projects. Our research is usually tightly tied to the development of a particular work or series or works. We have focused on the intersection between technology and culture, with a specific focus on Human Computer Interaction.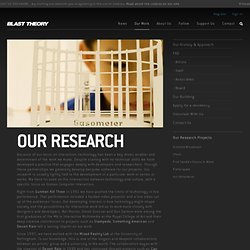 Blast Theory | Research