Sewing ideas
Finishing a Hoop with Felt
Pencil skirt from scratch, baby!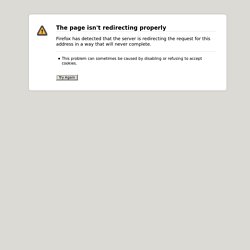 Learn How to Hand Quilt
Sarah from Hip to Piece Squares is a fabulous quilter, and loves to hand quilt her work. We asked Sarah to share her expertise with us today. Enjoy Sarah's introduction and her hand quilting tutorial…
Did you ever have a piece of fabric you loved but didn't have any idea how to use it?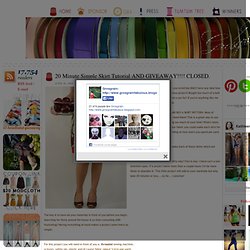 20 Minute Simple Skirt Tutorial AND GIVEAWAY!!!! CLOSED.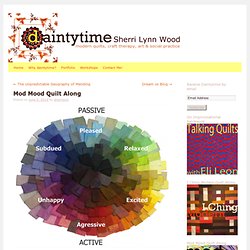 Modern Mood Quilt Along
Ever since my fascination with mood rings when I was a kid in the 70′s, I've been drawn to the symbolic, cultural, and emotional aspects of color. When I came across this mood-color chart (replicated above in hand-dyed fabrics) a light bulb went off… I don't know about you but I can be moody.
I've made each of my kids their own bath towel hoodie when they're born, starting with my son 6 years ago. I make them one with their name on it and one with a fun appliqued shape on the back. These towels are super easy to make, needing only limited sewing know-how.
Easy Hooded Bath Towel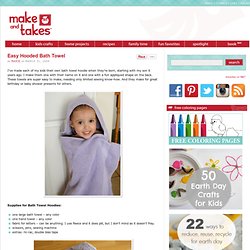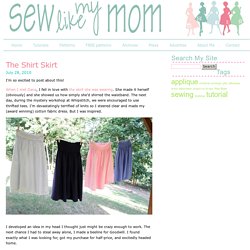 July 28, 2010 I'm so excited to post about this! When I met Dana, I fell in love with the skirt she was wearing.
This is my favorite thing to do with my little scraps, and since its Scrap Buster month over at Sew, Mama, Sew, I made a quick tutorial so you can make your own. This pillow cover is 16" square with an envelope back & the design possibilities are endless!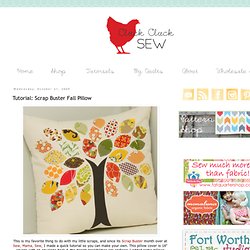 Boy do I have a treat for you today! The craftalicious girls over at eighteen25 are here show us how to make a Survial Kit. I can only imagine all fun I could have making these for my self and for all my girl friends!!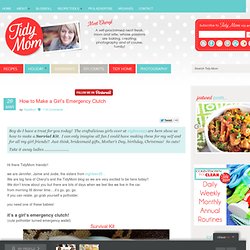 The Crafters File Box: The "Planket": A Tutorial From the File Box
We hope Jennifer Casa's Something Special Card + Envelope Tutorial inspires you to create something beautiful for someone you love. Learn more about Jennifer in her introduction, and make a visit to JCasa*handmade part of your daily routine. After you make the basic card + envelope as a foundation piece you can then embellish, embroider, quilt, print… Do something to make it unique! Mix things up, and personalize your card to make it the perfect something for your special someone. Create your personalized fabric card or Valentine with Jennifer's tutorial by February 12th, share it in the forum and you might win one of these fantastic prizes.