Kids
Get flash to fully experience Pearltrees
Home all summer long? Long days with kids seem too much? You need to outside get some backyard activities happening.
Okay, here's how it goes. It's super easy and just a little bit messy. ;) Supplies: yarn + glue + bowl Prep : Cover a bowl with plastic wrap. Or use a balloon as your form. ( I think these look pretty .) Cut yarn into long, but manageable, pieces.
By Kate on April 15, 2011 M y two boys are like little squirrels and after every walk they come home with pocketfuls of natural treasures. As a consequence I keep finding little stashes of sticks, pine cones, feathers, stones, soil and acorn cups around the house…and in the washing machine! From their stash I 'borrowed' a stick and some acorn cups to make this cool shaker…I'm developing a soft spot for handmade instruments!!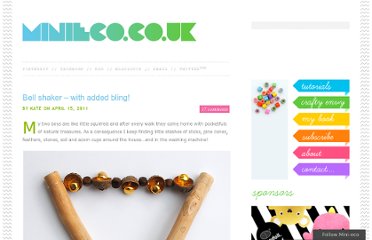 I've always had a penchant for sunshine in a jar. Doesn't the very phrase itself, "sunshine in a jar," roll off your tongue and fill your mouth with magic? While I've never yet found myself a sunshine in a jar, I think we may have just concocted it in our kitchen tonight.
THURSDAY, FEBRUARY 3, 2011 | Comments: 17 The arrival of my husband's new bass amp has provided me with an enormous corrugated box to work with. I've been hooked on embroidery these days – so I couldn't resist using the cardboard to stitch up some gift tags for Valentine's Day. I cut out a piece of cardboard and pressed a cookie cutter into it to leave an impression that I could work from. You could also trace with a pencil – but I find this is an easier technique to use with kids and there are no pencil marks to erace. Using a blunt needle, pierce holes into your shape.