DIY
Lemmemakeit. ::: OutsaPop Trashion ::: DIY fashion by Outi Pyy ::: C&C. Craft Projects. Say Yes to Hoboken | Three Cheers for Stylish & Crafty Living. Heart of Light. I Spy DIY. Studio of Mae. Tutorializer. Because she started knitting. Trash To Couture. Stripes & Sequins: Crafts After College. A pair and a spare . diy fashion. (studs and pearls) Dismount Creative — Make It Fun. Make It Social. Make It Yourself. Runway DIY.com. Pillowcase + Scissors = Paper Bag Skirt « One of my favs Nicole Richie graced the cover of February's Lucky magazine rocking a way cool purple Philosophy Di Alberta Ferretti paper bag skirt from the Spring 2011 collection.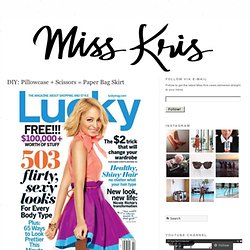 Paper bag skirts have been seen all over runways (Nina Ricci pictured above). The paper bag skirt, so called because the top looks like a scrunched paper bag, is the perfect flirty details for Spring. T-shirt Update Kate Spade Style. Bonjour everyone!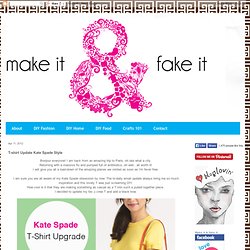 I am back from an amazing trip to Paris, oh lala what a city. Returning with a massive flu and pumped full of antibiotics, oh well.. all worth it! I will give you all a load-down of the amazing places we visited as soon as I'm fever free. A cleaner closet. SHE SELLS SEA SHELLS.
---