DIY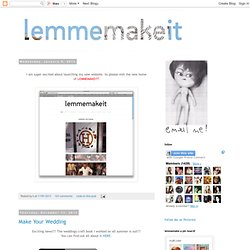 I'm embarrassed to say that this was my home craft room last week. I have not been able to craft, as you probably assumed, because there was absolutely no working space and things needed to be organized... badly. This weekend was spent doing just that, organizing and clearing house. It was a big job and with such nice weather, a total shame to be inside. But it needed to be done.
lemmemakeit
::: OutsaPop Trashion ::: DIY fashion by Outi Pyy :::
C&C
Well…another year has come and gone, and I feel as though I kept some of my resolution, kind of kept a few more and plain old broke a few other. But that has it is for many people, as long as you are trying, and changing you are succeeding in my book. Usually I hide little notes to remind me of those goals or little sayings I chant to myself every time I wake up or get in a situation. This year I have a lot of small resolutions like keeping my house, car, and kids tidy (yes, I have messy messy kids). Getting more organized and buy lots of bins so I can have a place for everything (I keep telling myself that there shouldn't be a "junk drawer" if there was a place for everything). I will take more everyday photos/videos of the boys and everyday life.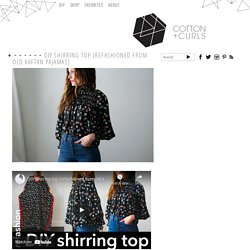 Craft Projects
Weekend Roundup Up to anything fun this weekend? I think we might head out on a camping trip tomorrow morning. It'll be Edie's first time, I hope it goes okay and that everyone gets some sleep. We just need to find a good spot!
Say Yes to Hoboken | Three Cheers for Stylish & Crafty Living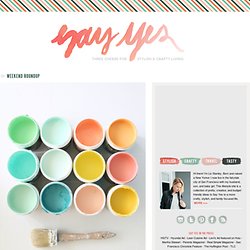 On my last round up post someone asked how I'm managing to read so much, which makes a lot of sense because I'm definitely getting through more books these days. The secret is a new bus commute that's about an hour each way, so, sadly, I have no tips to pass along (other than trying to encourage people to check out public transit?). I try to reserve my commute for reading. It can be tempting to start checking my email on my phone, but I don't do it unless there's a five alarm emergency going on at work that really can't wait an hour. Messing around on my phone makes it feel like a time I need to fill, rather than a time I get to use, which is how I want to see it.
Heart of Light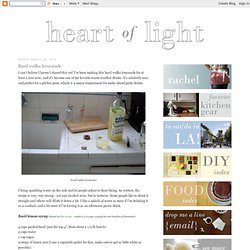 I Spy DIY
I took my latest DIY for a spin, and I am officially jonseing for a holiday party to wear this (got to look at the bright side of winter, right?) When I spotted this dress at H&M, I knew it would be perfect for this project. I mimicked LC's look with a high bun, which, as you may be able to tell, is my current obsession! Supplies and steps after the break...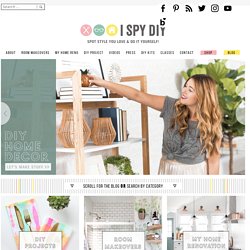 Studio of Mae
I think being a party planner or event stylist would be a pretty brilliant job. You get to make someone's special occasion really special, bring ideas to life in a creative way and see the delight on everyone's faces as they celebrate with people they love. If you've got a special event in the works, whether it's a wedding, birthday, baby shower or ladies high tea, maybe you could use some of our partyware?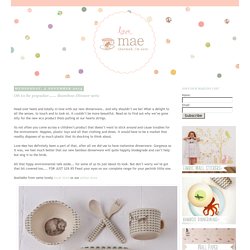 Tutorializer
I've been back in Singapore for more than a month now but I still haven't really settled in. All of my boxes have been unpacked but there are bits and pieces of things scattered around my room still. I can't wait to get my room done up so I could show everyone here what it looks like! Meanwhile, I just celebrated Chinese New Year so I thought I should just post a couple of photos for now - lest people start forgetting that I even exist. I still have a few sewing projects from last year which I have not written about.
because she started knitting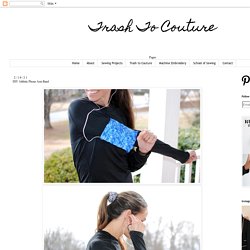 DIY gifts are trending this holiday season. It's always special when thought, time, and love are put into gifts. Of course most will appreciate whatever you make them, but if you're going to go this route make sure it's worthwhile.
Trash To Couture
Stripes & Sequins: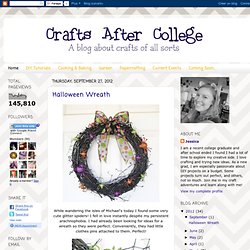 While wandering the isles of Michael's today I found some very cute glitter spiders! I fell in love instantly despite my persistent arachnophobia. I had already been looking for ideas for a wreath so they were perfect. Conveniently, they had little clothes pins attached to them.
Crafts After College
a pair and a spare . diy fashion
(studs and pearls)
Rain Blanken here, your DIY Fashion expert over at About.com and rainblanken.com. Kirsten and I often cross paths on social media, where fashion and craft inspiration abounds. When she challenged me to craft a New York Minute with the theme 'flowers', I had the perfect project in mind. No matter how many times I do business in Manhattan, I always feel like a wild hillbilly given free-reign of the city. Sometimes I just want to kick off my shoes and run barefoot down 5th Avenue… hey, it doesn't happen; I'm just saying that I have the urge to.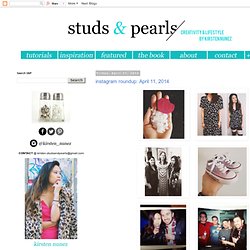 Kalimera! I'm back from Greece and surprisingly awake for the day after a trip. It was such an awesome experience and I wish I could have stayed longer, but here's a short (cell phone) photo recap - We (three other speakers from abroad and I) stayed at the Fresh Hotel in Athens.
Dismount Creative — Make It Fun. Make It Social. Make It Yourself.
DIY Studded Nail Art Decadent, armor-like couture is charging the runways, with opulent looks popping up in gilded corsets, beaded knits, and layered ornamental necklaces. The pieces read like renaissance gowns- almost dripping with texture and detail.
Runway DIY.com
DIY: Pillowcase + Scissors = Paper Bag Skirt «
One of my favs Nicole Richie graced the cover of February's Lucky magazine rocking a way cool purple Philosophy Di Alberta Ferretti paper bag skirt from the Spring 2011 collection. Paper bag skirts have been seen all over runways (Nina Ricci pictured above). The paper bag skirt, so called because the top looks like a scrunched paper bag, is the perfect flirty details for Spring.
Bonjour everyone! I am back from an amazing trip to Paris, oh lala what a city. Returning with a massive flu and pumped full of antibiotics, oh well.. all worth it! I will give you all a load-down of the amazing places we visited as soon as I'm fever free.
make it & fake it: T-shirt Update Kate Spade Style
a cleaner closet
SHE SELLS SEA SHELLS