Hobbies
Fall Pumpkin Decorations Made from Recycled Books. Have a bunch of old books laying around?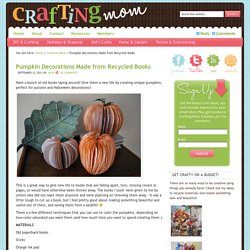 Give them a new life by creating unique pumpkins, perfect for autumn and Halloween decorations! This is a great way to give new life to books that are falling apart, torn, missing covers or pages, or would have otherwise been thrown away. The books I used were given to me by others who did not want them anymore and were planning on throwing them away – it was a little tough to cut up a book, but I feel pretty good about making something beautiful and useful out of them, and saving them from a landfill! There a a few different techniques that you can use to color the pumpkins, depending on how color-saturated you want them (and how much time you want to spend creating them ). Old paperback books. Make a Lunch Box from a Milk Jug - StumbleUpon. Modern Parents Messy Kids: Handmade Halloween: Make Spider Sack Decor with... I'm so excited about this Halloween project, it turned out even better than I'd envisioned.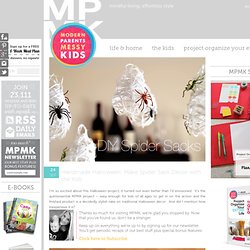 It's the quintessential MPMK project – easy enough for kids of all ages to get in on the action and the finished product is a decidedly stylish take on traditional Halloween decor. And did I mention how inexpensive it is? The basic materials include a pack of water balloons ($1.99), yarn ($3.79), and standard craft glue (already had it but glue should be on back-to-school sale right now). KiloDay.
Beauty. Clothing. Cooking. Crochet. Random.
---