Places to see
Top 10 Hideaways & Inns - Travel. From the National Geographic book Auberge du Soleil Rutherford, California www.aubergedusoleil.com Napa Valley's magical wine country is the backdrop for this elegant hotel, opened in 1985.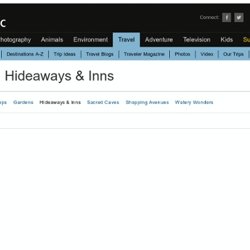 Top 10 Food Markets. From the National Geographic book Food Journeys of a Lifetime St.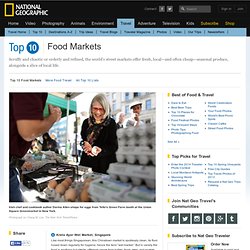 Lawrence, Toronto, CanadaThis farmers market emporium has operated since 1803, when it cohabited with Toronto's city hall. Redeveloped between the 1970s and 1990s after long neglect, the area's mix of homes and businesses showcases urban regeneration. Home. BootsnAll. 21 Of the Most Extraordinary Places To Visit - StumbleUpon. The best countries for food. Food and travel go together like planes and airports.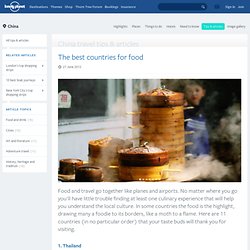 No matter where you go you'll have little trouble finding at least one culinary experience that will help you understand the local culture. In some countries the food is the highlight, drawing many a foodie to its borders, like a moth to a flame. Here are 11 countries (in no particular order) that your taste buds will thank you for visiting. Ten Jewels of the Mediterranean. How to find the best section of the Mediterranean coastline that extends for 46,000 kilometres (28,600 mi), winds through 21 countries and is bounded by three continents - Europe, Africa and Asia?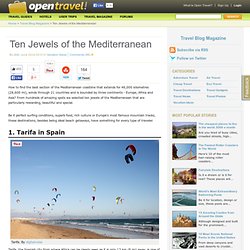 From hundreds of amazing spots we selected ten jewels of the Mediterranean that are particularly rewarding, beautiful and special. Be it perfect surfing conditions, superb food, rich culture or Europe's most famous mountain tracks, these destinations, besides being ideal beach getaways, have something for every type of traveler. Tarifa, the Spanish city from where Africa can be clearly seen as it is only 13 km (8 mi) away, is one of the most fantastic places on the Mediterranean coast. Thanks to the constantly blowing winds (due to its location at the meeting point of the Mediterranean Sea and Atlantic Ocean ), the town has become a mecca for windsurfing and kitesurfing addicts. The world's best secret islands. Looking for a romantic spot that's (almost) all yours?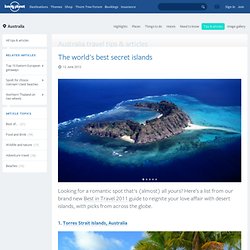 Here's a list from our brand new Best in Travel 2011 guide to reignite your love affair with desert islands, with picks from across the globe. 1. Torres Strait Islands, Australia Image by Killer White Fluff. Amazing Places To Experience Around The Globe (Part 1) - StumbleUpon. Preachers Rock, Preikestolen, Norway Blue Caves - Zakynthos Island, Greece Skaftafeli - Iceland Plitvice Lakes – Croatia Crystalline Turquoise Lake, Jiuzhaigou National Park, China Four Seasons Hotel - Bora Bora.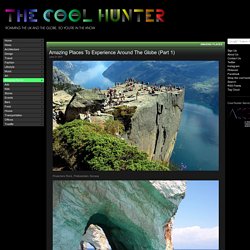 66 Beautiful Small Cities & Towns In Europe.
---