Tutorial
Joomla!fr, le site de support Joomla! en français. - Transfert d
» Quel est votre niveau de connaissance de Google Analytics ? -
Quel est votre niveau de connaissance de Google Analytics ? Dans le contexte économique actuel, la prise de décisions fondées sur des données statistiques devient monnaie courante dans les domaines du marketing et de la gestion des sites Web. Si vous maîtrisez Google Analytics, vos compétences sont plus que jamais recherchées. Et même si vous venez tout juste de commencer votre apprentissage de Google Analytics, nous avons de bonnes nouvelles pour vous. Depuis peu, nous proposons une formation en ligne traitant des techniques d'analyse d'audience Internet et des divers outils d'analyse, d'administration et d'implémentation disponibles dans Google Analytics.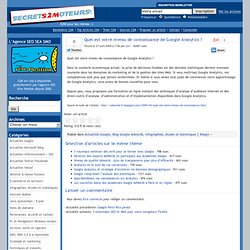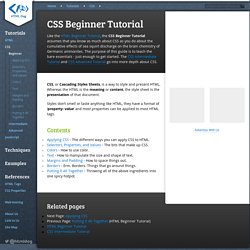 Home → Tutorials → Like the HTML Beginner Tutorial , the CSS Beginner Tutorial assumes that you know as much about CSS as you do about the cumulative effects of sea squirt discharge on the brain chemistry of Germanic ammonites. The purpose of this guide is to teach the bare essentials - just enough to get started.
The following table lists the search operators that work with each Google search service. Click on an operator to jump to its description — or, to read about all of the operators, simply scroll down and read all of this page. Search Service Search Operators Web Search allinanchor:, allintext:, allintitle:, allinurl:, cache:, define:, filetype:, id:, inanchor:, info:, intext:, intitle:, […]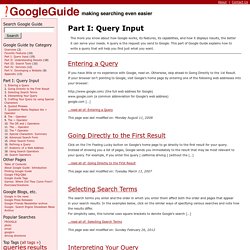 Part I: Query Input
Le blogzine de l'intégrateur web : HTML, CSS et design web
Developer's Toolbox
CSS Tutorial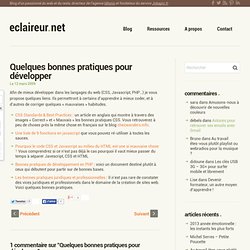 Quelques bonnes pratiques pour développer
12 mar 2009 le 12.03.2009 à 9:37 Afin de mieux développer dans les langages du web (CSS, Javascript, PHP…) je vous propose quelques liens.
The Web is increasingly understood as a global information space consisting not just of linked documents, but also of Linked Data. The Linked Data principles provide a basis for realizing this Web of Data, or Semantic Web. Since early 2007 numerous data sets have been published on the Web according to these principles, in domains as broad as music, books, geographical information, films, people, events, reviews and photos. In combination these data sets consist of over 2 billion RDF triples, interlinked by more than 3 million triples that cross data sets. As this Web of Linked Data continues to grow, and an increasing number of applications are developed that exploit these data sets, there is a growing need for data publishers, researchers, developers and Web practitioners to understand Linked Data principles and practice.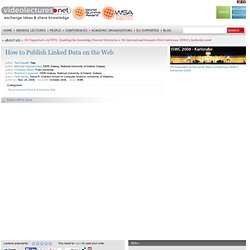 How to Publish Linked Data on the Web
DOM Examples
CSS Background-position Property