Crafts
Felted Wool Willow Button Brooch - Hats, Scarfs, Headbands & Belts - Life & Style - Greenheart Shop. Fair Trade Recycled Rice Bag Earrings Blue | Greenheart Eco Earrings - Greenheart Shop. Fun with Fabric Pens. I must confess, I've often passed by the fabric markers in the craft store thinking they were for kiddos.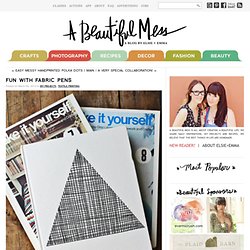 But one day I decided to give them a chance and picked up a pack. I'm so glad I did! Modern Wall Art with Paint Swatches! Looking for a way to fill that blank wall but don't have permission to paint?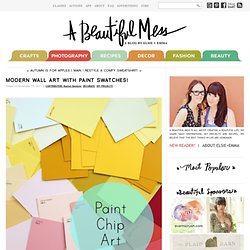 All you need is a trip to a major hardware store and an afternoon in front of a good movie to take care of that little dilemma. Supplies Needed: Large frame with paper insert, a ton of pretty paint chips, double-sided tape squares, and vinyl letters appropriate to the size of your frame or phrase (4" - 6"). I went with a color scheme that involved a variety of tones from some of my favorite colors. It's basically a muted rainbow with plenty of lighter shades to keep things from getting too busy.
Make Your Own Tote Bag. I had so much fun making this easy-peasy tote bag.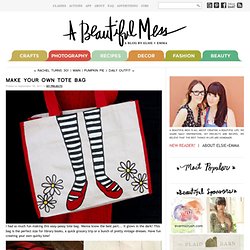 Wanna know the best part... it glows in the dark! This bag is the perfect size for library books, a quick grocery trip or a bunch of pretty vintage dresses. Have fun creating your own quirky tote! Here's how I did it... 1. Supplies needed: A large blank tote bag, fabric paint, a pencil and a small and medium size paint brush. 2. Loose Leaf Tea? Make Your Own Tea Bags! Like many of you, I LOVE loose leaf tea.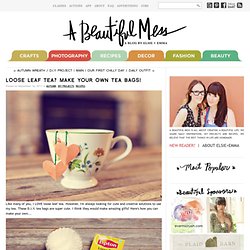 However, I'm always looking for cute and creative solutions to use my tea. These D.I.Y. tea bags are super cute. Make Your Own Canvas Portrait! I love the look of family photos printed on canvas, but I never knew I could make them at home!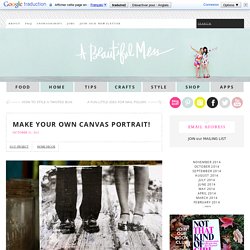 After transferring photos to fabric, I was super excited to try some pieces using stretched canvas. I hope this inspires some of you to make something special for your home... Here's how I transferred my photo to canvas: 1. Supplies needed- stretched canvas (I chose an 8x10 size), gel medium (I used this kind from Liquidex ), paint brush and the image you want to transfer (laser copy) and a spray bottle filled with water. Arrow & Apple - Arrow & Apple - Photography and Design Blog - Weekend DIY! Here's a quick DIY idea that you can use for either nesting your cute house, or use as centerpieces at your reception!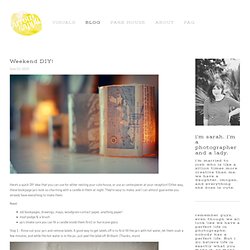 Either way, these bookpage jars look so charming with a candle in them at night. They're easy to make, and I can almost guarantee you already have everything to make them. Need: old bookpages, drawings, maps, woodgrain contact paper, anything paper! Easy and Unique DIY VasesInspiring Pretty. Everyone loves vases, but it's difficult to find one that is unique and not the same old run of the mill vase you've seen 1000 times before.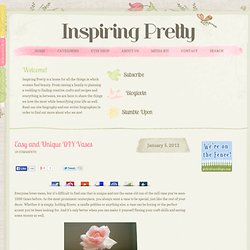 As the most prominent centerpiece, you always want a vase to be special, just like the rest of your decor. Whether it is empty, holding flower, a candle pebbles or anything else, a vase can be boring or the perfect accent you've been looking for. And it's only better when you can make it yourself flexing your craft skills and saving some money as well.
This lovely vase is simple and its beauty is its simplicity. All it takes is a cute vase, some sequins and some glue. Craftgawker. Happy Hour Projects.
---