Huvudet
Do not fear mistakes, there are none. David Report. Det är inte urval vi behöver – det är ansvar. Det här med redaktionellt urval.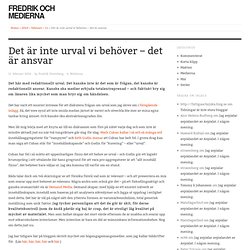 Det kanske inte är det som är frågan, det kanske är redaktionellt ansvar. Kanske ska medier erbjuda totalentreprenad – och faktiskt bry sig om läsaren lika mycket som man bryr sig om händelsen. Det har varit ett enormt intresse för att diskutera frågan om urval som jag skrev om i föregående inlägg. Så, det vore synd att inte smida medan järnet är varmt och utveckla lite mer av mina egna tankar kring ämnet.
Och kanske öka abstraktionsgraden lite. Bigger than social media | Henriette Weber – the social web rockn'roll chick. February 18, 2014 Tweet I know there has been radio silence on henrietteweber.com when it comes to posting frequency.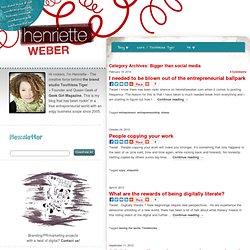 The reason for this is that I have taken a much needed break from everything and I am starting to figure out how I … Continue reading October 24, 2013 Tweet People copying your work will make you stronger. It's something that only happens to the best of us (she said, time and time again, while rocking back and forward).
---