Huvudet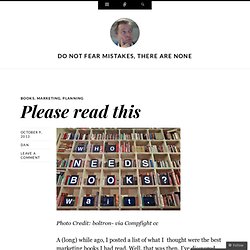 Do not fear mistakes, there are none
Image: "Genius at work" by patries71 A lot of people in advertising are bound to have heard about behavioral economics by now – the discipline that delivers a groin kick to neo-classical economics and lends some academic backbone to what we've known in advertising for a long, long time: that people, for all practical purposes, aren't rational. Behavioral economics' ascent to popular fame began with Daniel Kahneman's Nobel Prize in economics in 2002, accelerated when Dan Ariely's book "Predictably Irrational" climbed the charts and recently reached new heights in the form of Richard Thaler's and Cass Sunsteins' "Nudge".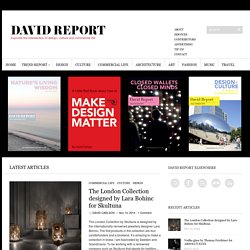 Four Key Trends for Summer Now that it's finally spring, and temperatures are slowly, but surely rising, many of us are anticipating breaking out our spring and summer clothes. There's something liberating mentally, as well as physically, about that first day of spring when you don't need to wear your winter coat. Spring also means, of course, a new set...
Det är inte urval vi behöver – det är ansvar
Det här med redaktionellt urval. Det kanske inte är det som är frågan, det kanske är redaktionellt ansvar. Kanske ska medier erbjuda totalentreprenad – och faktiskt bry sig om läsaren lika mycket som man bryr sig om händelsen. Det har varit ett enormt intresse för att diskutera frågan om urval som jag skrev om i föregående inlägg. Så, det vore synd att inte smida medan järnet är varmt och utveckla lite mer av mina egna tankar kring ämnet. Och kanske öka abstraktionsgraden lite.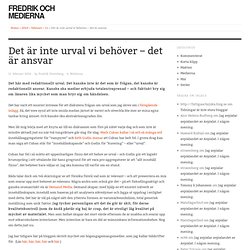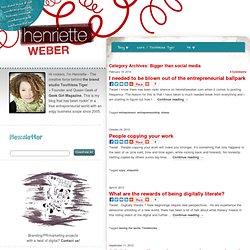 Bigger than social media | Henriette Weber – the social web rockn'roll chick
February 18, 2014 Tweet I know there has been radio silence on henrietteweber.com when it comes to posting frequency. The reason for this is that I have taken a much needed break from everything and I am starting to figure out how I … Continue reading October 24, 2013 Tweet People copying your work will make you stronger. It's something that only happens to the best of us (she said, time and time again, while rocking back and forward).