PLACES
New York on a budget: the best cheap hotels and restaurants. Hotel Deauville 7/10 103 E 29th St (683 0990; hoteldeauville.com) A charming, comfortable, 54-room family-owned hotel in 1900s Brownstone just off swanky Park Avenue.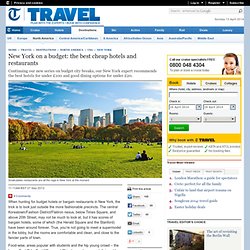 The original hand-operated lift will take you back in time, as will the faded Seventies decor, but veteran staff treat you like family and may tell of famous past guests such as Sid Vicious. Despite being slightly chintzy, with floral-patterned bedspreads and curtains, bedrooms are clean and comfortable, and come with air-con and cable television.
Price from £82. Is This Hidden Architectural Gem Another &Blade Runner& Building? Each day, thousands of people walk by 5 Beekman, a pretty yet unassuming building in Lower Manhattan, never guessing what could be found within.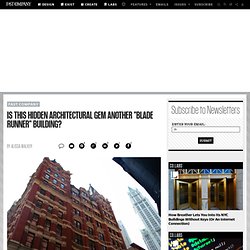 Scouting New York, a blog written by a location scout that's a must-read for local history freaks, got invited inside for an incredible peek at an architectural gem that's hidden in plain sight. As you enter the building it's nothing special, says Scouting NY. "And then you look up…" For nine stories, the ornate cast-iron railings twirl up and up through a light-filled atrium. The ninth floor is ringed with arched windows and topped with a gorgeous glassed-in skylight, with some pretty remarkable views of the neighboring skyscrapers. Gothic Architecture Pictures. The Town With No Roads. 15 Awesome And Inspiring Offices. I'm sure you've seen this office plenty of times on the internet.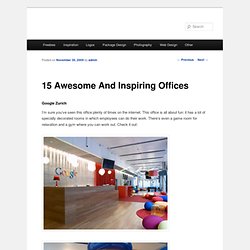 This office is all about fun: it has a lot of specially decorated rooms in which employees can do their work. There's even a game room for relaxation and a gym where you can work out. Check it out: 10 Best Places to Live for Escaping World Conflict. Where would you be the safest if World War 3 broke out tomorrow?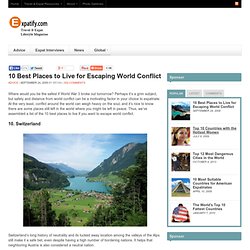 Perhaps it's a grim subject, but safety and distance from world conflict can be a motivating factor in your choice to expatriate. At the very least, conflict around the world can weigh heavy on the soul, and it's nice to know there are some places still left in the world where you might be left in peace. Thus, we've assembled a list of the 10 best places to live if you want to escape world conflict. S 2011 Top 10 Dirtiest Hotels. Spectacular Architecture in Spain [17 HDR Photos] | triggerpit.com - StumbleUpon. Plaza Zorrilla, Valladolid (Spain)Spectacular architecture HDR photo: marcp_dmoz Some photographers like Marc love to take photos and then process them to generate HDR (high dynamic range) images.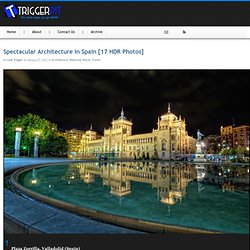 He's from Spain and has an amazing eye and talent for capturing architecture. Here are 17 gorgeous examples that Marc took in the last year to help us take a virtual tour of Spain and admire the architectural beauty that can be found there. [17 Pictures] Hint: Use "J" and "K" keys to navigate from picture to picture. Church of San Manuel and San Benito in Madrid (Spain)Spectacular architecture photo: marcp_dmoz. 12 bizarre real-life places that are stranger than science fiction | Blastr - StumbleUpon. Science fiction is home to some fantastic societies, from Cloud City to Bartertown.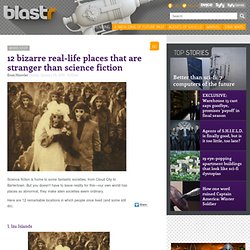 But you doesn't have to leave reality for this—our own world has places so abnormal, they make alien societies seem ordinary. Here are 12 remarkable locations in which people once lived (and some still do). 1. Izu Islands. 50 of the Most Important Landmarks of the World (Part 1) - StumbleUpon. Originally, a landmark literally meant a geographic feature used by explorers and others to find their way back or through an area.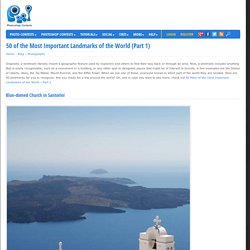 Now, a landmark includes anything that is easily recognizable, such as a monument or a building, or any other spot to designate places that might be of interest to tourists. A few examples are the Statue of Liberty, Uluru, the Taj Mahal, Mount Everest, and the Eiffel Tower. 22 Incredible Photos of Faraway Places - My Modern Metropolis - StumbleUpon. Thailand Chances are you already know Steve McCurry as the man who took one of the most iconic photos of our time.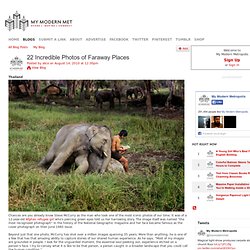 It was of a 12-year-old Afghan refugee girl who's piercing green eyes told us her harrowing story. The image itself was named "the most recognized photograph" in the history of the National Geographic magazine and her face became famous as the cover photograph on their June 1985 issue. Extreme Skier Jumps Off Cliff, Films Avalanche. Posted Apr 22nd 2011 12:30 PMUpdated Apr 22nd 2011 03:37 PM GoPro screenshot It's the stuff James Bond films are made of.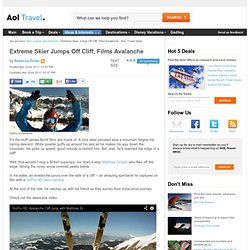 A lone skier perched atop a mountain begins his daring descent. Skellig Michael – Mysterious Monastery in the Atlantic. Nine miles off the coast of County Kerry in the west of Ireland there are two small rocky islands peeking out of the Atlantic Ocean.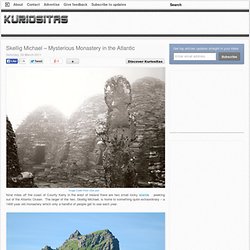 The larger of the two, Skellig Michael, is home to something quite extraordinary – a 1400 year old monastery which only a handful of people get to see each year. As you approach the island there is little, seemingly, to notice. Yet closer inspection reveals the tell tale criss-cross of manmade paths. Who could possibly have wanted to live here – and when? It is thought that the monastery of Skellig Michael was founded at some point in the seventh century and monastic life persisted there for over 600 years. Channel.nationalgeographic.com/channel/videos/satellite/satelliteEmbedPlayer.swf?videoRef=08740_00. 10 Cool & Unusual Hostels Around the World. Editor's note: This article comes to us courtesy of Victoria Philpott - a travel writer for HostelBookers, the budget accommodation specialist. She lives and works in London. If a bunk bed, locker and four walls in a normal building just don't cut it for you as enough of a travel experience, check out the top 10 coolest and strangest hostels.
In the world of competitive novelty accommodation childhood caveman, tree house and train driver fantasies can become realities, and if you're lucky, you might even get to see a ghost. #1: Jumbo Stay, Stockholm, Sweden. Fairytale-destinations from opentravel.com - StumbleUpon. Is it a dream or is it for real? These places will make you wonder whether you step into the land of magic and fantasy or still firmly stand on the ground. With unearthly nature, unreal landscapes or fairy tale architecture, these destinations will take you far away from your humdrum reality. Picturesque Colmar in France, considered the most beautiful city in Europe, looks like it came straight out of a fairy tale. Travel Norway. The Architectural Way. & Plitvice Lakes National Park, Croatia | Beautiful Places to Visit - StumbleUpon. The stunning Plitvice Lakes National Park lies in the Lika region of Croatia. The park is surrounded by the mountains Plješevica, Mala Kapela, and Medveđak, which are part of the Dinaric Alps.
The 16 blue-green Plitvice Lakes, which are separated by natural dams of travertine, are situated on the Plitvice plateau. R Todd King: China Photos 2003 - Northeast Winter - StumbleUpon.
---