PICTURES
4333068306_68e5838d97_b.jpg (1024×683) A Halloween Treat from Brandon Bird. The 55 Funniest Signs From the Rally to Restore Sanity and/or Fear from Funny Or Die. We know that we're a little late to the game and that plenty of other websites have already posted best signs of the rally.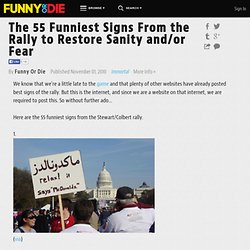 But this is the internet, and since we are a website on that internet, we are required to post this. So without further ado… Here are the 55 funniest signs from the Stewart/Colbert rally. (via) (via) 30 of the Worlds Greatest Wedding Cakes - StumbleUpon. Few things are more important on a wedding day (apart from both partners turning up; the ring being secure; and nobody objecting during the ceremony) than the cake.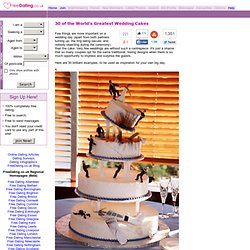 Very few weddings are without such a centrepiece. It's just a shame that so many couples opt for the same traditional, boring designs when there is so much opportunity to impress and surprise the guests. Here are 30 brilliant examples, to be used as inspiration for your own big day. Above: A wedding cake fit for an action hero. Above: An illustration of things to come? Randomizer - facebook shadow - Threadbombing. Best Cookie Packaging Ever. The kids will never see | Demotivation.us - StumbleUpon. Jenny vs. Spencer. The Most Badass Tombstones Ever from Ace of Base - StumbleUpon.
---