PHOTOGRAPHY
- StumbleUpon. - StumbleUpon. - StumbleUpon. Photography Tutorial: A Quick Guide to Understanding Your DSLR Camera | Kevin & Amanda - StumbleUpon. Hi guys!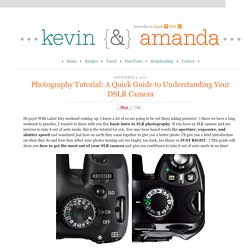 With Labor Day weekend coming up, I know a lot of us are going to be out there taking pictures! :) Since we have a long weekend to practice, I wanted to share with you this basic intro to SLR photography. If you have an SLR camera and are nervous to take it out of auto mode, this is the tutorial for you. You may have heard words like aperture, exposure, and shutter speed and wondered just how on earth they come together to give you a better photo. I'll give you a brief introduction on what they do and how they affect your photos turning out too bright, too dark, too blurry or JUST RIGHT. :) This guide will show you how to get the most out of your SLR camera and give you confidence to take it out of auto mode in no time!
30 Magnificent Views of Antarctic Mountains and Icebergs. My Photography Tutorials - 360 Degree Reverse Photography, Unique Photographic Techniques. In order to create a , you do not need to be an expert photographer or own expensive photography equipment.
You just need to have a standard SLR camera, tripod and a 360-degree panorama software package and of course a good panorama to shoot. Follow these successfully achieving professional results in . First, pick a spot that is equidistant from every point in your photo. You should not have to zoom in and out. Chicago-lights-1191505-xl.jpg from nationalgeographic.com - StumbleUpon. Atmospheric. 54817_0_1008x803.jpg from nationalgeographic.com - StumbleUpon. Snowflakes Up Close: A Small, Fragile World. If you're one of those people who likes to ponder things while looking out a frosty window on a cold winter day, these pictures will clear up one of those long standing wonders: each snowflake really IS unique.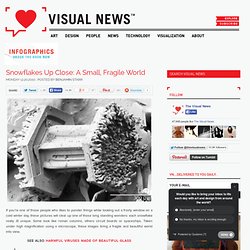 Some look like roman columns, others circuit boards or spaceships. Taken under high magnification using a microscope, these images bring a fragile and beautiful world into view. 88 Brilliant Examples of Forced Perspective Photography | Inspiration |... - StumbleUpon. Forced perspective is a technique that employs optical illusion to make an object appear farther away, closer, larger or smaller than it actually is.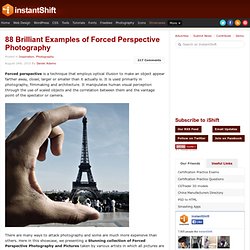 It is used primarily in photography, filmmaking and architecture. It manipulates human visual perception through the use of scaled objects and the correlation between them and the vantage point of the spectator or camera. Stefano Unterthiner Photography : Animals Face to Face | COLT + RANE - StumbleUpon. Rainbow Fox by Roeselien Raimond. Dear Photograph - StumbleUpon.
The Girl Who Loves to Levitate (14 photos) - My Modern Metropolis - StumbleUpon. Natsumi Hayashi is a sweet-looking Japanese girl who, one day, decided to take self-portraits..of herself levitating.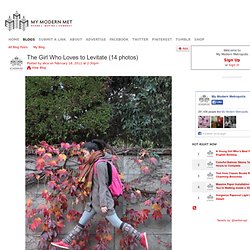 She can be spotted in and around Tokyo, equipped with her SLR and her self-timer. When she feels the moment strike, she presses the shutter button down and then, quite literally, "jumps" into place. What I love most about her shots is that they don't feel forced. The Arrow of time - StumbleUpon. 160.jpg from earthshots.org - StumbleUpon. 48208_0_1208x1005.jpg from nationalgeographic.com - StumbleUpon. Out_of_the_darkness_h.jpg (1030×687) Mai474big.jpg from nikdaum.com - StumbleUpon. 70 Lightning Strikes in One Shot | SmashWallpapers - Wallpapers News. Amazing-sunseat.jpg (960×639) Me_789_amazing_red_sky_wide.jpg (900×563) Steve-Milner1.jpg from spaceweather.com - StumbleUpon. Fullmoonhike.swf from leecasalena.com - StumbleUpon.
A View Of The US-Mexican Border - All That Is Interesting - StumbleUpon. 100 Incredible Views Out Of Airplane Windows - StumbleUpon. The world's ten creepiest abandoned cities. Creepy, Crusty, Crumbling: Illegal Tour of Abandoned Six Flags New Orleans ... - StumbleUpon. Hurricane Katrina killed this clown.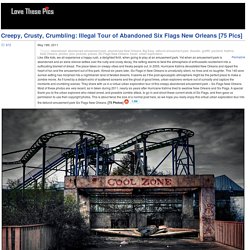 According to the photographer, "An abandoned Six Flags amusement park, someone spray painted 'Six Flags 2012 coming soon' on the wall above the downed head. But they were clownin.' Cntower_timelapse.swf from topleftpixel.com - StumbleUpon. Photo &Milky Way above the Himalayas& by Anton Jankovoy... Nepal, Himalayas, Annapurna Base Camp Trek, Modi Khola valley, nearby Machhapuchre Base Camp (3,700 m) Great news!!!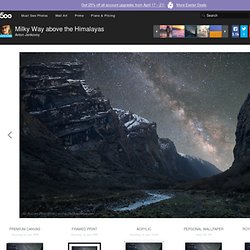 Already you can buy my book about NIGHT SKY PHOTOGRAPHY (Getting ready and photographing the night sky): - PDF (perfect for your iPad, telephone, Tab, PC, MAC and etc. PARIS - panorama | © gillesvidal - photographe - StumbleUpon. Geiranger - Geirangerfjord - Trollstigen - Aalesund 360 panorama sky cam -... - StumbleUpon. Beachy_Head_and_Lighthouse,_East_Sussex,_England_-_April_2010_crop_horizon_co...
Amazing-Places_24B-552508.jpeg from vidwallpapers.com - StumbleUpon.
---