Clothing DIY
DIY Chan Luu Bracelet « My goal this holiday season was to really try my best to make some homemade gifts.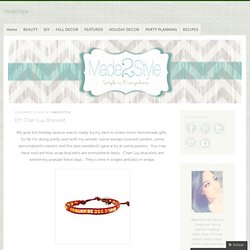 So far I'm doing pretty well with my wreath, some burlap covered candles, some personalized coasters and this past weekend I gave a try at some jewelry. You may have noticed how wrap bracelets are everywhere lately. Chan Luu bracelets are extremely popular these days. They come in singles and also in wraps. DIY guide – draped skirt | Passions for Fashion. Mandag, 19 september 2011 Her får I den længe ventede DIY guide til at binde en draperet nederdel, som jeg første gang viste i et indlæg fra Kreta.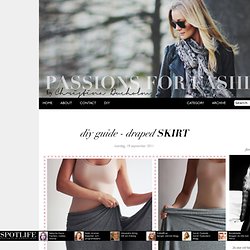 Jeg har brugt et gammelt tørklæde fra H&M, men har I ikke et tørklæde i den stil, kan man købe et langt stykke jersey stof i en stofbutik meget billigt. Mit tørklæde er 2,5 meter langt og 1,5 meter bredt og så har jeg foldet det på midten, så det kun er 75 cm bredt. Ex-men's shirt as new dress for you. How's it Hangin'? A Flop Tutorial. I know some of you still have snow on the ground, but for us Floridians summer is already kicking into high gear.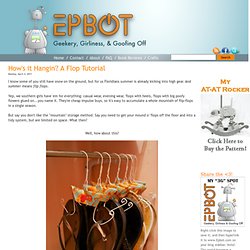 And summer means flip flops. Yep, we southern girls have 'em for everything: casual wear, evening wear, 'flops with heels, 'flops with big poofy flowers glued on...you name it. They're cheap impulse buys, so it's easy to accumulate a whole mountain of flip-flops in a single season.
---