Curls
Natural looking beach curls in under 20 minutes! I don't know about you ladies, but I'm itching for the summer.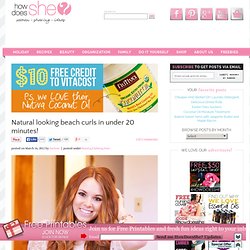 It doesn't help that department stores are already putting out their summer wear and swimsuits. Have you ever wanted to get that beautiful "natural" beach curl look to your hair? I want to share with you a technique that works for ALL types of hair, whether it be short, long, thick, thin, frizzy, or flat… and no curling iron involved! 1. Dampen your hair with a spray bottle or let it semi air dry after washing it. A Beautiful Mess: HAIR + MAKEUP. Whenever I make a mental list of things that I am thankful for, once I get past all the obvious top favorites like family and friends, I always give false lashes a grateful shout-out.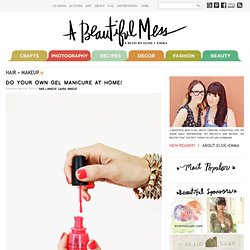 Now, I realize that false lashes are not a big deal to everyone, but I was given a pretty skimpy set of lashes to work with, so I love being able to throw on a pair of falsies for a special night. Everyone has something that gives them an extra boost of confidence (maybe a favorite outfit, super high shoes, or a fresh manicure) and lashes are it for me. D.I.Y. Curls: How To Rag Roll Your Hair. I love the look of naturally curly hair!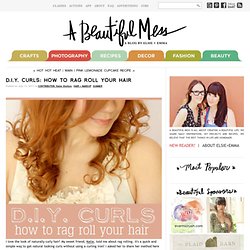 My sweet friend, Katie, told me about rag rolling. It's a quick and simple way to get natural looking curls without using a curling iron! I asked her to share her method here on A Beautiful Mess because I knew you'd be itching to learn like I was! Enjoy... 1980s Hair Tutorial. Hey Glitter Girls, it's Jessie from Sweet Thing bringing you a fun '80s inspired hairstyle.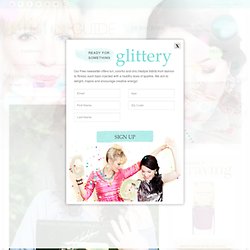 As a child of the '80s one of my favorite movies growing up was Flashdance. I longed for curly hair like Jennifer Beals. If only I had known that there was no perm necessary to get the very same look. 1. No Heat SJP BIG CURLS w/ Twisted Buns ...also known as Bantu Knots. If you follow me on Instagram you already know about this because I shared it there see photos below but the other night I slept on twisted buns to get these BIG CURLS just to switch it up a little which the husband LOVES.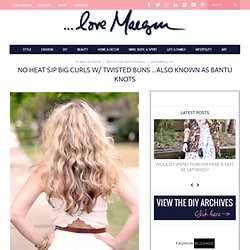 In fact he said "You know, you could do that MORE OFTEN if you wanted to". Big curls are a BIG hit around here In 2009 I did a quick video demonstrating how I twist my hair into the little buns whilst singing to Lady Gaga – but I only did a photo tutorial of how to get the finished look. So the other morning before I left for the gallery I filmed it for you and hopefully answered all the questions I've gotten about this easy little tutorial.
Enjoy… Curly Hair Without Heat Video – How To Put A Sock Bun In Your Hair. I have gotten a huge response from my post on sock bun curls!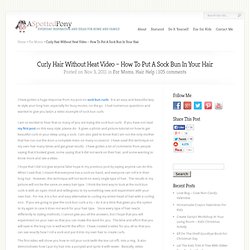 It is an easy and beautiful way to style your long hair, especially for busy moms- on the go. I had numerous questions and wanted to give you lady's a video example of sock bun curls. I am so excited to hear that so many of you are trying the sock bun curls. If you have not read my first post on this easy style, please do. Hairy Situation. 157344580700817234_U8ubPL3d_c.jpg (JPEG Image, 553×1185 pixels) Super Cute and Fast Curls!
---