Art
- StumbleUpon
Silk — Interactive generative art
Somewhere between the original, manga-looking Pokémon that we all know and love and the bigger, shinier fantasy re-imaginings that we've also seen, lies Gavin Mackey's vision for the super-powered critters. In Mackey's art, they take an insidious turn toward resembling Renée French subjects or that creepy baby in David Lynch's Eraserhead.Mackey was taking requests. Unfortunately for you late-comers, his commissions, taken through his deviantART account, seem to be closed for the time being. He still has his finished pieces posted in his gallery there, however. He's made a Gastly, Bulbasaur and Charmander, as well as SpongeBob SquarePants' pal Patrick Star and Yoda. These paintings may very well change how you use your Poké Balls for the rest of your Poké combat career, but they are rather mesmerizing, so go have a look.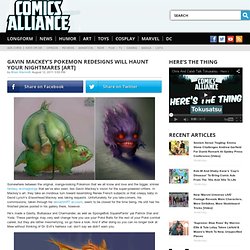 Gavin Mackeys Pokemon Redesigns Will Haunt Your Nightmares [Art]
Myoats - This doesnt exist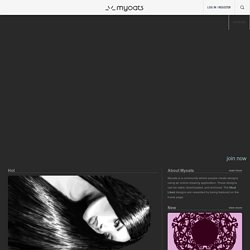 // Provide alternate content for browsers that do not support scripting // or for those that have scripting disabled. Alternate HTML content should be placed here. This content requires the Adobe Flash Player. <a href="http://www.macromedia.com/go/getflash/"> Get Flash</a>
Darkview
wasted beauty
artPad
Tiny Media Empire
BOOK - StumbleUpon
Abby Diamond | Society6
Carbonmade : Your online portfolio. - StumbleUpon
Lori Earley
WATERCOLOR : Marion Bolognesi
Kait - StumbleUpon
- StumbleUpon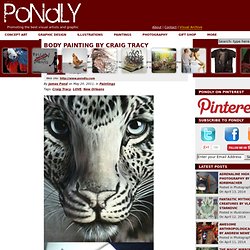 Article by James Pond I am the owner of Pondly.com / art lover / electrical engineer / software developer / MBA in e-business student. I blog for pleasure and love to share my Internet findings.
Body Painting by Craig Tracy | Pondly - StumbleUpon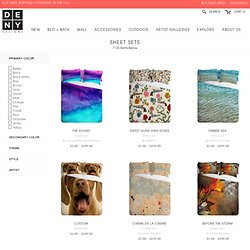 5387 items below
Sheet Set - All Art - StumbleUpon
MAIN : Marion Bolognesi - StumbleUpon
'the paint evolution' by culdesac for valentine valencia-based designers culdesac have created 'the paint evolution' for the paint company valentine . their collaborative project celebrates the ever changing nature of artistic tools and implements within the valentine brand. brushes and rollers in this creative collection feature an interactive, form-as-function approach to the construction of each piece. one may anticipate the mark and movement of the implement in an artist's hand simply by examining the form of each object.
culdesac: the paint evolution for valentine
(c) copyrights 2000 - 2010 designboom, all rights reserved. all material published remains the exclusive copyright of designboom. no contents, including text, photographs, videos, etc. may be reproduced in whole or in part without the written consent of designboom. in addition, no material or contents may be reproduced on the world wide web by techniques of mirroring, framing, posting, etc. without the written consent of designboom.
the wooden mirror by daniel rozin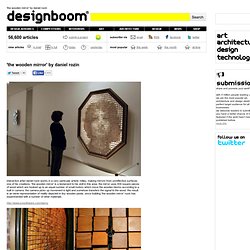 - StumbleUpon
- StumbleUpon
Funny illustrations - Wall to Watch - StumbleUpon
- StumbleUpon
This December, in a surprisingly simple yet ridiculously amazing installation for the Queensland Gallery of Modern Ar, artist Yayoi Kusama constructed a large domestic environment, painting every wall, chair, table, piano, and household decoration a brilliant white, effectively serving as a giant white canvas. Over the course of two weeks, the museum's smallest visitors were given thousands upon thousands of colored dot stickers and were invited to collaborate in the transformation of the space, turning the house into a vibrantly mottled explosion of color. How great is this? Given the opportunity my son could probably cover the entire piano alone in about fifteen minutes.
This is What Happens When You Give Thousands of Stickers to Thousands of Kids | Colossal - StumbleUpon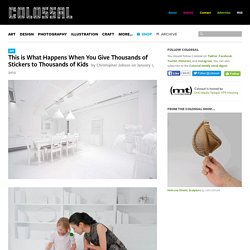 The Art of Paul Kuczynski - mashKULTURE - StumbleUpon
CGI fantasy art - Wallpaper (#896045) / Wallbase.cc - StumbleUpon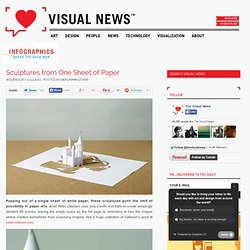 Sculptures from One Sheet of Paper
Popping out of a single sheet of white paper, these sculptures push the limit of possibility in paper arts. Artist Peter Callesen uses only a knife and folds to create amazingly detailed 3D scenes, leaving the empty space on the flat page as reminders of how the shapes where created (sometimes from surprising shapes). See a huge collection of Callesen's work at petercallesen.com. Via: juliaphotoblog.com Known in some circles as the most amazing man in the universe, he once saved an entire family of muskrats from a sinking, fire engulfed steamboat while recovering from two broken arms relating to a botched no-chute wingsuit landing in North Korea. When not impressing people with his humbling humility, he can be found freelance writing, finding shiny objects on the internet, enjoying the company of much-appreciated friends and living out his nomadic nature.
387352_1303402509_large.jpg from cgsociety.org - StumbleUpon
Israeli-born illustrator Tomer Hanuka creates incredibly interesting scenes. His stories are told not just by the expressions on his characters' faces but by the beautiful colors he chooses and the mysterious shadows he casts. His passion for drawing emerged at a young age, when he fell in love with American comic books.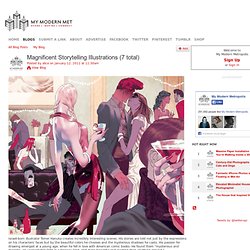 Magnificent Storytelling Illustrations (7 total) - My Modern Metropolis - StumbleUpon
Anamorphic Graffiti - Illusion - The Most Amazing Creations in Art,...
GameofThronesCalendarFebruary-1.jpg from nerdapproved.com
Amazingly Creative Drawing Vs Photography | Weird Pictures, Wonderful Things - StumbleUpon
Melbourne Park scorcher Fans are hospitalised, ball kids collapse and tennis players wilt as a ferocious heatwave grips the Australian Open. Detroit's finest THE most attractive new cars in Detroit display a respect for the past and excitement about the future. Golden Globe winners A SODDEN red carpet failed to dampen the joy of this year's Golden Globe winners.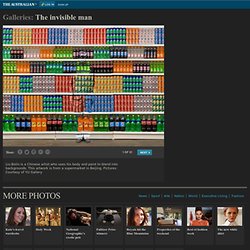 Liu Bolin | The invisible man | The Australian - StumbleUpon
Lethe by MingzhuYang - Mingzhu Yang - CGHUB
1305044388_like_an_artist_by_jellyvampire-d39dk8e.png from deviantart.net - StumbleUpon
99ROOMS.COM
Illustrations - StumbleUpon
186.png from drawingboardcomic.com
If Harry Potter was an anime | Photography DK - StumbleUpon
deviantART: where ART meets application!