IDS-IPS
Intrusion système information : détection faille sécurité, Howto IDS/IPS, techniques anti-IDS. Préconisations, Installation, configuration.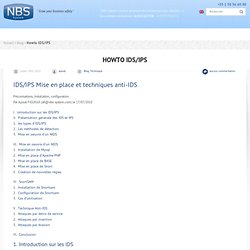 Par Ayoub FIGUIGUI (afi@nbs-system.com) le 17/07/2010 1. Introduction sur les IDS. Building a Debian\Snort based IDS - deb_snort_howto.pdf. Les limites des IDS. Les limites des IDS Problématique Par nature, les IDS vont remonter énormément d'alertes, si ils ne sont pas configurés convenablement.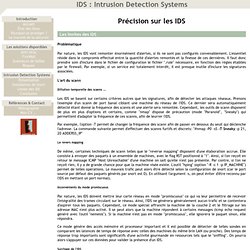 L'essentiel réside dans le compromis effectué entre la quantité d'alertes remontés et la finesse de ces dernières. About SnortSam. How To Configure A Snort IDS Intrusion Detection System On Debian Linux. Setting Up A Snort IDS on Debian Linux Malicious network traffic (such as worms, hacking attempts, etc.) has certain patterns to it.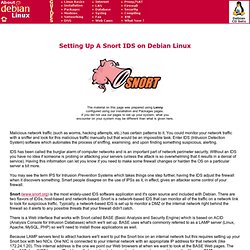 You could monitor your network traffic with a sniffer and look for this malicious traffic manually but that would be an impossible task. Enter IDS (Intrusion Detection System) software which automates the process of sniffing, examining, and upon finding something suspicious, alerting. IDS has been called the burglar alarm of computer networks and is an important part of network perimeter security. Les IDS par la pratique : Snort. Mise en place d'un IDS Où positionner son IDS ??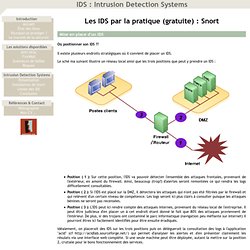 Il existe plusieurs endroits stratégiques où il convient de placer un IDS. Le sché ma suivant illustre un réseau local ainsi que les trois positions que peut y prendre un IDS : Position ( 1 ): Sur cette position, l'IDS va pouvoir détecter l'ensemble des attaques frontales, provenant de l'extérieur, en amont du firewall. Snort :: Home Page. How to install Snort, Barnyard2, Snorby, Passenger, and Pulled Pork | es.oteric.info. Set up a Source directory in your home directory and then install some of the required packages that you'll need: # mkdir ~/Source # sudo chown -R username:usergroup ~/Source note: when you run the below command, Apt will require input – for example MySQL will ask for you to enter a "root" password for the MySQL server.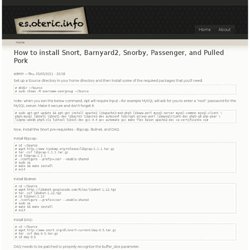 Make it secure and don't forget it. # sudo apt-get update && apt-get install apache2 libapache2-mod-php5 libwww-perl mysql-server mysql-common mysql-client \ php5-mysql libnet1 libnet1-dev libpcre3 libpcre3-dev autoconf libcrypt-ssleay-perl libmysqlclient-dev php5-gd php-pear \ libphp-adodb php5-cli libtool libssl-dev gcc-4.4 g++ automake gcc make flex bison apache2-doc ca-certificates vim Now, install the Snort pre-requisites - libpcap, libdnet, and DAQ.
---