Google
Google. Google Zeitgeist - L'année 2013 en recherches. How Google is becoming an extension of your mind. SAN FRANCISCO -- It's time to think of Google as much more than just a search engine, and that should both excite and spook you.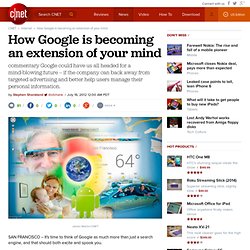 Search remains critical to the company's financial and technological future, but Google also is using the search business' cash to transform itself into something much broader than just a place to point your browser when asking for directions on the Internet. What it's now becoming is an extension of your mind, an omnipresent digital assistant that figures out what you need and supplies it before you even realize you need it. Think of Google diagnosing your daughter's illness early based on where she's been, how alert she is, and her skin's temperature, then driving your car to school to bring her home while you're at work. Or Google translating an incomprehensible emergency announcement while you're riding a train in foreign country. Google Reveals Its 9 Principles of Innovation.
Ever wonder what makes the Google the holy grail of productivity and creativity?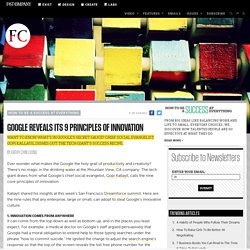 There's no magic in the drinking water at the Mountain View, CA company. The tech giant draws from what Google's chief social evangelist, Gopi Kallayil, calls the nine core principles of innovation. Kallayil shared his insights at this week's San Francisco Dreamforce summit. Here are the nine rules that any enterprise, large or small, can adopt to steal Google's innovative culture. 1.
Google Centre Examen. Google Devel. Tools. Projets Google. Moteur de Recherche. Société.
---