Google Devel
Get flash to fully experience Pearltrees
Some specific technical goals are: To allow many concurrent HTTP requests to run across a single TCP session. To reduce the bandwidth currently used by HTTP by compressing headers and eliminating unnecessary headers.
Google a publié la préversion de son langage de programmation structuré baptisé DART. Les développeurs d'applications web peuvent découvrir DART sur le site officiel qui livre une documentation technique et des exemples de code. Bien que Google ne le dise pas officiellement, ce nouveau langage se présente comme une alternative à JavaScript dont il entend combler certains défauts.
This page describes how to create a variety of callouts, bubbles, pins, and other graphics that can be created using a URL. https://chart.googleapis.com/chart?chst=d_bubble_icon_text_small&chld=ski|bb|Wheeee!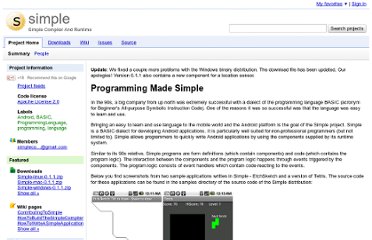 Update : We fixed a couple more problems with the Windows binary distribution. The download file has been updated. Our apologies! Version 0.1.1 also contains a new component for a location sensor.
Google APIs use the OAuth 2.0 protocol for authentication and authorization. Google supports several OAuth 2.0 flows that cover common web server, JavaScript, device, installed application, and server to server scenarios. OAuth 2.0 is a relatively simple protocol and a developer can integrate with Google's OAuth 2.0 endpoints without too much effort. In a nutshell, you register your application with Google, redirect a browser to a URL, parse a token from the response, and send the token to the Google API you wish to access. This article gives an overview of the OAuth 2.0 scenarios Google supports and provides links to more detailed content. Given the security implications of getting the implementation correct, we strongly encourage developers to use OAuth 2.0 libraries when interacting with Google's OAuth 2.0 endpoints (see Client libraries for more information).