Design
DESIGN PLATFORM
FLY SOLO
a selection of graphic projects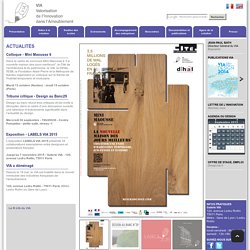 Les talents français du design Après le succès remporté lors de sa première édition en 2012, France Design 2014, événement coproduit par VIA et 14 septembre avec le soutien du Ministère du Redressement productif, présente deux expositions majeures : VIA Design 2014 et Talents & Economy.Superstudio Più - Via Tortona, Milan Du 8 au 13 avril 2014 Ouvrage de référence, l'édition 2014 des Aides à la Création VIA présente 17 prototypes financés par VIA et conçus par la nouvelle génération du design français. Richement illustré, ce catalogue met en avant la démarche créative de chaque designer ainsi que le caractère innovant des projets. Achetez et/ou téléchargez le catalogue des Aides à la Création VIA DESIGN 2014. La tribune du 05 février 2014 est maintenant disponible en réécoute.
Designer's Days | parcours parisien du design
Hakes Mojito Shoe
Profile pictures
London architect Julian Hakes is to reveal the realised Mojito shoe (see the first experiments in our earlier story) in two catwalk shows for London Fashion Week, which starts today. Update: watch an interview with Hakes on Dezeen Screen. The shoe consists of a single piece wrapped around the wearer's foot, supporting the heel and ball with no footplate in-between. The Mojito shoe will be shown with the Spring/Summer collection by Swedish fashion designer Ann Sofie Back at Somerset House on Sunday 19 September and with London designer Ada Zanditon's collection on Monday 20 September at ON/OFF Victoria House.
Hakes shoes SS11 by Julian Hakes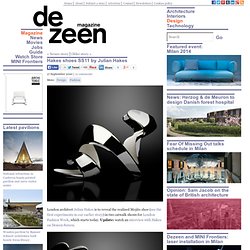 A Measurable Factor Sets the Conditions of its Operation / 201313 February - 6 April 2013Stanley Picker GalleryFaculty of Art, Design & ArchitectureKingston University, Knights ParkKingston upon Thames KT1 2QJwww.stanleypickergallery.org A Measurable Factor Sets the Conditions of its Operation is an exhibition of investigative pieces, processes, tests and trials for a new footwear collection informed by engineering principles. Marloes ten Bhömer's aim is to completely replace the standard and regimented approaches to footwear design and manufacturing with the working processes of engineering. This method, which purposefully shirks fashion trends and styles, is based on research into the structural parameters required to support a foot (in a high-heeled position) while in motion. Displayed throughout the exhibition are artifacts from a series of structural, aesthetic and cultural experiments and outcomes, conducted and produced over the course of a year.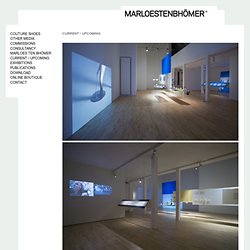 Marloes - CURRENT / UPCOMING
En 1938, Walt Disney et son frère Roy, qui ont investi près d'1,5 million de dollars (un record pour l'époque) dans leur long-métrage d'animation «Blanche-Neige et les Sept Nains», se frottent les mains. Parue l'année précédente, l'œuvre a reçu un accueil sans précédent, aux Etats-Unis comme à l'étranger. Le duo décide de faire bâtir des studios d'animation à la mesure de ses besoins. Les frères acquièrent à Burbank un terrain de plus de 200.000 m2 et confient la conception à un architecte couru, Kem Weber. Le bâtiment abritera les studios d'animation jusque dans les années 1980. Des dizaines de films naîtront au sein de l'«Animation Building», bâtiment en forme de «H», pourvu de couloirs en sous-sol (une organisation quasi-militaire souhaitée par Walt Disney, qui permettait une circulation aisée et cachée des regards entre les bureaux d'animation et les autres départements).
Comment Disney a failli inventer IKEA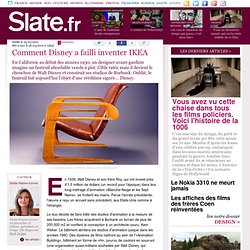 Cédric Ragot - Design Studio - V2.0